11 beautiful blue green paint colors
Searching for the perfect blue green paint color that isn't too blue or too green? I was too, and in my quest for the perfect balance between the two beautiful hues I came across some seriously good options.
Here you'll find plenty of selections to choose from as you discover the best green blue paint color for your space.
This post contains affiliate links. Read my policy here.
Best light blue green paint colors
Going with a lighter blue green paint color is necessary if you're trying to achieve an airy look, but have a room with less natural or overhead light.
I've rounded up 7 of my favorite green blue hues, and lined them up from darkest to lightest, based on their Light Reflective Value or LRV. Colors closer to 100 are lighter, and colors closer to 0 are darker and reflect minimal light.
If you can't decide between two colors and you are worried about the color appearing darker in your space, let the LRV be the tie breaker.
Make sure you test all paint samples in the room you are painting and look at the sample multiple times throughout the day. I recently discovered Samplize— you can literally buy 12×12 samples of paint. These samples are peel and stick so you can move them around from room to room. Crazy, right?!
Fresh Tone by Behr
If you're looking for a green blue that leans towards turquoise but is still fairly light, Fresh Tone is absolutely stunning. Behr named this beautiful hue its 2018 Color of the Year, and I can't say I'm surprised, as it's stunning robin-egg appearance reads well on most anything its used on.
LRV of 54
Rainwashed by Sherwin Williams

While searching for the perfect mix of green and blue for my daughter's room Rainwashed is a tone I strongly considered. The blue green blend actually has a hint of a gray undertone in it! This color works beautifully for a bathroom or even used on an accent wall in a bedroom.
LRV of 59
Silver Strand by Sherwin Williams

Don't let the name fool you, Silver Strand is a true blue green paint color! And while this is technically a blueish-green, it does have a considerable amount of gray in it, which gives the color a more neutral vibe than Rainwashed. Because of the darker undertone, this color will look much darker in rooms that don't get a lot of light.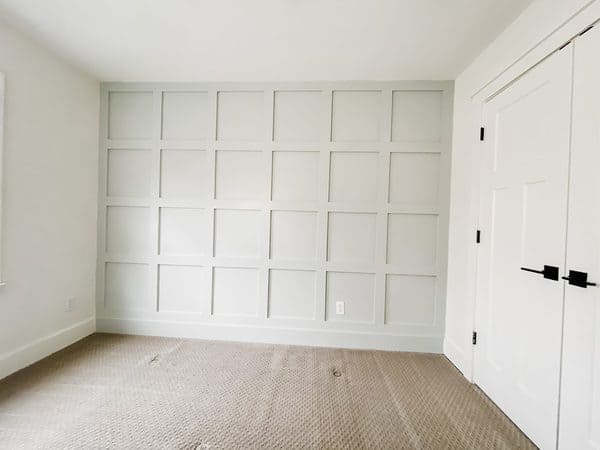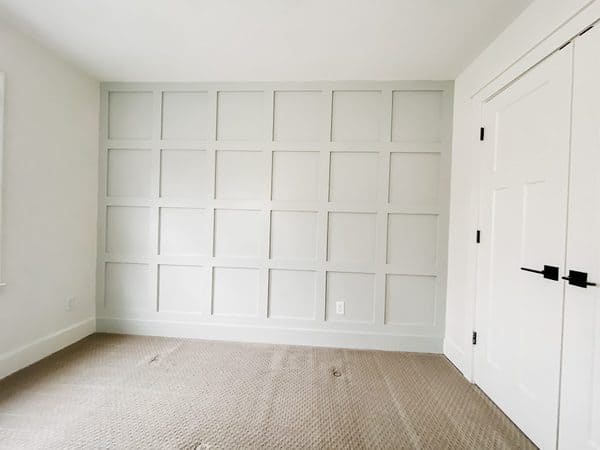 Ultimately I went with Silver Strand for the board and batten accent wall in my daughter's bedroom, and I've never been more pleased with how a paint color turned out!
LRV 59
Green Blue by Farrow and Ball
Farrow and Ball thought this color combination was the absolute perfect blend of green and blue that they named it as such! Changing between more of a blue or more of a green depending on time of day and amount of light, Green Blue is perfect for a powder room! Based on reviews, many people said this color looks like more of a blue during the day and green at night.
LRV of 65
Be sure to check out one of my other favorite Farrow and Ball paint colors, Pigeon.
Palladian Blue by Benjamin Moore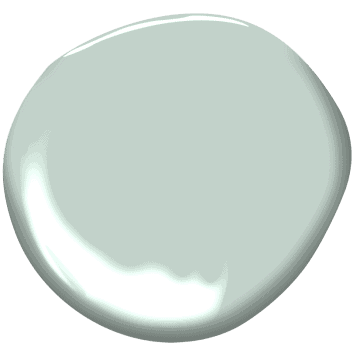 A warm, spa-like blue with a small hint of green, Palladian Blue is just magical! This color looks absolutely stunning when paired with a darker navy blue with grey undertones.
LRV of 61
Snowbound by Behr
If you enjoy the mix of blue and green but don't want to go too dark, Snowbound or Sea Foam (reviewed below) are great options. Contrary to its name, Snowbound gives off a very light minty vibe and is perfect for bedrooms or bathrooms. This color is also really pretty on front doors; especially if your home is white or light gray!
LRV 80
Sea Foam by Benjamin Moore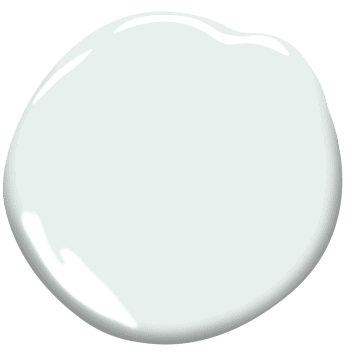 The lightest color on this list, Sea Foam is like a day at the beach! This is a great color to use if you just have one small window in a room or if the room faces opposite the sun most of the day. Painted in a room with significant light, it will look very, very light and almost give off a white hue.
LRV of 84
Best dark blue green paint colors
Use darker blue green paint colors in areas where you want to create drama! Make sure you have ample light when choosing these darker shades, as in low lighting situations they can almost look black!
I've lined up these colors from lightest to darkest, just for your reference!
Waterloo by Sherwin Williams

One of my favorite paint colors of all time, Waterloo is absolutely breathtaking. Waterloo works perfectly as an accent wall color, used in a media room or even on cabinetry. Waterloo definitely has more navy blue color than green in it and also has notes of gray, which all come together to create this beautiful smoky blue tone.
LRV of 13
Inchyra Blue by Farrow and Ball
Inchyra Blue is a dark blue mixed with green and undertones of gray. This pretty hue is a bit of a chameleon and can read blue, green or even more gray depending on the light in the room you paint it in. Make sure to view the paint sample throughout the day and observe the color you see before you go all in with this color!
LRV of 12
Newburg Green by Benjamin Moore
Looking very much like a true dark teal, Newburg Green is a very rich paint color. Newburg green looks beautiful when mixed with natural elements and decor styles and easily ads depth and drama to any space it's used in. Newburg Green reminds me of the Benjamin Moore 2021 Paint Color of the Year, Aegean Teal.
LRV of 8.79
Hague Blue by Farrow and Ball
The darkest color on the list, Hague Blue is a dark, moody tone that works wonderfully to create drama and add significant depth to a room. If you're afraid of black paint colors, but really like the statement they make, try Hague Blue, I promise you won't be disappointed!
LRV of 7
Helpful hints on choosing the best blue green paint color
These blue-green hues can be tricky! If you don't test out samples on the actual walls/items you want to paint and observe them throughout the day, you will likely be disappointed with the color choice.
I learned the hard way many years ago–don't ever go off of a paint sample! Before you even start looking at paint samples observe the amount of light the room gets. If the room is opposite the sun most of the day, paint colors will look dramatically different than on walls that have ample light.
Make sure you check out the peel and stick paint samples from Samplize to compare multiple colors all at once, without the mess!
Have questions about picking the best blueish green paint color? Let me know below! You can also browse my guide on how to choose paint colors, as you decide on the right color for you!
Other paint color articles you may like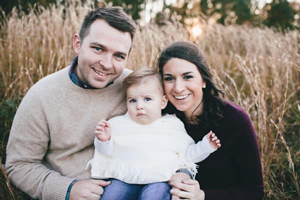 ABOUT DANIEL AND ASHLEY
As a licensed general contractor with more than 10 years in the business, Daniel can walk you through any home renovation or improvement project step-by-step. And if you're here for home design and paint color advice, Ashley's your girl! Join us as we share helpful tips and step-by-step tutorials on anything and everything home. We're also renovating our personal home along the way, and will use this blog as a way to document our progress. Read more...