Sherwin Williams Fleur de Sel
A super pale gray, Sherwin Williams Fleur de sel is anything but ordinary. A cool gray, but not too cool thanks to its undertones, if cool gray blue tones are too icy and gray green tones aren't quite right, check out Fleur de Sel.
Below you'll find my full color review on this popular gray hue, plus tips on how to decide if this color is right for your home.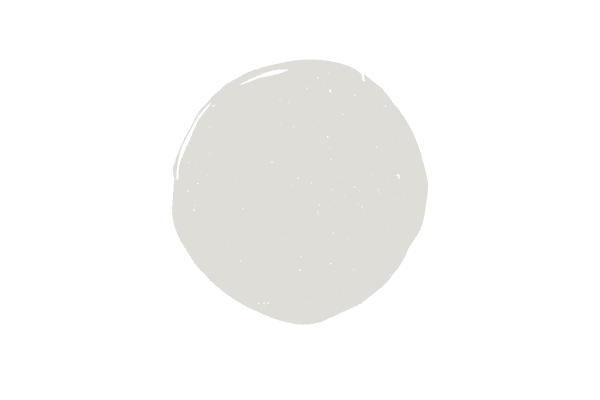 This post contains affiliate links. Read our policy here.
What color is Fleur de Sel?
Fleur de Sel is a pale light gray color, that works perfectly for main living areas and in bathrooms.
What are the undertones of Fleur de Sel?
Fleur de Sel is a gray paint color with both green and blue undertones, and while there is both blue and green in this color, the green tends to be a bit more prominent. In certain lights this color will appear like a gray paint with green undertones or more blue green.
All paint colors have undertones and with gray colors you're dealing with either green, blue or purple or a combination of two or more.
A green-blue undertone in gray paint is often the best of both worlds if you want a cooler gray paint color, but not too cool, as the green works to neutralize a lot of the cooler blue undertone.
Did you know you can order a peel and stick sample of Fleur de Sel? This is how I recommend all of my clients sample paint colors!
What trim color looks best with Fleur de Sel?
Fleur de Sel is so light that you really want it with a stark white like Chantilly Lace. You can use a softer white like White Dove, but that's one of the only soft whites I'd pair with this color, as White Dove has a gray undertone to it, and is significantly less yellow than many warm whites.
Sherwin Williams Fleur de Sel coordinating colors
Fleur de Sel looks beautiful with saturated blues and greens or blue green colors.
What is the LRV of Fleur de Sel?
The LRV of Fleur de Sel is 72, making it a very pale gray tone. LRV stands for light reflectance value and will tell you how light or dark a paint color is, with 0 representing stark black and 100 representing ultra pure white.
To give you some frame of reference, off-white paint colors are typically in the low 80 LRV ranges, while more popular gray hues like Agreeable Gray or Repose Gray are darker and fall in the low 60s.
Tips for deciding if Fleur de Sel is right for your space
Before you make the final call, check out these three tips on how to decide if Fleur de Sel will work in your home.
Evaluate your light
By now you know that Fleur de Sel is a light paint color, and much lighter than a lot of the popular gray colors on the market. Beyond just testing out the paint color to see if it's the right one, you need to evaluate whether or not it's too light for your space.
If you have large windows that face the sun this color might get a little washed out, and some of the beautiful blue-gray-green magic will loose a bit of sparkle if that's the case. This color is more representative of its true form when you have normal sunlight exposure.
On the contrary, in a very dark room, the soft green undertone tends to disappear and you're left with a more cooler toned gray blue paint color. If that's what you were after, great, but if not, you might want to try something else.
Make sure the undertones relate to your fixed elements
Neutral colors are so hard to get right because not too many people understand the undertones in neutrals and how to work with them. Luckily for you, I've given you the undertones of Fleur de Sel, so you don't have to just guess!
Grays with blue and greens are fairly easy to work with, as they will work with fixed elements and furnishings with both blue and green undertones, but this doesn't mean they work every single time.
The easiest way to determine if this color is right for you is to hold the paint sample up to your fixed elements (your countertop, backsplash, floors (this doesn't apply to classic light or medium brown wood floors).
You may find when you put the sample of paint up to your backsplash or couch that Fleur de Sel is too cool for the undertones you might find in your kitchen or living room. If that's the case, look at grays with green undertones.
Also consider that you might need to look at grays with purple undertones. You might even find that the gray color family isn't the correct match at all and instead you need to look at taupe colors or even beige colors!
Test out the color on the wall the right way
No slapping the paint color directly onto the wall here! Doing so will negatively impact how you see the actual paint color. Instead, order a peel and stick sample of paint and place it on a white poster board and then use painter's tape to put the poster up on the wall.
Alternatively, you can go to the paint store and paint a large square of your sample on the white poster board, leaving a 1 inch white boarder around the entire sample.
To see how the paint color will work with furniture and fixed elements move the sample around the room to compare.
Is Fleur de Sel right for you? If not make sure to check out Gray Mist, Silverpointe, other light greenish grey paint options.