Looking for a holiday DIY project to spruce up your front door? This adorable DIY snowman wreath is the perfect accent for your door this Christmas season. Plus, you can even leave it up through the month of January, too!
This post contains affiliate links. Read my policy here.
DIY snowman wreath: supplies you'll need
1 Pine Pick
Jute fabric
Floral Tape
Scissors
Instructions for snowman door wreath
Step 1
Attach the two metal hoops together using floral tape.
Step 2
Hot Glue the Buffalo Plaid bow to the floral tape. This Dollar Tree bow is backed with a thin plastic to keep its shape so you can position the bow how you like it.
I wanted the bow to hang at a slight angle and off to the side, so I added the hot glue to the back of one of the bow loops (instead of the middle) and attached it to the floral tape.
Step 3
Disassemble the Pine, Berry and Pinecone floral pick.
Using floral wire, wrap the berries and one sprig of pine to the lower left side of the bottom metal hoop.
Position the larger pinecone at the bottom of the florals and use the attached stem to wrap around the metal hoop, which will hide the floral wire from the pine and berry sprigs.
If the pinecone rolls around on the hoop, simply add a dab of hot glue to the back of the pinecone and glue it to the pine sprig to hold it in place.
Step 4
Attach one pine sprig and snowman hat to the top metal hoop. Remove the jute hanger from the top of the snowman hat ornament. If your snowman ornament did not come with a jute hanger, cut a circle of jute from your fabric.
Attach one pine sprig using floral tape, making sure the sprig hangs off-center towards the right side. Then glue the bottom of the hat to the floral tape.
Step 5:
Disassemble the pine floral pick. I used a pine pick that is lighter in color to add more dimension to the floral decorations.
Make 3 bundles with the sprigs. Attach one bundle with hot glue to the bottom of the snowman hat with the sprigs sweeping towards the right, following the first pine sprig. Position this bundle to hide the floral tape under the hat.
Step 6
Attach another bundle of pine sprigs with floral wire behind the berry pick and one bundle under the pine cone facing the opposite direction of the other sprigs.
Step 7
Add a jute hanger to the back of the snowman hat. Determine the best length of jute twine for the hanger. Cut the jute and tie the ends in a knot. Hot glue the knot to the backside of the snowman hat.
Completed snowman wreath for your door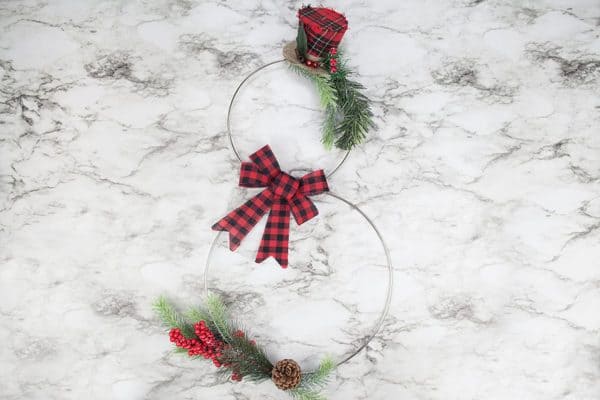 More DIY projects
20 DIY wall decor ideas
You might also like–The best Christmas tree collars to enhance your holiday decorating.