Revere Pewter, the best neutral paint color
Before there were grays there were beiges. Beige was all the rage until it wasn't and then gray started to explode.
But now, homeowners are looking for more warm colors, which is where Revere Pewter, by Benjamin Moore paint comes in.
If you're looking for a soft, gray-beige, Revere Pewter might be the perfect color for you home. Learn how to know if Revere Pewter paint will work in your home!
This post contains affiliate links. Read my policy here.

Is Revere Pewter a gray or beige?
When everyone decided that beige paint colors were out, the hunt for a more neutral wall color that still warmed spaces, but didn't leave them feeling quite so dated was on. Enter, the paint color family that's all the rage today: Greige!

Revere Pewter is neither a true gray or a true beige, it's a greige. A greige paint color has elements of gray and beige in it, hence the name.
Many homeowners find beige paints to be too brown, making their home dark, and gray paints to be too cool, making their home come off as harsh and uninviting. Revere Pewter falls right in the middle, which is why it's such a popular paint color.
Looking for an easy way to see if Revere Pewter will work for your space? You can order paint samples online, so you don't have to make multiple trips to the store. I recently discovered Samplize— you can literally buy 12×12 samples of paint. These samples are peel and stick so you can move them around from room to room. Crazy, right?!
Grab a sample of Revere Pewter
What's the undertone of Revere Pewter?
Believe or not, there's actually a green undertone in Revere Pewter, and this is abundantly clear when you pair it with elements that have pink undertones or other popular grays like Stonington Gray (which have blue undertones). This is why it's so important to compare paint colors to your floors and fixed elements like countertops!

What's the light reflectance value of Revere Pewter?
Understanding the LRV of paint colors can really go along way in helping you select the right paint color for your space. The LRV of a color means how much light a color reflects or absorbs. The scale is 0-100 with colors that have a LRV between 0-50 absorbing more light than they reflect, and colors 50-100 reflecting more light.

The LRV of Revere Pewter is 55.1. When you are comparing similar paint colors, make sure to compare their Light Reflective values, too– because this will help you gauge which color is lighter or darker.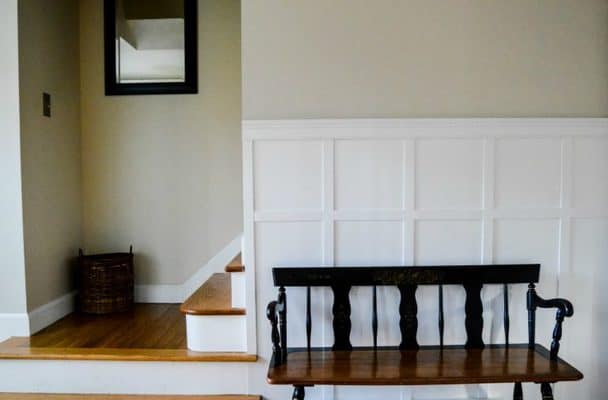 Revere Pewter coordinating colors
Revere Pewter is a great neutral backdrop for virtually any color. You always want to consider your furniture, decor and flooring before deciding on a paint color, as some furnishings and floors don't work well with Revere Pewter.

If you have a lot of dark elements in your room, like a brown couch and dark pieces of furniture it does tend to make Revere Pewter look more brown, so do keep that in mind if you wanted a more light look and feel to your room.

Revere Pewter also looks great with pops of color like coral and turquoise and even lime green, just to name a few.
For exteriors, I love Revere Pewter with Dark Olive and Cloud White. You can check out the best exterior paint color combinations, here.
Related reading: Pewter paint colors you may like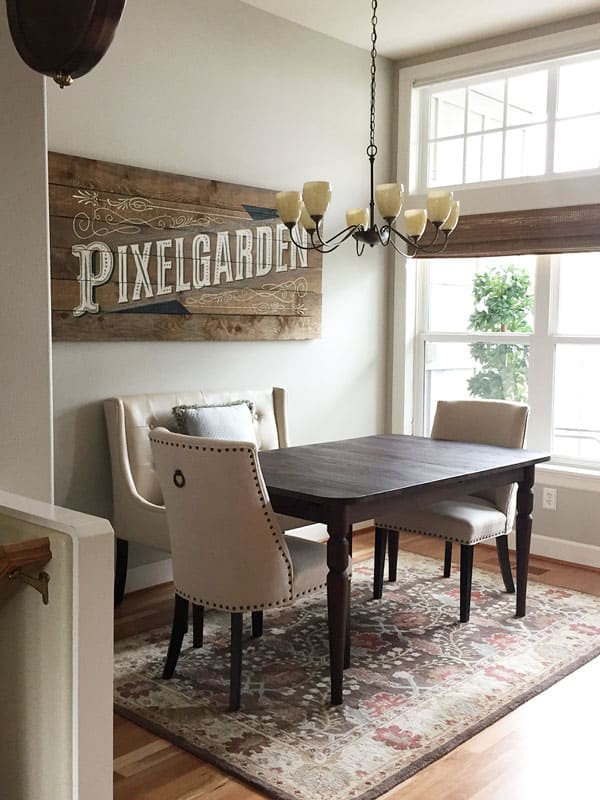 What trim colors go well with Revere Pewter?
Just like with beige or gray paint colors, there's a ton of white paint colors to choose from. Would you believe that choosing a trim color is almost as hard as choosing a wall color?
To pick the right trim color, you need to know the undertones of the trim colors you're considering and make sure they work well with Revere Pewter.

I'd suggest using Benjamin Moore White Dove as it has a creamy beige undertone that works well with Revere Pewter or Simply White by Benjamin Moore.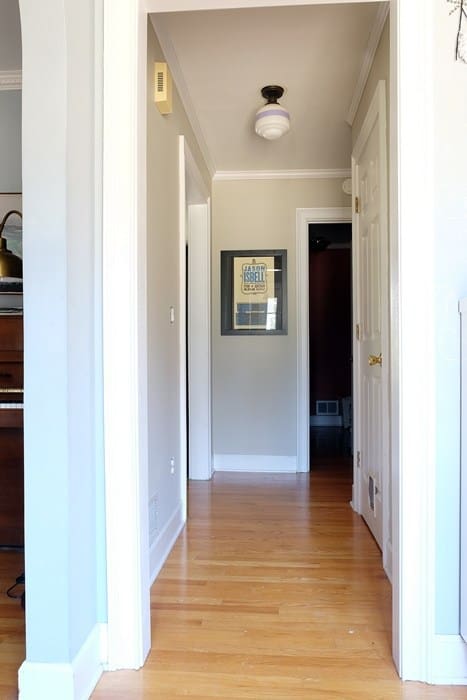 I've also included Revere Pewter on my list of popular interior door colors, as I think it just looks beautiful when paired with a soft white wall color.
Revere Pewter vs Repose Gray
Revere Pewter and Repose Gray are similar in that they share the same green undertone, but when compared side by side, Repose Gray has a much cooler, bluish/purple undertone.

Comparing LRVs, Revere Pewter comes in at 55.1, while Repose Grey is 60, meaning Repose Gray is overall a lighter color, and reflects more light.
Ultimately, choosing between Repose Gray and Revere Pewter will come down to your personal preferences– if you're searching for a cooler color with a little warmth, go with Repose Gray. If you want a warmer feeling, choose Revere Pewter.
Another cooler paint color in the gray color family to check out is Gray Owl, too.
Revere Pewter vs Edgecomb Gray
Even though Revere Pewter and Edgecomb Gray are both members of the greige paint color family, there are very clear differences. While Revere Pewter leans closer to gray, Edgecomb Gray leans closer to beige.
The LRV of Edgecomb Gray is 63.88, making it significantly lighter than Revere Peweter. The undertones found in Edgecomb Gray are more creamy, compared to the slight green undertone that can be seen in Revere Pewter.
If you are debating between the two colors, think about the natural light in your room, your trim color and fixed elements. In a room with less natural light, I would lean towards Edgecomb Gray.
Here's a shot of Edgecomb Gray:
Tips for painting with Revere Pewter
Don't go off a paint chip sample
Many people select a paint color solely on what the paint chip sample looks like, only to be unhappy when they finish painting their room.
Rather than use a paint chip sample, select a sample size of paint and paint 12×12 square on a white poster board, leaving a 2 inch border of white showing.
You don't want to paint your sample on your current walls, as they are most likely not a true white and the undertones of your old paint color will not reflect the new color's true hue.
Order a sample of Revere Pewter
Compare Revere Pewter with other colors
Even if you really think Revere Pewter is the color for you, it's best to compare it with other similar colors to see what really works the best in your home.
Remember to paint the colors you want to compare it with on a white poster board leaving a 2 inch white boarder around the sample to get a true read on the color.
Determine how Revere Pewter looks in different rooms
Before you paint your entire home Revere Pewter you need to pay attention to your home's natural light. If you want Revere Pewter to look like the warm gray you see on the paint chip, you need to use it in rooms that receive a lot of natural light.
Almost everyone is disappointed with how Revere Pewter turns out in north facing rooms that rarely get a lot of natural light as the color comes off as very dark grey.
Additionally, make sure you consider how the color looks with overhead lights and any lamps you may have. Because of the undertones Revere Pewter has in it, it truly looks different in different settings.
Consider your floors and other fixed elements
You must evaluate your floors when deciding if Revere Pewter is right for your space, just like with another popular paint color, Accessible Beige, Revere Pewter does not work well with floors that have pink/redish undertones.
Your floors will look even pinker and your walls will look green, thanks to the slight green undertone in Revere Pewter. You'll run into this issue with carpets that have pink undertones, terracotta tiles and red cherry hardwood floors, just to name a few examples.
Just because it works well in someone else's house, doesn't mean it will work in your home
A lot of neutral greige paint colors are widely touted as colors that will literally work in anyone's home. Do not believe this! You must go off of a paint sample and look at all elements in your home, while considering the lighting, before you make a decision.
Revere Pewter is a nice natural warm greige paint color that's timeless and works for many spaces and homes.
If you don't think Revere Pewter is for you, check out more greige colors here.
Have a question about Revere Pewter that we missed? Let us know!
Other neutral paint colors you may enjoy
Greige paint colors that will work for virtually any space
A review of Sherwin Williams Accessible Beige
Black paint colors that you'll love
Dark grey paint colors