Modern farmhouse master bathroom renovation
When we purchased our home we knew it was a bit of a fixer upper, and besides making over our fireplace, tackling our master bathroom was one of the first projects we did.
The bathroom was built in the early 90s and hadn't really been touched since. The linoleum floors were badly stained and peeling in several places, the shower was too small to really move around comfortably in and the design just wasn't our style.
Here's what it looked like when we moved in: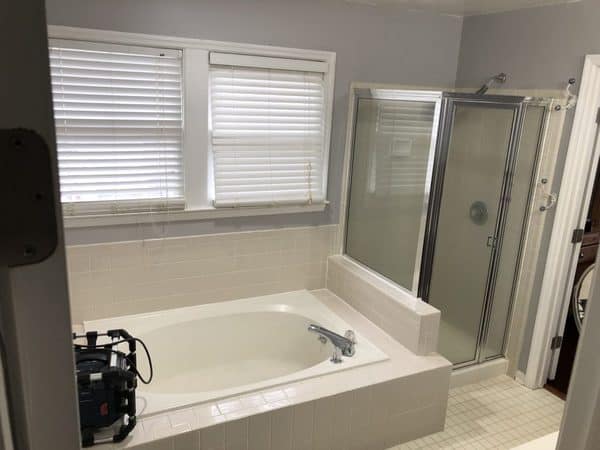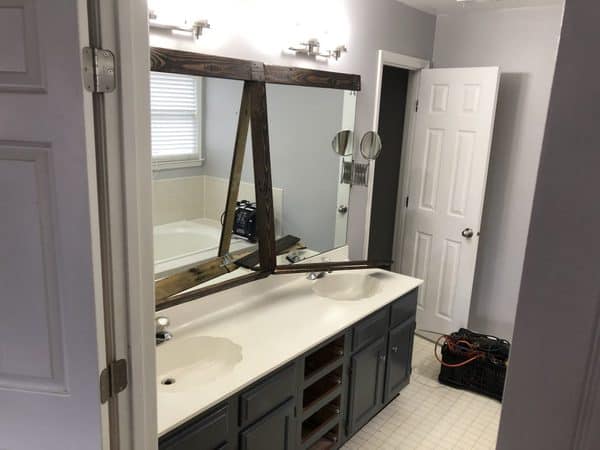 This post contains affiliate links. Read my policy here.
We love the modern farmhouse vibe and wanted to channel that into our master bathroom renovation. Our plans included shiplap, black hexagon tile for the floors, a crisp white vanity and white subway tile with black grout for the shower wall and black hexagon tile with white grout for the floor. We did go back and forth about what color grout to use with our white tile, but ultimately going with black grout gave us the look we were going with.
The current shower space was a little too small, so we opted to add more square footage to the shower by getting rid of the french doors leading to the bathroom and get rid of the big garden tub. We replaced the french doors and the door to the toilet room with new craftsman-style doors.
(for some reason the black hexagon tile photographs a little funny in places)

Getting rid of the french doors to the bathroom and the garden tub allowed for so much extra room in our shower and the bathroom, as a whole.
We framed all windows and door trim with a craftsman-style trim look that we've echoed in each room that we've remodeled. We also finished the room with 6″ baseboard. It's amazing how much replacing thin baseboard with over-sized craftsman-style baseboard changes the space.
The shiplap, baseboard and all window trim is painted in one of our favorite white paint colors: white dove. If you're thinking about a trim color for your next reno project, I highly recommend this neutral, soft white (not too yellow, and not stark white) that really goes with anything.
If you're considering adding shiplap to a bathroom, make sure your read this post about how to properly prime and paint it so that moisture doesn't get in!
The wood plank ceiling was not part of our initial design plan, but as the bathroom began to take shape, Daniel tossed out the idea of adding a wooden plank ceiling to warm up the space.
I was initially hesitant, but after seeing how it turned out, I'm so glad we did it. It completely makes the bathroom, in my opinion! We also did a fun tongue and groove ceiling in our kids bath…we really like ceiling treatments, ha!
To get this look, we used rough-sawn pine. This type of lumber has grooves on one side and rough saw blades on the other. Because we were going with a more rustic look, we used the rough saw blades side. We wanted the look of cedar, but that comes at a crazy expensive price, so instead we opted to make it look like cedar.
If you'd like to recreate this look in your home, it's pretty simple–just follow these directions:
First, you want to paint the ceiling in a low-sheen black paint, so that you don't see any white peeking through.
Next, stain the boards to make them look like cedar. We used a combination of Minwax's natural, cherry and weathered gray to achieve the look you see. The stain was 60% cherry,30% natural and 10% weathered gray all mixed together before applying.

Related reading: How much does a bathroom remodel cost?
Our modern farmhouse master bathroom makeover: Lessons learned
I was really stuck on black grout for our white subway tile in the shower, but now, slightly over a year later, I am regretting that decision a bit. The black grout has faded in spots and doesn't look near as crisp as it once did, despite cleaning it all the time!
As with all renovation projects, the bathroom took longer than expected and cost more than we initially budgeted.
To save money, we did everything ourselves, minus the tile, but master bathroom renovations aren't cheap! I learned to budget in more cushion for unexpected issues and always know that there will be timeline delays during construction.
All in all, we're super happy with the end result and know we will enjoy this space for years to come!
Related articles you may like:
Our renovated kids bathroom
Our shiplap fireplace makeover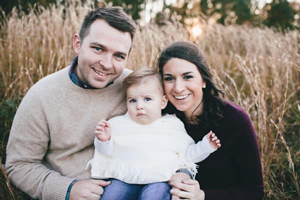 ABOUT DANIEL AND ASHLEY
As a licensed general contractor with more than 10 years in the business, Daniel can walk you through any home renovation or improvement project step-by-step. And if you're here for home design and paint color advice, Ashley's your girl! Join us as we share helpful tips and step-by-step tutorials on anything and everything home. We're also renovating our personal home along the way, and will use this blog as a way to document our progress. Read more...