How to use Urbane Bronze by Sherwin Williams in your home
Urbane Bronze by Sherwin Williams was named the 2021 Color of the Year. As darker and more bold paint color choices become more and more popular, it's no surprise to see Urbane Bronze moving up in the ranks of popularity.
If you're ready to transform a room, accent wall or even a front door in your home into something more dramatic, yet warm, Urbane Bronze is the way to go.
What color is Sherwin Williams Urbane Bronze?
Despite its very dark appearance, Urbane Bronze is actually a gray paint color that has deep brown/bronze undertones in it, which gives off an almost black appearance when used on walls, depending on the room's light.
Where can I use Urbane Bronze?
Urbane Bronze looks amazing on front doors, cabinets, accent walls and even used in entire rooms. Don't be afraid to use it in a whole room–even though it's a darker hue, Urbane Bronze is actually considered a pretty neutral paint color.
As you can see from the beautiful photo above, Urbane Bronze works well to pull in black and brown decor, giving everything a very soft look, despite its dramatic color.
What colors pair well with Urbane Bronze?
Given the fact that Urbane Bronze is a neutral color choice, many paint colors will pair beautifully with it, provided they have warm undertones, as well.
Urbane Bronze has a warm brown undertone to it, so paint choices that have warm undertones and are on the warmer end of the color spectrum will look best. Anything that has a cool undertone, like a blue or a purple will result in the color looking too harsh.
For example, when pairing Urbane Bronze with a trim color, look for a trim color that has more warmth to it, like White Dove.
Urbane Bronze front door
If you're looking for a bold color choice on your front door, Urbane Bronze is a good choice. Not too black and not too brown, Urbane Bronze sits right in the middle. If you want to make this bold color choice with your front door, make sure your home's exterior paint has warm and balanced undertones, so that the two colors compliment it each other.
Speaking of your home's exterior colors, Urbane Bronze is very similar to another favorite of mine: Rushing River–which I think is one of the trending exterior house colors to watch in 2022.
Urbane Bronze Cabinets
There's definitely a movement towards darker cabinets, as some homeowners are growing tired of the all-white kitchen trend. Urbane Bronze looks simply stunning on cabinetry!
To pull off the darker cabinetry color, make sure your fixed elements like your floors and countertops have warmer undertones and are neutral in color. For example, Urbane Bronze cabinetry would not pair well with a countertop that had a cooler tone to it like a gray-blue color.
Decor that works well with Urbane Bronze
Before choosing Urbane Bronze to paint a wall, cabinetry or piece of furniture make sure your decor style can support such a bold color choice.
Because of the very "earthy" aesthetic found in Urbane Bronze, you want to pair it with natural elements to truly make it stand out and work well for your space. Think warm wood accents, black matte pottery, a jute rug, etc. Urbane Bronze also works to accentuate warm metallics like gold or copper.
Check out the 2022 paint color of the year, SW Evergreen Fog.
Related dark paint color reviews
Black paint colors for your home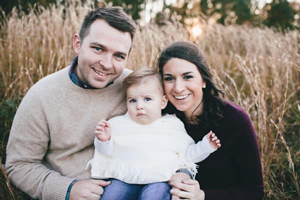 ABOUT DANIEL AND ASHLEY
As a licensed general contractor with more than 10 years in the business, Daniel can walk you through any home renovation or improvement project step-by-step. And if you're here for home design and paint color advice, Ashley's your girl! Join us as we share helpful tips and step-by-step tutorials on anything and everything home. We're also renovating our personal home along the way, and will use this blog as a way to document our progress. Read more...