25 best gray green paint colors (2023 update)
Move over greige, gray green paint colors are ready to take center stage. If you haven't thought about using grayish green paint in your home, consider it now!
The light green hue softened by undertones of gray is absolutely beautiful and creates a perfect neutral backdrop for decor and furnishings.
Believe it or not, greenish grey paint is actually considered a neutral paint color and will work well in most homes, given your fixed elements and furnishings work well with it.
Not sure which green gray paint is right for you or if your home can even support these types of colors? As a certified true color expert, I'll give you my top tips to determine if these hues will work in your home, plus my favorite grey green paint colors to sample.
I also have a video on my top gray green colors, so make sure to check that out below!
This post contains affiliate links. Read my policy here.
Gray green paint colors
Not too green, but not too gray and cold–gray green paint colors are timeless and neutral enough for most spaces.
We'll start with the palest of greenish gray hues and then move our way through until we're at darker green gray paint colors.
If you're interested in any of the paint colors on this list, you can order a 12×12 peel and stick sample of the color, here.
Benjamin Moore Gray Mist
Benjamin Moore Gray Mist is the perfect hue for someone that wants a neutral gray paint with just a hint of green. Technically speaking, Gray Mist is actually a greige paint color with a green undertone.
This color works best with a backdrop of warmer tones. This is not a color I would sample in my home if I had fixed elements with cooler blue or purple tones.
Behr Silver Feather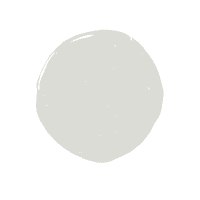 Silver Feather is technically a gray hue, but it's got more than just a hint of a green undertone. The strong green undertone of Silver Feather gives off a pretty silvery sage tone, making it a great option for those looking for a lighter sage hue.
Sherwin Williams Light French Gray
Another very pale gray hue with a green undertone. Light French Gray is a great backdrop for warmer furnishings and decor and also works really well on kitchen cabinetry or built ins. I'd pair this hue with an off white color paint, as opposed to a stark white for best results.
Sherwin Williams Fleur de Sel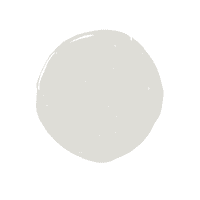 Sherwin Williams Fleur de Sel is likely not a color you've heard of, but it needs to be. A really pretty blend of blue, green and gray, with more green and gray than blue, this light hue is perfect if you want a more pale color.
If you like Fleur de Sel you might also like my list of farmhouse paint colors.
Sherwin Williams Sea Salt
Admittedly this is more of a blue green hue, but it's just got a wink of gray too, so I'm including this popular color on this list for those that want something in the ballpark of green and gray, without hitting it right on the head.
Sherwin Williams Ancient Marble
I wanted a pretty soft green with a hint of gray in it for our kids' bathroom with laundry room remodel and after testing many colors, we landed on Ancient Marble.
Despite the fact that the paint chip makes this color look like a beige, it's actually a pale green gray hue, with definitely more green than gray.
It's used on our vanity in our kids' bath, where there's no window, so keep that in mind.
Sherwin Williams Livable Green
Liveable green reminds me of Soft Fern, if you're looking for a very pale green with hints of gray, Liveable Green is very, well, liveable.
The more natural light you have in your room, the lighter this color is going to appear on the walls. A room with small windows or opposite the sun might make this color seem a bit off or too "muddy."
Benjamin Moore Fernwood Green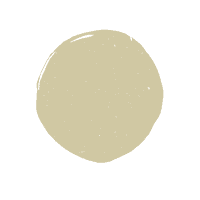 Fernwood Green is a light green hue with notes of gray in it. This color does have a wink of yellow in it, so if that's not what you're after, I'd steer clear of this hue.
This color will look best in a lot of natural light, as it will go muddy (thanks to that yellow undertone) really quickly in a room without too much daylight coming in.
Benjamin Moore Spanish Olive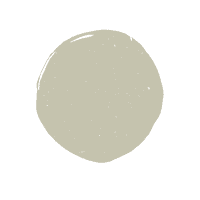 Spanish Olive is another hue that will completely throw you off if you look at it only online, as in real life, it's much more lively. This pretty olive hue has a pretty good blend of green and gray but also has just a hint of blue undertones, too.
This color is really pretty in rooms with a lot of natural light and works well with both soft and crisp white trim colors.
Benjamin Moore Budding Green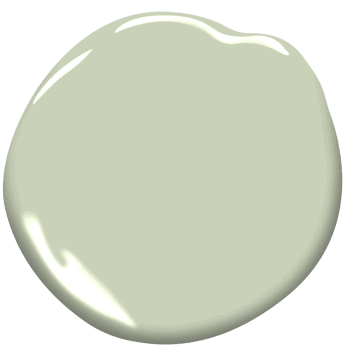 A nice soft green, complimented with notes of gray undertones, Budding Green is a great choice if you're looking for a green paint color with a little gray to soften it up.
Benjamin Moore Soft Fern
Soft fern is a bit like Horizon in that it has gray and greige undertones in it, yet it's a little more green in color than Horizon. A wonderful choice if picking a green color scares you, but you'd still like to step out of your comfort zone a bit.
Sherwin Williams Oyster Bay
Oyster Bay is a really beautiful silvery sage hue combining elements of grey and green and just a hint of blue. Thanks to the green, gray and blue hues, this color works well with a lot of decor palettes.
This would also be a beautiful color for exteriors, but keep in mind that colors are always significantly brighter outdoors than they read inside your home, so make sure you test out colors outdoors first, before committing.
Sherwin Williams Silverpointe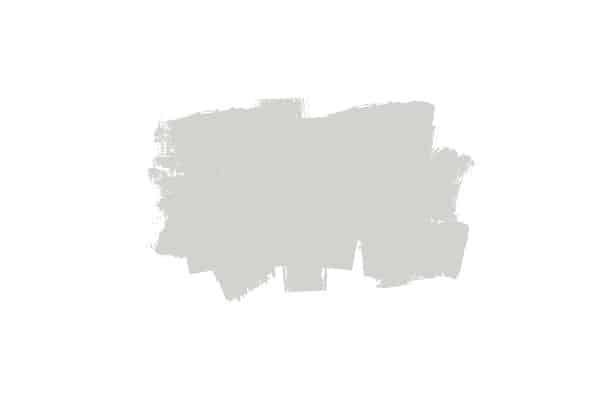 Some of these colors on this list are more green and some are more gray. Sherwin Williams Silverpoint is technically a gray but it's got such a loud green undertone, that it works for those looking for a pale green gray hue.
Gray paint colors are tricky, and this one's no exception, as it has not one, but two undertones. Besides green, you're also working with some blue in mix.
Depending on your lighting, this color will look either more blue or more green.
Colors that have two undertones are not to be taken lightly. If you're thinking about this color, make sure you test it out on your walls first!
I love Silverpointe for a bathroom or even as a coordinating color with a darker navy hue.
However, if you want the green to stand out over the blue, pair Silverpoint with green colors, rather than blue.
Benjamin Moore Spring Thaw
Exactly as the name describes, Spring Thaw is a pretty blend of green and gray. This hue has just a hint of a yellow undertone, as do some of the other colors on this list. You can avoid bringing this out by pairing it with a crisper white trim color.
Spring Thaw will also work with softer white trim colors, but be careful not to go with just any off-white tone, as some have far too much yellow for this color. A safe bet here is Benjamin Moore White Dove.
Sherwin Williams Rainwashed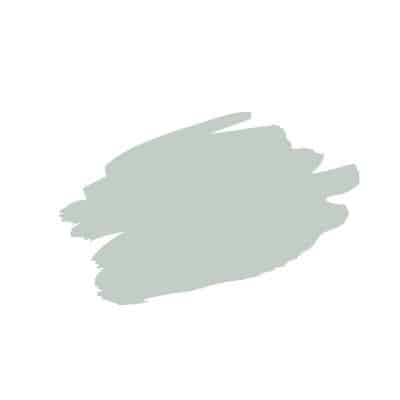 Rainwashed is a beautiful paint color that is made up of green, blue and gray. Some might call it a blue-gray-green paint color.
In full disclosure, this color only has a hint of gray. It's technically more of a green blue color, but if you're in the neighborhood of wanting something green gray, you might really like the green/gray/blue combo, too!
Rainwashed is a real chameleon of a color (but honestly, aren't they all?) Anytime you have more than one undertone, the differing undertones will come out at different times.
This is why it's best to take your time and test these colors before committing.
Benjamin Moore Svelte Sage
Svelte Sage is another pretty option for those wanting a green gray color. This color looks a bit misleading online, but when you actually sample it out at home, it reads far less army green (like it does online) and way more balanced Sage.
I like Svelte Sage with a crisp white trim color for a more cleaner look, but in homes with more muted tones it also looks really pretty with an off-white trim color, too.
Behr Riverdale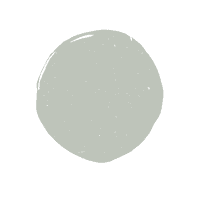 Riverdale is a color I don't hear too many people talking about, but it's just way too pretty to not put on this list.
Riverdale is definitely a green gray but also has a hint of a blue undertone to it, as well. If you don't like the blue undertone, just don't place this color next to large amounts of blue and instead play up greens in your decor.
Daniel actually recently finished up a kitchen where the homeowners used this color on their cabinets and it was really beautiful.
Sherwin Williams Silvermist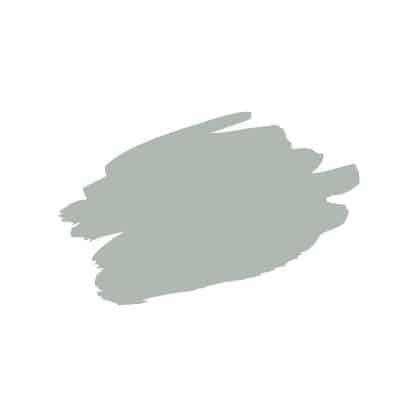 Silvermist is a sage green with undertones of blue and gray. If you really like the idea of sage, but would like it to have a little more depth, try Silvermist.
Benjamin Moore Saybrook Sage
Benjamin Moore Saybrook Sage is definitely a green gray color, but it has more green than gray. The quientessintal sage hue, this is a beautiful, medium-depth color that works well with yellow, blue, darker green, and plum hues.
Sherwin Williams Clary Sage
The darkest green on this list of gray green paint colors, Clary Sage is a nice olive color, that's lightened up a bit by some gray undertones. If you like this sage tone, you'll love my post on sage green paint colors.
Sherwin Williams Softened Green
A gorgeous light olive green highlighted by gray undertones, Softened Green is a beautiful choice.
Sherwin Williams Escape Gray
A tone closer to the darker colors of this list, but not super dark, Escape Gray is a pretty blend of gray, green and just a smidge of blue. Pair this with an off white trim color for a more muted look or a true white trim color for a cleaner, crisp appearance.
Behr Nature's Gift
Definitely on the darker side, Behr's Nature's Gift is a great option for cabinetry, built ins or even a room like a home office. This color has a good blend of green and gray but like a lot of other hues on this list, has a bit of a blue undertone to it, too.
Sherwin Williams Evergreen Fog
I had to update this list to add Sherwin Williams' latest color of the year pick, Evergreen Fog. A beautiful deep green with greige undertones, Evergreen Fog is one of the darkest hues on this list.
If you want a color that packs a punch and you also have quite a bit of natural light in the space in question, consider Evergreen Fog.
If you like the idea of gray green paint but didn't quite find what you were looking for, check out my review on Pigeon by Farrow and Ball or you can find other paint color reviews here.
Farrow & Ball Green Smoke
A super popular smoky green hue, Green Smoke by Farrow & Ball is one of my favorites on this list. An army green color, subdued by gray undertones, Green Smoke really makes a statement. This color pairs beautifully with off-white colors and mustard yellows, just to name a few.
Need help deciding what color to paint your room? Here's my full guide on how to choose paint colors!
Get samples of gray green paint online
Be absolutely sure the gray green paint color of your choice will work well in your space when you try Sampilize.
If you haven't heard of this seriously cool company, Sampilize will send you paint samples on 12 x 12 sheets of peel and stick paper.
I was having a pretty tough time on deciding on a wall color for our living room and was able to order several samples online and easily pick one that worked best in the space. It saves so much time when you don't have to go back and fourth to the store, too!
Check out Samplize here!
What grey paint has green undertones?
Accessible Beige, Agreeable Gray, Revere Pewter, Edgecomb Gray and Pashmina are some of the most popular grey paint colors that have green undertones.
Grey paint colors either have green, blue, violet or a combination of two or more of these. Grey paint tones with green undertones are the most neutral of all grey colors, but that doesn't mean that you can put them anywhere and call it a day. You still need to make sure the work with your fixed elements, first.
Gray green paint in real homes
Look how beautiful softened green looks on these kitchen cabinets! I love moving away from the all-white kitchen in favor of these rich hues.
Bedroom in Rainwashed
Rainwashed bedroom via Thrift Diving
Desk nook in Silvermist
How to test out your green-grey paint samples correctly!
I've loved paint colors for years, but after I became a Certified True Colour Expert, I really learned how to test out colors the right way. Here are three no-fail tips when deciding which green gray hue to go with
Step 1: Don't get bogged down in the sea of greenish gray hues
This rule applies for picking any color. There's just too many out there. Start with this list I've given you, order some samples and start comparing the colors to each other, first, and then after you've done that see how they go with your home decor…more on that below.
Step 2: Evaluate the undertones of the green grey shade you're considering
When deciding on neutral tones like green-grey shades, you must first look at what you're working with in terms of your fixed elements and furnishings.
You must make sure that the undertones in items you can't change like countertops, expensive furniture, flooring, etc, match the undertones in the paint color you're considering.
Step 3: Compare, compare, compare
The photo below is a quick picture I snapped of grey paint colors. See how different they all are? By themselves, they look just "grey," but when you get them side by side, you can really see all the different undertones coming out.
That's why you should always sample a lot of colors in the color family you want to be in. You need to compare them to one another so you can see undertones and depth of color.
Step 4: Don't forget to test out all green-grey samples
Order samples before committing! Put your samples on a pure white background and hold up to the wall to get an accurate read of the color.
Do not put your samples directly on a wall on your home that's already painted.
This will do nothing but confuse you, as the current color will distort the color you're considering.
Make sure you evaluate the light in your room before committing to these types of colors. A lot of greenish grays will quickly look muddy or dirty fairly quickly in rooms that face opposite the sun and don't have too many windows.
You can still use a sage type of color in rooms that don't have a lot of natural light, you just need to look to go lighter, rather than darker.
Other paint advice and paint colors you may enjoy
How to choose paint colors for your home interior
The best greige paint choices for your home
Black paint colors that work well in homes
Beautiful pink and blush paint colors