Shiplap bathroom in a modern farmhouse
Despite its recent popularity thanks to the hit show, Fixer Upper, shiplap has been around for decades. Instantly transforming a sparse wall, shiplap works wonders to give off that cozy farmhouse vibe we're all looking for.

While renovating our master bathroom, we wanted to give the space some much needed texture and character, so we decided to use shiplap in the bathroom to achieve that look.

Many people are hesitant about putting shiplap in the bathroom due to moisture and general wear and tear concerns, but we're here to tell you– shiplap works great in any space, even the bathroom.
This post contains affiliate links. Read my policy here.
Can shiplap be used in a bathroom?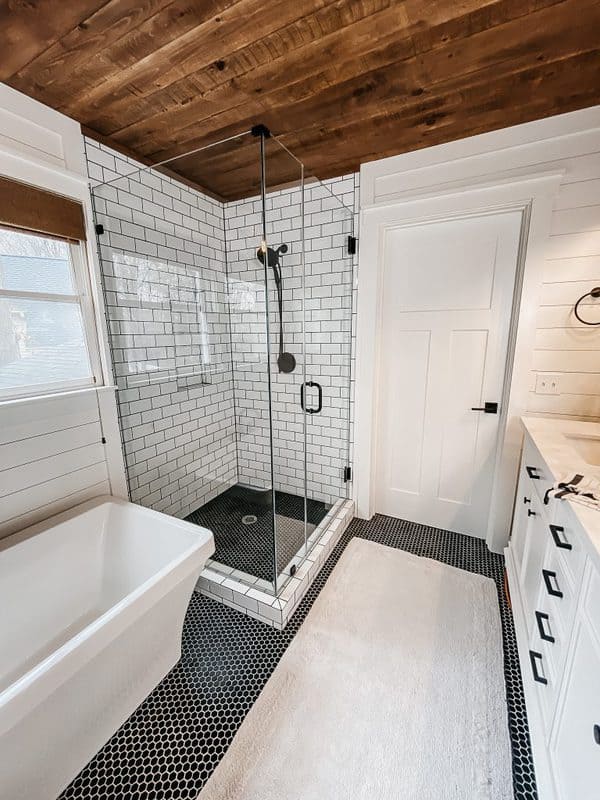 Yes–as with all wood trim or wood material in potentially high-moisture locations, the products will hold up so long as they have been sealed properly.
If proper initial sealing and regular inspection and maintenance are employed, shiplap in a bathroom will last for a long, long time.
Shop our bathroom:

How to protect shiplap in a bathroom
In high moisture locations such as bathrooms, kitchens or the exteriors of homes, it's critical to seal your wood material properly.
"End grain" is the leading culprit for water infiltration and eventual wood rot. End grain gets exposed whenever you cut a board — the wood grain will be running perpendicularly to your cut.
You must seal all cut ends for every board that you install in a high-moisture area. In most cases, you can only do this before installation. In bathrooms, one even coat is usually plenty (except for baseboards, always do two).
Additionally, you'll need to ensure that you fill nail holes with drywall compound.
Once this initial filling material dries in the nail holes, sand it, fill it again, and sand once more when dry. I always prime drywall compound with a very thin coat of primer before applying finish paint to any of the wood. Two finish coats are necessary to fully protect any material, interior or exterior.

Does shiplap warp in the bathroom?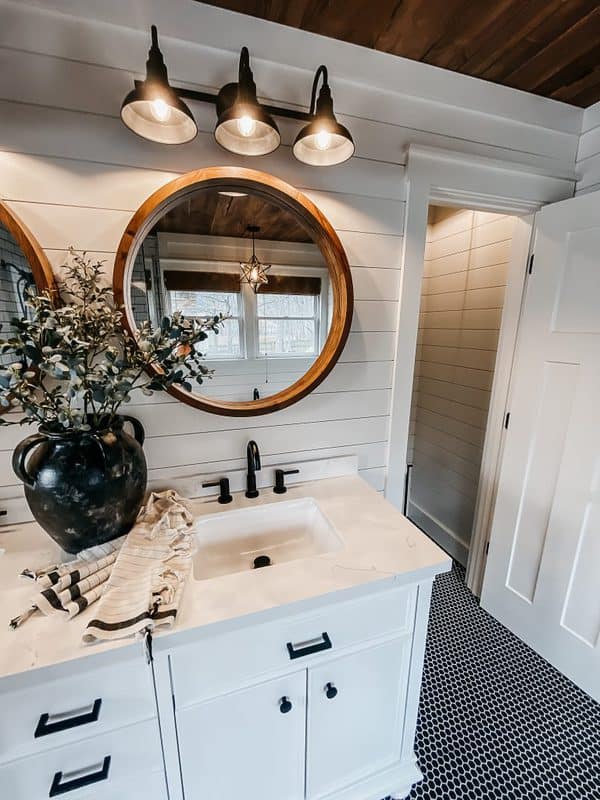 Unless you are planning to stain and clear coat your shiplap in high-moisture areas, always get the Paint Grade material with the finger joints… here's why:
"Stain grade" lumber is more prone to warping than "paint grade." Stain Grade material is solid wood with no joints. So if a piece of trim is eight feet long, it will be eight feet of the exact same piece of wood. As one piece of wood ages, it is more likely over time to warp, bow or twist as the wood dries out.
If a material is Paint Grade, it will have something called "finger joints" every 12 to 24 inches. So a single piece of eight foot Paint Grade lumber could be made of up to 6 or 7 different pieces of wood spliced together.
This greatly reduces the likelihood of the wood to warp since internal tensions of the wood grain can only affect the overall board in a 12 to 24 inch span before a new splice begins.
Can MDF shiplap be used in a bathroom?
No, MDF should never be used as trim work except for crown moulding, and even then, I stay away from it. Just because someone sells it doesn't mean it's okay to use.
While it's POSSIBLE to properly seal and install MDF in a bathroom, the reality is, using MDF in a bathroom is the nautical equivalent to building a boat out of cardboard.
Not only does it act like a sponge with moisture, but it scrapes and scuffs much more easily than wood. If you want to learn more about what is MDF and when to use it, we've written a whole post on that.

Our master bathroom with shiplap walls
While shiplap is ultra popular now, it's actually quite timeless and works beautifully with the modern farmhouse vibe we're going for as we renovate our home.
We like the texture and character shiplap brings to the walls and think it works really well in this space. For the wall color, we chose our favorite white, White Dove by Benjamin Moore.
Interested in using shiplap in your home? Here's our complete guide on how to instal shiplap and all the info on where to buy shiplap boards, too.
BATHROOM SOURCES: TUB | BLACK HEXAGON TILE | WHITE SUBWAY TILE | FRAMES | VANITY | STAR PENDANT | MIRROR | LIGHTS OVER MIRROR | VASE | FAUCET | VANITY KNOBS | VANITY PULLS
You might also like: Our renovated kids bathroom
Final thoughts on shiplap in a bathroom
If you're planning on a DIY bathroom renovation job and would like to use shiplap, you really need to hand paint it (instead of using a roller) to fully capture the warmth that shiplap can bring to a room. While this will definitely take longer, the finished product is worth the time and energy.
You wouldn't roll your baseboards or your crown moulding, so don't roll the shiplap. Remember, you're trying to replace that bland drywall look with something unique, so make sure you let it pop with that look that only comes from a good old fashioned paint brush.
Related shiplap articles
Modern farmhouse shiplap fireplace