A paint expert's top sage green paint colors for your home
One of the first color reviews I ever published was on green-grey paint colors and it was so popular, I'm back again to review even more sage green paint colors!
Top sage green paint colors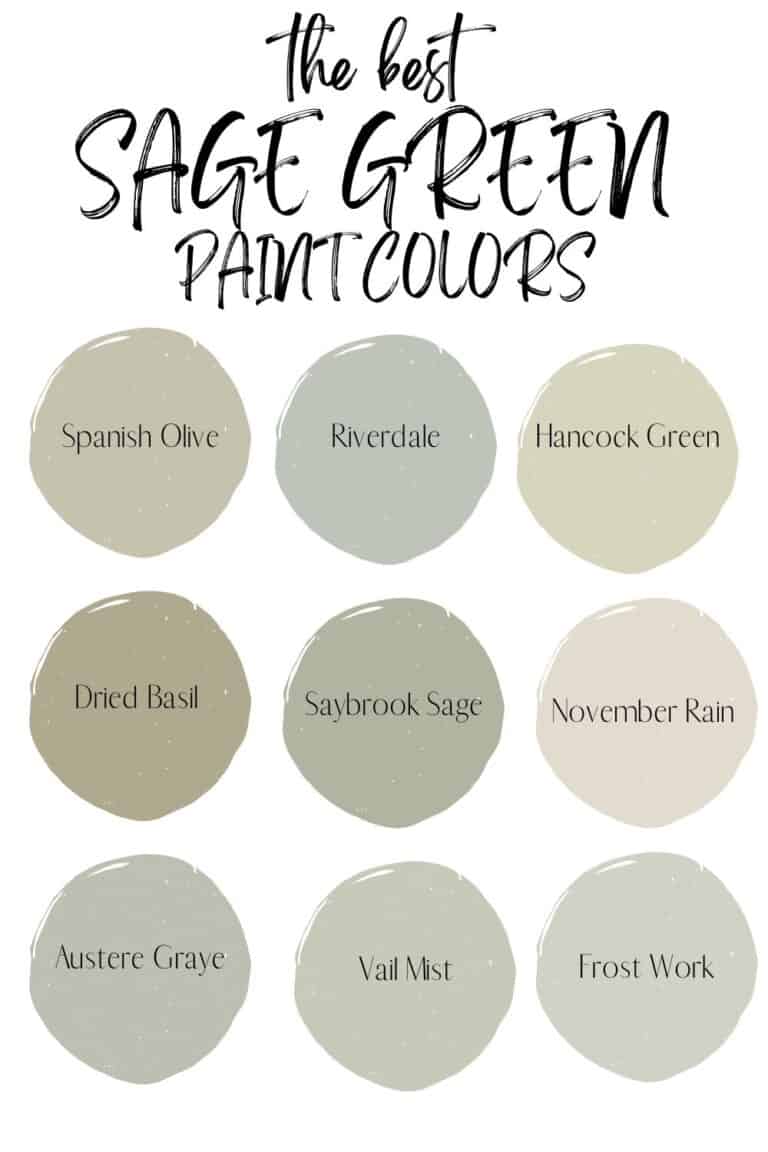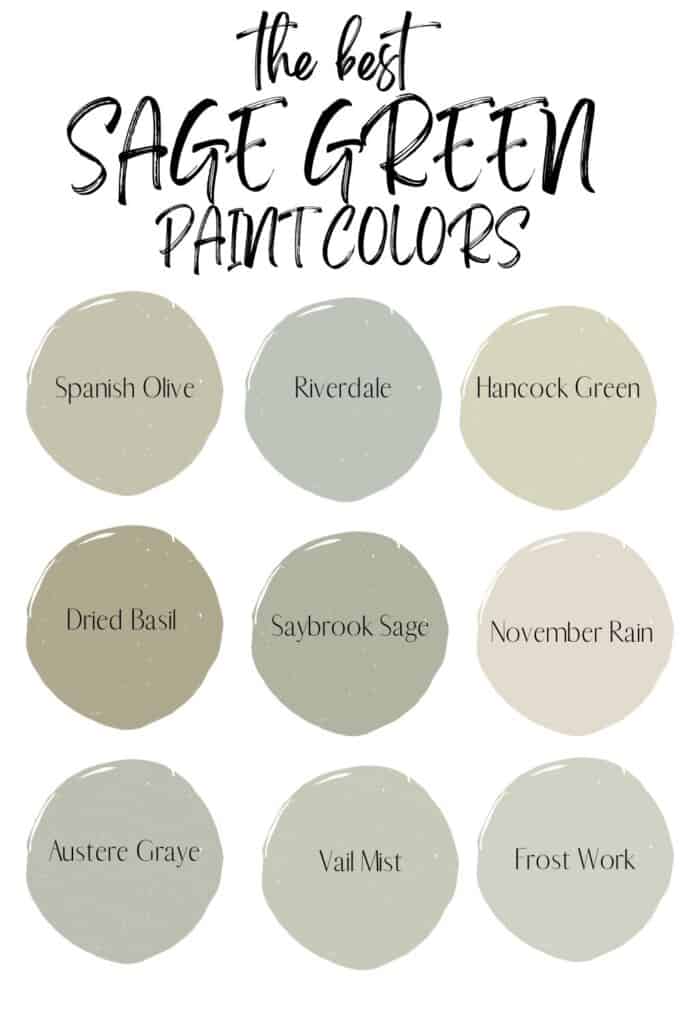 From barely-there silvery green hues to olive green colors, there's something for every project on this list of sage colors.
Pay attention to the undertones I note in these colors, as you'll need to make sure the undertones in the sage color you select will work with the rest of your home (don't worry, I've got more on that below!
Benjamin Moore November Rain
November Rain is the least green on this list of sage colors, but it still deserves a spot. Think of this color as a Greige with a fairly significant green undertone. If you want a sage vibe but don't want to commit all the way, November Rain should be on your list.
Sherwin Williams Frost Work
A very typical sage hue, Sherwin Williams Frost Work is really stunning. A pretty green with silvery/gray undertones, Frost Work looks just like you think it would, given its name. This color is fairly light, too, so it will work well in living spaces without getting too dark.
Benjamin Moore Spanish Olive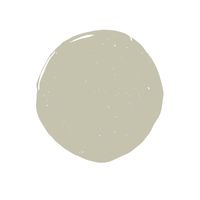 Spanish Olive is a medium-toned gray/green hue with a soft yellow undertone, giving way to a more olive-y tone than some other colors on this list.
Sherwin Williams Cascade Green
A darker sage hue, Sherwin Williams Cascade Green is perfect for smaller spaces or on cabinetry, rather than used as a main living color. I'd recommend Cascade Green for kitchen cabinetry, office built-ins, a powder room or even as a whole room color in a room like an office or study.
Benjamin Moore Dried Basil
Dried Basil is a darker olive/sage paint color that's very similar to Spanish Olive in terms of its makeup, but significantly darker. This darker hue is best used in smaller formats, rather than a whole room color, given its color depth.
Behr Riverdale
Behr's Riverdale is one of the prettiest sage green hues on the market. Very similar to Frostwork, but with just a touch more blue/gray to this sage green hue, Riverdale is really beautiful and would work well as a whole-room color.
Benjamin Moore Hancock Green
Hancock Green is a very warm sage hue. Very similar in build to November Rain, but with significantly more depth, Hancock Green is stunning.
Sherwin Williams Svelte Sage
This sage green hue is definitely more on the olive side than grey/green, but it still makes the cut, nonetheless. If you're looking for a more earthy sage with some olive/brown undertones, Svelte Sage needs to be on your list.
Because of this hue's undertones it really pairs best with a very creamy white trim color.
Benjamin Moore Saybrook Sage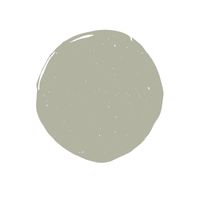 A really even-toned sage with just a hint of a gray undertone, Saybrook Sage is a really pretty green tone that works well for built-ins, cabinetry and even as a whole room color.
Sherwin Williams Austere Gray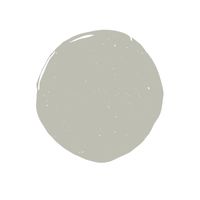 Don't let the name fool you, Austere Gray reads more like a green than a gray. Austere Gray is a medium-toned gray with a very strong sage green undertone. I much prefer pairing Austere Gray with a crisp white trim color to bring out the cool sage tones in the hue.
Benjamin Moore Vail Mist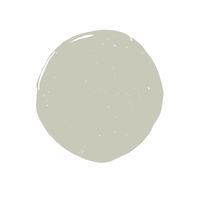 A light sage green hue, made perfect by a silvery undertone, Vail Mist is a perfect sage green hue.
Sherwin Williams Soft Sage
Soft Sage is a medium-depth paint color that leans more towards green than silver. Given the depth of this hue, Soft Sage is better suited for accent colors, in smaller spaces, or on cabinetry.
Sherwin Williams Moorstone
A pale, silvery sage with some blue undertones, Moorstone is really beautiful. This hue would work perfectly for a whole room color or on cabinetry.
October Mist
Named the 2022 Benjamin Moore paint color of the year, October Mist is a calming sage color that has gray undertones.
Is sage green on trend for 2023?
Two sage green hues were named as the 2022 paint colors of the year–October Mist and Evergreen Fog–and to that end, sage green colors are here to stay.
Many homeowners tired of beige and gray and even white are looking for a new neutral, which is where the silvery green gray tones of sage green come in.
Looking for a change of scenery in the kitchen, soft and dark green is trending majorly in kitchen cabinetry.
Which colors go with sage green?
The beauty of sage green lends itself to many other earthy textiles and colors. Many warmer white paint colors work well with sage green tones, as does beige and grey tones. Plums, terra cottas and even yellow hues look really good paired with sage.
Sample sage green color palette
Here's a sample of colors you could pair sage green hues with. These aren't all wall colors, rather they are a mix of wall colors, pillows, throws, accessories, etc.
If you want to pair your sage green hue with neutral colors like gray, beige and white, pay attention to the undertone in the sage color you've selected.
Sage green colors with a green/silver undertone will only pair well with beige colors with green undertones and gray colors with green or blue/green undertones.
Some of the sage colors on this list look much better with softer whites, like the White Dove paint color and others will work with true white hues.
Tips on selecting the best sage color for your home
Sage colors have undertones–fail to see these undertones and you're likely left with a paint color you don't like.
If you're not a paint color expert, don't worry. You can still see the undertones without having a trained eye at your side. The secret to seeing these pesky undertones is to get a lot of samples (perhaps several off of this list) and compare them to each other.
By doing this, you can easily see which sage colors have more yellow undertones, which sage colors are technically gray with green undertones and which sage colors have more of a blue/green/gray situation going on.
I'm a huge fan of the peel and stick paint colors for this very reason. I typically order 5-10 hues for any project I do and then compare them to one another.
Always put your samples up against white poster board when testing them out, never put your samples directly on the wall, as the current color will influence the color you're testing out.
If you plan on visiting the paint store, paint a 12″x12″ square on pure white paper, leaving a white boarder all the way around the sample to correctly test the color.