8 beautiful navy blue paint colors
I read something once that said every room should have a touch of black in it. While I firmly believe this is true, I also think each space should have some navy blue in it, too!

To me, blue is just as neutral as black and it really works to soften or amp up your room, depending on the hue darkness.
If you feel the same way about blue as me, you might be searching for that perfect navy blue paint color, and to that end, here are my absolute favorites!
This post contains affiliate links. Read my policy here.
The best navy blue paint colors
Hale Navy by Benjamin Moore
I've reviewed Hale Navy extensively in a prior post, as it's one of the most popular navy blue paint colors, and one clients frequently ask us to use in projects.
An extremely versatile and neutral paint color, Hale Navy doesn't have a green undertone that so many blue paint colors typically have. Darker than most navy colors, Hale Navy makes a dramatic statement.
Grab a sample of hale navy
Naval by Sherwin Williams
Almost just as popular of a choice as Hale Navy, Naval is a sought-after navy blue paint color. While Naval and Hale Navy both are very dark hues, Naval has more of an aqua undertone than Hale Navy.
Grab a sample of Naval
Old Navy by Benjamin Moore
The darkest hue on this list, Old Navy lives up to its name, as it's one of truest navy colors I've come across. If you're looking for a dark, pure (free of too many undertones) navy, this one's for you.
Grab a sample of Old Navy
Mysterious by Benjamin Moore
If you've been reading for a while, you know I love black paint colors, so Mysterious really spoke to me when I discovered it, as it's very close to a dark charcoal paint color, but it's actually categorized as navy blue. If you like a little blue with your dark gray/black, check out Mysterious.
Grab a sample of Mysterious
Luxe Blue by Sherwin Williams
The lightest navy blue paint color on this list, Luxe Blue is a softer navy with a good bit of gray undertones. If you have minimal natural light, but still want a navy blue on the walls, Luxe Blue would be a perfect choice, as lack of natural light will make the paint color appear darker.
Grab a sample of Luxe Blue
Gentleman's Gray by Benjamin Moore
Don't let the name fool you, Gentleman's Gray is actually a navy blue paint color with a strong teal undertone. The notes of teal in Gentlemen's Gray are a welcomed departure from the typical hue of navy and a perfect paint color for an office or built-in.
Grab a sample of Gentleman's Gray
New York State of Mind by Benjamin Moore
Like Gentleman's Gray, New York State of Mind is a navy blue with a strong teal undertone. The blue green undertone in this beautiful paint color is fairly strong, giving the hue quite a vibrant presence. This color would be beautiful in a powder bath or even in a dining room.
Grab a sample of New York State of Mind
Salty Dog by Sherwin Williams
Salty Dog is very similar to New York State of Mind in that it has a strong blue green undertone, but I'd say this color is more saturated than New York State of Mind. You will need a good bit of natural light to use this hue and not have it read too dark so that it looks almost black.
Grab a sample of Salty Dog
Didn't find what you were looking for? I wrote a whole post on bluish black paint color options I love!
Helpful tips to choose the right navy blue paint color for your project
Check out the light reflective value
When in doubt-check out the light reflective value of the paint color to see how dark or light it truly is. Paint colors are assigned a number on a 0-100 scale. The closer to 0 the LRV is the darker it is, likewise, the closer to 100 the lighter it is.
If you've ever picked out a color and decided it was too dark or light when you got it on the wall, chances are that could have been avoided if you would have looked at the LRV.
When looking at multiple colors in question, make sure you look at the LRV and determine which colors are lighter vs. darker.
Get a sample
Please, please, please don't crowdsource and ask your friends/family/random internet strangers if they've used a color you're thinking about. Just because it works in someone else's house, does not mean it will work out in your house.
Natural light, overhead light, your floors, furniture and other fixed elements all play in to how your color will present itself.
I see people all the time find a picture online of a home using the color they're thinking about and choosing that color based on how it looks in that photo.
Don't do this!! Use those photos for inspiration only. Always get a sample and see how it looks in your home.
You can either go to the paint store and get a sample and paint it on a 12×12 white poster board and hang it in the room in question or you can check out Samplize to get peel and stick paint samples mailed to you.
What is a good accent color for navy blue?
Whites, creams or grays that have undertones that match the navy blue color you're considering work really well when paired with navy blue.
If you're looking for a stark contrast, orange and rich wood tones look beautiful with navy blue paint colors, too.
Navy blue paint colors, ranked from darkest to lightest
Old Navy–darkest
Naval
Salty Dog
Gentleman's Gray
Hale Navy
Mysterious
New York State of Mind
Luxe Blue–lightest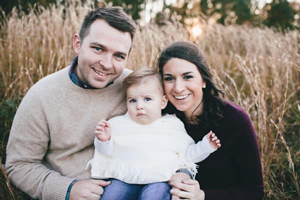 ABOUT DANIEL AND ASHLEY
As a licensed general contractor with more than 10 years in the business, Daniel can walk you through any home renovation or improvement project step-by-step. And if you're here for home design and paint color advice, Ashley's your girl! Join us as we share helpful tips and step-by-step tutorials on anything and everything home. We're also renovating our personal home along the way, and will use this blog as a way to document our progress. Read more...