Beautiful front door paint colors to try
Whether you're starting from scratch, or just looking for a change of pace, painting your front door is a great way to step up your curb appeal. If you're working with your existing trim and siding/veneer color, you might find choosing the right front door paint color to be just a bit challenging than if you were building new construction.
Stop stressing about paint when you browse my favorite front door color suggestions. I'll even give you ideas on coordinating colors, so you'll have a complete picture of how everything will work together.
Front door paint colors you have to try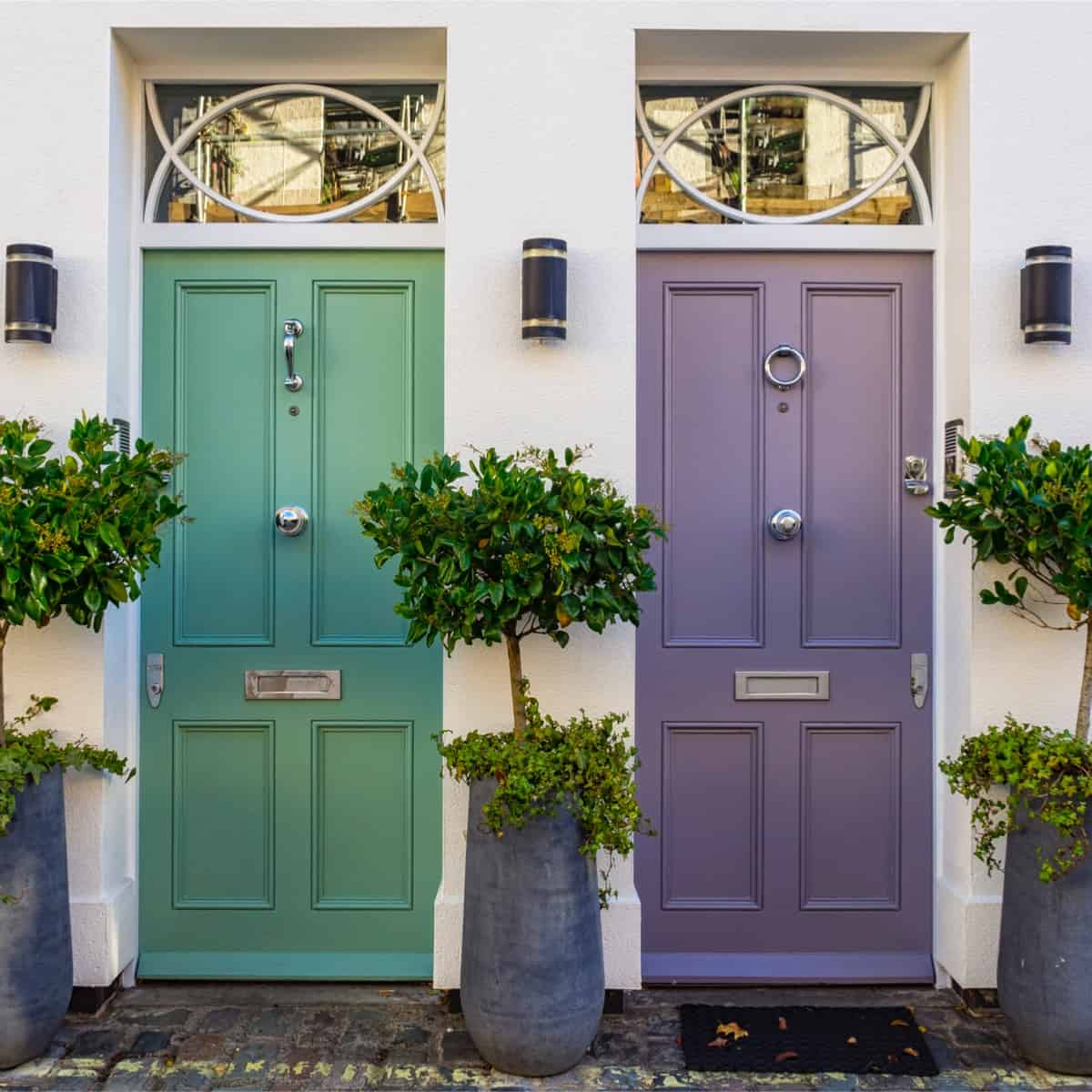 I've reviewed my favorite exterior house colors and exterior paint color ideas before and now I'm offering up my recommendations for some pretty front door paint choices.
Benjamin Moore Wythe Blue
Wythe Blue is an absolute gem of a color that we don't deserve. Just the right amount of milky blue-green, this color is divine. Absolutely everyone is painting their home white or gray right about now, and you can mix it up and stand out when you have fun with the front door and accent colors.
I really love Wythe Blue with a very crisp white. I don't think it really packs quite the punch if you pair it with an off-white, so try something like Chantilly Lace. You can also pair a Wythe Blue front door with a cool gray exterior, like Wickham Gray, top it off with crisp white trim and that's a combination that can't be beat.
Of course robin's egg blue always looks beautiful with navy, and Sherwin Williams Naval is a navy that's hard to beat. Not convinced Naval is right for you? Here are more dark blue paint options.
Benjamin Moore Vintage Wine
If you're searching for that perfect eggplant color to adorn your front door, look no further than Vintage Wine. Vintage Wine functions as such a beautiful plum shade that you don't even need to waste your time looking at other purple hues. This very pigmented color pairs really nicely with many colors, and I'll outline two of my favorite combinations.
As you can see above, for one combination, I've chosen a pretty mustard yellow and white to go with Vintage Wine. I love plum and earthy yellow together. Try Summer Harvest as your main color and use Simply White (one of the most versatile off white colors) as your trim color.
Another beautiful combination is to go with a bright bold teal as your main color, and in this case, I chose Ben Moore Aegean Teal and pair that with Collingwood. Collingwood works beautifully here with Vintage Wine as Collingwood is actually a gray with purple undertones!
Benjamin Moore Heritage Red
Classic red doors will never go out of style and red works really well with a variety of home exterior colors. The most popular combination with a red front door is when paired with a true white exterior and black accents. If you like this direction, I'd go with Sherwin Williams Black Magic, which is a very deep, true black and then pair it with Sherwin Williams High Reflective White.
Instead of black accents, you could go with navy blue accents, and I love Naval as an idea here.
Conversely, you can go with a medium-toned gray like Revere Pewter with either white or black accents. Revere Pewter is one of the few gray colors I would recommend with Heritage Red as it's technically a gray with green undertones, making it very neutral and pairing well with the red.
Sherwin Williams Jonquil
Who doesn't love a yellow front door. While yellow front doors are cheery, going with a yellow that's too bright or too dirty can easily ruin your curb appeal. If you're looking for nice cheerful yellow that isn't too bright, my vote would be Sherwin Williams Jonquil.
I love a yellow door paired with a white home and black accents, so for this combination I'll suggest Jonquil paired with Benjamin Moore Atrium White (a beautiful off-white with yellow undertones) and Sherwin Williams Tricorn Black.
If you like the idea of a yellow front door but you want something with a little more yellow, try Sherwin Williams Quilt Gold. This color of course would also pair well with the combo I gave you above, but I also really like it with a crisp white trim like Chantilly Lace and a pretty blue gray exterior like Benjamin Moore Nimbus Gray.
Benjamin Moore Blue Spruce
If you're looking for a really pretty dark blue with just a hint of green, try Benjamin Moore Blue Spruce.
Blue looks spectacular with grays that have blue undertones and specifically for this combination, I chose Benjamin Moore Gray Owl. I love pairing blue grays with true whites, so I'm recommending Chantilly Lace for trim again!
You could also go with Benjamin Moore Quiet Moments for your home's main exterior color, which would pair really nicely with Blue Spruce. Palladian Blue is also a really pretty blue green hue that's got a bit more saturation than Quiet Moments if you wanted something a bit deeper.
Sherwin Williams Evergreens
If you're searching for that quintessential green front door color that isn't lime green and isn't army green, Sherwin Williams Evergreens is perfect.
You can't go wrong with the classic combination of a green front door, black shutters/accents, and white facade. I think Sherwin Williams Black Magic is perfect for accenting Evergreens and I think you have to go with a bright white here like High Reflective White.
You could also go with a gray like Silverpoint as your main house color when going with Evergreens for your front door. Silverpoint is a grey with a blue/green undertone and I think it pairs really nicely with Evergreens.
Benjamin Moore Newburg Green
Navy blue is a classic front door color choice, but if you're looking for a dark blue green with lots of personality, Newburg Green is the way to go. Colors that are a combination of two or more colors give you some freedom in terms of decorating. This could easily work for a home that features more blues or just greens or of course, you could mix blue and green.
I like the idea of pairing Newburg Green with a clean white like Chantilly Lace and then bringing the blue green through with Sea Salt for Shutters or an accent. Newburg Green would also work with Sherwin Williams First Star, as a house color and then Rainwashed would be a really pretty accent color.
Benjamin Moore Saybrook Sage
If you're searching for the perfect craftsman-style green, Saybrook Sage is a color to check out. It's the perfect soft green without getting too brown. Saybrook Sage would look great as a door color when paired with Cloud Cover, a very soft off-white. Accent this palette with Newbury Port Blue.
Alternatively, you could use Accessible Beige as a main house color. Saybrook Sage is definitely one of Accessible Beige's complementary colors and pairs nicely together. Accessible Beige is technically a gray paint color with a green undertone.
Sherwin Williams Black Magic
Other front door colors to try out
Didn't see anything on the list above? Try out some of these:
Rainwashed– a light blue/green hue that's gorgeous with navy blues, whites and blacks.
Urbane Bronze–A dark hue that's not quite black, but dark enough. Softened with undertones of brown/bronze.
Studio Blue Green–a dark blue green hue that's more green than blue.
Wrought Iron– an off-black paint color that isn't quite as harsh as Black Magic
Coral Dust– a pretty pink that isn't too soft. See more blush pink paint options here.
What type of paint should you use on your front door?
The front door is a major focal point of the home, for better or for worse. Because these doors are exposed to weather and, in many cases direct sun for much of the day, protecting them can be both difficult and costly if done incorrectly.
Solid wood doors in particular need special care of they're going to last for the long haul. The minimum sheen for any front door that gets regular direct sun is Semi-Gloss. We recommend Gloss or even High Gloss, but many people dislike the shiny finish of these higher sheen options.
The higher the sheen, the less that moisture can penetrate to the wood fibers and soak into them. It's the constant wetting and drying process over and over that will rot a door and cause it to splinter, crack, swell and even warp.
Assuming you've properly primed the door (for paint applications), two coats are essential for any finish product, whether it be paint or a clear coat. We always recommend three for clear coats, but two may suffice if no direct sun hits your door throughout the day.