JOIN Our newsletter
Follow along as we renovate our 90s fixer upper!
welcome to home like you mean it
We're so happy you're here! Join us as we renovate our 90s fixer upper into a modern farmhouse. If you're up for a challenge, stick around, because we'll show you how to do everything yourself.
DIY tutorials
Full length tutorials on everything from installing shiplap to building tables.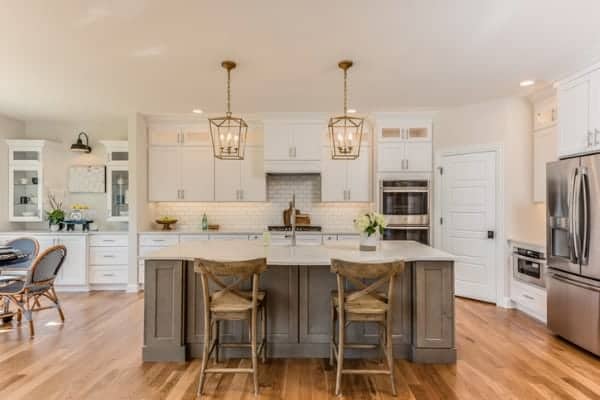 Designing a kitchen remodel is a big undertaking with many difficult decisions to weigh. To help homeowners think through the process of renovating their kitchen, we've planned a series of blog posts that should be helpful during the planning stages. Today we'll be discussing kitchen island design–what you should think about and what to avoid….
There's stark white and then there's beigy-white and then of course you have whitish gray. With hundreds of samples to choose from, how do you know which white quartz is right for your kitchen? Inside we'll look at the most popular white quartz countertop options and help you narrow down the right quartz color for…
Paint color of the year and the next hottest hues are already rolling in for the upcoming year. If an exterior refresh is on the top of your to do list, pay attention to these pretty palettes as you decide on an exterior house color scheme for your home. The best exterior house colors for…
OH HI! we're daniel and ashley
We're so happy you're here!
If you're looking for advice on maintaining, renovating or creating something for your home– you're in the right place.
As a licensed general contractor with more than 10 years in the business, Daniel can walk you through any home renovation or improvement project step-by-step.
As a paint color expert and design enthusiast, Ashley helps homeowners understand best practices for paint and decor and how it relates well to their home.
Join us as we share helpful tips and step-by-step tutorials on anything and everything home. We're also renovating our personal home along the way, and will use this blog as a way to document our progress.
Follow us on Instagram