23 of the best blue gray paint colors
If you're on the hunt for a blue gray or gray blue paint color, I've rounded up the easiest colors to work with on today's post.
Gray paint has been in for a while and blue will never go out of style. If you're reading this, chances are you're in need of a cool paint tone that either leans more gray or more blue.
The tones highlighted on this list will either be blue with gray undertones or gray with blue undertones ( a lot of these read "blue" on walls, even though they're technically gray tones).
You can start to narrow down your list of potential blue gray paint colors or gray blue hues with these ideas and then once you've landed on a few colors to sample, be sure to read my full paint reviews on the colors you're considering.
Best blue gray paint colors from Benjamin Moore
I've arranged these in darkest to lightest based on each color's light reflective value (LRV).
Hale Navy
Hale Navy is one of the darkest bluish gray colors on this list, but thanks to its subtle gray undertones it's a stand out paint color favorite of mine. With just enough gray to soften it up, but enough navy to deepen the color saturation, Hale Navy is a beautiful blue gray paint color.
This dramatic hue is very different than Sherwin Williams Naval, that it is typically compared to and is much darker and moodier. If you're looking for a true navy, you'd want to choose Naval and if you need a more subdued navy, go with Hale Navy.
Raccoon Fur
One of the darkest hues on this list, Raccoon Fur is a deep blue with a slight gray undertone. This beautiful color works wonderfully on cabinetry, in offices or dining rooms.
Blue Note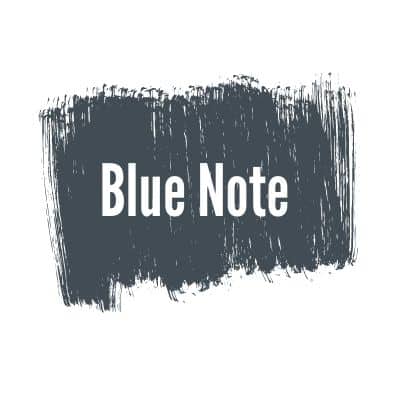 Not quite as dramatic as the ever popular Hale Navy, Blue Note is a dark bluish gray paint that adds drama to any space. If you tend to gravitate towards navy blue paint colors, but don't want something too dark, Blue Note is an excellent option.
I've got even more suggestions like this, and you can check out my post on blue/black paint color options if you like the shade of Blue Note.
Providence Blue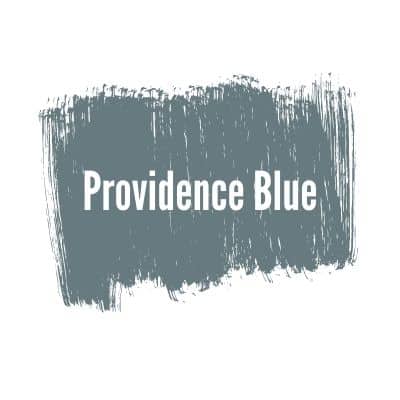 Providence Blue breaks out of the traditional blue gray mold with notes of turquoise, blue and gray. Benjamin Moore describes this color as "deep blackened teal blue." One of my absolute favorites on this list, Providence Blue is simply gorgeous.
Boothbay Gray
Sometimes you're going for a pale blue and you end up with a baby blue that's just too light for your space. If this is your dilemma, try Boothbay Gray. While technically a gray paint color, Boothbay gray really reads blue.
With enough saturation to provide depth and drama, using Boothbay Gray won't make your room look like a baby boy's nursery. This hue is stunning on cabinetry or when used in an office or powder room. I've even seen this color used on an island before, and with cooler-toned countertops, it's beautiful.
Nimbus Gray
If you're looking for a paint color that reminds you of a day at the beach, Nimbus Gray is the perfect blue gray paint color. A soft pale blue, with notes of gray gives way to an absolutely stunning shade of blue.
Coventry Gray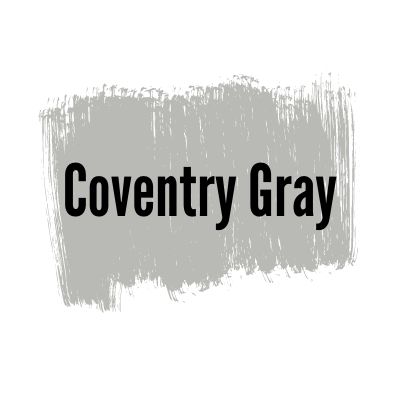 A fairly dark gray, Coventry Gray is firmly in the gray blue paint color family, thanks to its strong blue undertones. I like to use Benjamin Moore Coventry Gray as an accent color and it pairs really well with light grays with blue undertones like Horizon or Gray Owl.
Stonington Gray
Moving in to the more middle of the road tones of gray, Stonington Gray sits right in the middle in terms of color depth. A blue undertone to this gray makes it the perfect choice for a room that needs a cooler tone to complement its furnishings and fixed elements.
Nimbus
Did you know Benjamin Moore has a Nimbus Gray and a Nimbus? Make sure you don't confuse the two, as they are very different. While Nimbus Gray reads like a blue grey paint color, Nimbus reads more like a pale gray blue.
Gray Owl
I'm a huge fan of Benjamin Moore Gray Owl. Just like some other lighter grays on this list, Gray Owl has blue and green undertones to it. Depending on your lighting, Gray Owl will either favor blue or green or sometimes both.
Moonshine
Just like Wickham Gray(see below) Benjamin Moore Moonshine is a pale gray with undertones of both blue and green. It's fairly light but still has enough depth to hold its own and not wash out.
Wickham Gray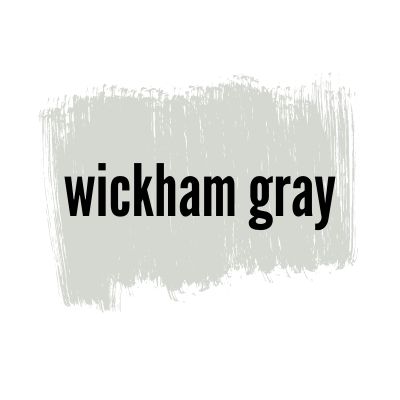 In the presence of a lot of natural light, Benjamin Moore Wickham Gray reads like a perfectly pretty powder blue. A bit easier to work with in terms of overall decor, Wickham Gray is a pale gray with undertones of blue and green, making it more neutral than grays that just have blue undertones.
Horizon
The lightest on the list of Benjamin Moore blue gray paint colors, Horizon is a pale gray with very subtle blue undertones. A lot of people use Horizon because they're looking for a gray that doesn't have undertones, but rest assured, all gray colors have undertones; Benjamin Moore Horizon is no exception!
Best blue grey paint colors from Sherwin Williams
In order of darkest to lightest…
Gale Force
Gale Force is a darker version of Providence Blue. Another blackened teal blue with a slight gray undertone, Gale Force makes a dramatic statement with its rich hues. This color would be beautiful in a bonus room or office.
Waterloo
A deep, dusty blue gray, SW Waterloo is another favorite paint color of mine. Waterloo also makes my list of favorite farmhouse paint colors, thanks to its neutral base, and gray undertone that gives the color warmth.
Web Gray
If you're on the hunt for a charcoal gray with strong blue undertones, Web Gray might be for you. If you like Hale Navy, but wanted something just a bit more gray, give Web Gray a try.
Granite Peak
A beautiful dusty navy blue with ample gray undertones, Granite Peak can best be described as a warm navy blue gray. This color is absolutely stunning on a home's exterior and works well inside in offices, bonus rooms and even powder rooms.
Jubilee
One shade down from Krypton, Jubilee is a slightly deeper color, with more of a gray teal base. Overall, Jubilee works well as a backdrop for main living areas, and many people opt to use this bluish gray paint color in the open spaces in their home. 45
Krypton
Krypton is a beautiful pale blue with gray and even teal undertones. Depending on the natural sunlight available in the room you use Krypton, this chameleon of a paint color can either look like it has a blue base or a gray base.
Gray Screen
A medium-toned gray paint color, Gray Screen has a pretty strong blue undertone to it. Whereas a lot of grays with blue undertones are more subtle, this is not the case for Gray Screen, as this paint color reads more like a soft blue than a gray.
Passive
A light gray paint color with not one, not two but three undertones-Passive is complex. Green, blue and purple can all be seen in Sherwin Williams Passive, although the blue/purple tone is stronger than the green.
Big Chill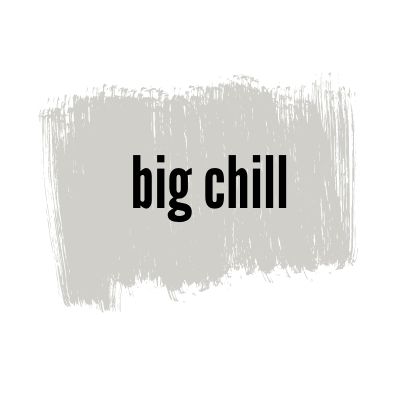 If the idea of a gray blue appeals to you but you're worried about too strong of a blue undertone, Big Chill might be for you. The blue undertone in Big Chill is definitely more muted than many gray blues, making this color a bit easier to work with.
Silverpointe
A pale gray with undertones of both blue and green, Silverpointe is a beautiful complement to darker blue grays and even blue gray greens like Waterloo.
How to choose the perfect blue gray paint color
Just like with any other paint colors, the undertones of a specific paint color should ultimately help guide you as you pick the perfect color for your space. Remember, there's no such thing as a paint color that works for all homes and all rooms.
A lot of blue gray paint colors tend to have cool undertones, so make sure you test the colors in the specific rooms you want to paint and observe how they present at different times of the day and with natural and artificial light.
Pay attention to each undertone in the colors you're considering and choose the color that best works with the undertones in your home's fixed elements and furnishings. I have in-depth directions on how to do this in my full paint color reviews.
Psst! If you're into the blue gray color, but want something just a hair different, check out my review on Farrow & Ball Pigeon, or check out my full list of gray paint colors here.
Related paint color articles