12 best blue gray paint colors
You can't go wrong choosing a blue gray paint color to accent your space. Decorating with blues will never go out of style–blue is a calming color that works well as a backdrop for many different styles and decor elements.
The perfect blue gray paint color
The perfect blue gray paint color is either a gray paint with blue undertones or a blue paint color with gray undertones. The combination of blue and gray is beautiful, and the two colors complement each other very well.
Having a hard time choosing a blue gray paint color for your home? Here are my pics for the best bluish gray paint and what they look like in real homes.
Best blue gray paint colors from Benjamin Moore
Hale Navy
Hale Navy is one of the darkest bluish gray colors on this list, but thanks to its subtle gray undertones i's a stand out paint color favorite of mine. With just enough gray to soften it up, but enough navy to deepen the color saturation, Hale Navy is a beautiful blue gray paint color.
Eternity
Eternity is a very pretty light gray with subtle blue undertones. Eternity is more of a cooler paint color, so it may look a little cold in rooms with little natural sunlight.
Raccoon Fur
One of the darkest hues on this list, Raccoon Fur is a deep blue with a slight gray undertone. This beautiful color works wonderfully on cabinetry, in offices or dining rooms.
Nimbus Gray
If you're looking for a paint color that reminds you of a day at the beach, Nimbus Gray is the perfect blue gray paint color. A soft pale blue, with notes of gray gives way to an absolutely stunning shade of blue.
Blue Note
Not quite as dramatic as the ever popular Hale Navy, Blue Note is a dark bluish gray paint that adds drama to any space. If you tend to gravitate towards navy blue paint colors, but don't want something too dark, Blue Note is an excellent option.
I've got even more suggestions like this, and you can check out my post on blue/black paint color options if you like the shade of Blue Note.
Providence Blue
Providence Blue breaks out of the traditional blue gray mold with notes of turquoise, blue and gray. Benjamin Moore describes this color as "deep blackened teal blue." One of my absolute favorites on this list, Providence Blue is simply gorgeous.
Best blue gray paint colors from Sherwin Williams
Waterloo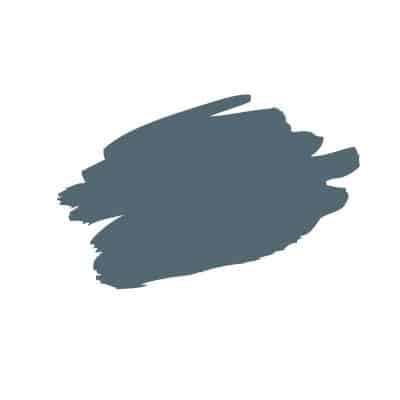 A deep, dusty blue gray, Waterloo is another favorite paint color of mine. Waterloo also makes my list of favorite farmhouse paint colors, thanks to its neutral base, and gray undertone that gives the color warmth.
Sleepy Blue
One of the lightest blue gray paint colors on this list, Sleepy Blue is a pale blue hue with gray undertones. This color works perfectly in a powder room and is absolutely stunning in a baby boy's nursery.
Gale force by SW
Gale Force is a darker version of Providence Blue. Another blackened teal blue with a slight gray undertone, Gale Force makes a dramatic statement with its rich hues. This color would be beautiful in a bonus room or office.
Krypton
Krypton is a beautiful pale blue with gray and even teal undertones. Depending on the natural sunlight available in the room you use Krypton, this chameleon of a paint color can either look like it has a blue base or a gray base.
Jubilee
One shade down from Krypton, Jubilee is a slightly deeper color, with more of a gray teal base. Overall, Jubilee works well as a backdrop for main living areas, and many people opt to use this bluish gray paint color in the open spaces in their home.
Granite Peak
A beautiful dusty navy blue with ample gray undertones, Granite Peak can best be described as a warm navy blue gray. This color is absolutely stunning on a home's exterior and works well inside in offices, bonus rooms and even powder rooms.
How to choose the perfect blue gray paint color
Just like with any other paint colors, the undertones of a specific paint color should ultimately help guide you as you pick the perfect color for your space. Remember, there's no such thing as a paint color that works for all homes and all rooms.
A lot of blue gray paint colors tend to have cool undertones, so make sure you test the colors in the specific rooms you want to paint and observe how they present at different times of the day and with natural and artificial light.
Psst! If you're into the blue gray color, but want something just a hair different, check out my review on Farrow & Ball Pigeon.
Related paint color articles
Farmhouse paint colors that work well in most homes