9 Farmhouse paint colors to try in 2021
Farmhouse paint colors are very popular these days, thanks to HGTV's hit show, Fixer Upper. Even though the show has since ended, farmhouse colors still remain in high demand, due to their neutral tones and classic style.
In my opinion, farmhouse colors will never go out of style, so you can rest easy going with one of these classic hues for any room in your home. Here's a list of the best farmhouse paint colors of 2021 for you to consider for your home.
This post contains affiliate links. Read our policy here.
Agreeable Gray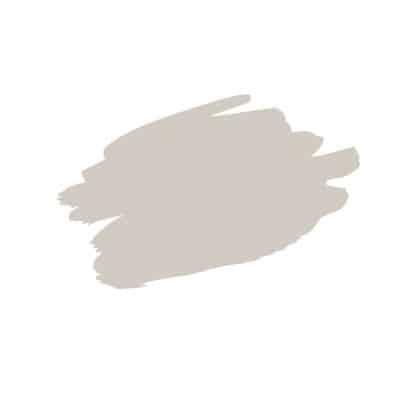 Agreeable Gray is a go-to farmhouse paint color and is in the greige color family. A unique blend of gray and beige, Agreeable Gray works well in open spaces, working with most decor.
White Dove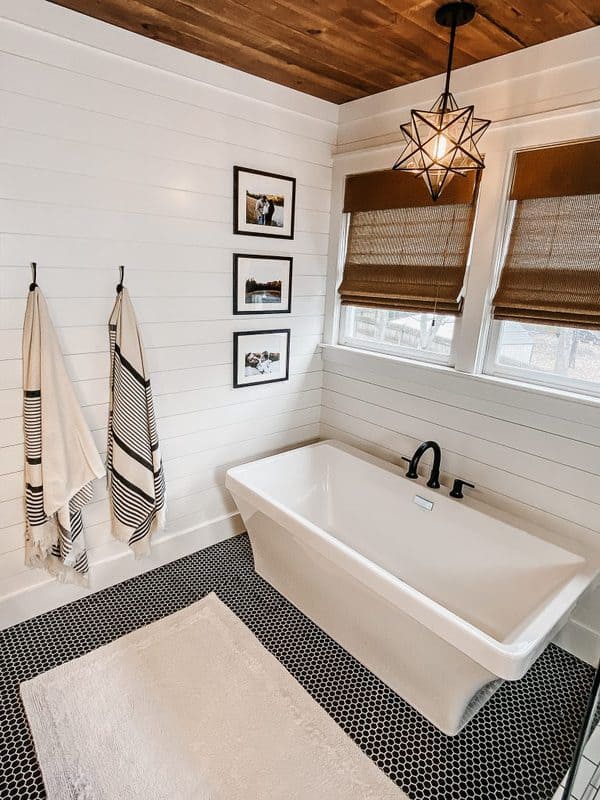 White Dove by Benjamin Moore is quickly becoming everyone's favorite white farmhouse paint color, thanks to its soft white hue.
A favorite of ours–we used White Dove on our home's exterior, as well as our interior trim, shiplap and even some rooms in our home. If you're looking for a soft white that doesn't have too yellow of an undertone, White Dove is an excellent option.
You can see white dove in action in our modern farmhouse bathroom renovation post reveal!
Silver Strand
A chameleon of a color, Silver Strand is absolutely beautiful. A mix of blue, green and gray, this color changes based on how much natural light is available.
We chose this neutral paint color for my daughter's nursery and in her room, it leans more towards the blue side of things (although it photographed a little greenish…updating my photography equipment is on my to-do list!). This is one of my favorite paint colors ever!
Sea Salt
Sea Salt by Sherwin Williams is a breath of fresh air in any space. Depending on where you paint Sea Salt and how much natural light you have coming in, the color can read either blue/green or blue/gray. Many people opt to use Sea Salt in the family room and kitchen or even in the bathroom.
If you like Sea Salt, you'll love these other green paint options, too!
Alabaster
Alabaster White by Sherwin Williams is likely the most popular farmhouse color on this list. Made popular by Joanna Gaines and preference to use it on shiplap she placed in each and every home on Fixer Upper. Alabaster works beautifully on exteriors as well as interior trim, or on walls.
Related: How to keep your white house clean
Blushing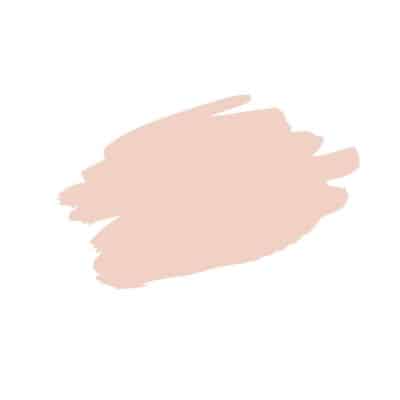 Blushing by Sherwin Williams is a beautiful soft rosy pink farmhouse color that works great for little girls' rooms. If you're looking for a pink that isn't hot pink, yet isn't too washed out either, blushing is a soft rosy pink that works well in most spaces.
Silver Song
Looking for a gray, that isn't really a greige? Silver song is an excellent farmhouse color! With sage green undertones, Silver Song is a great neutral that works well in open spaces. If you're looking for a neutral color, with slightly more depth and personality than a greige color, check out Silver Song.
Order a sample of Silver Song.
Silver Sage
Silver Sage is a warm green that has a hint of a gray undertone, making it work well as a neutral backdrop for any space. I would have never guessed Silver Sage would work well in a girls' nursery, but I can't get over how beautiful it is!
Waterloo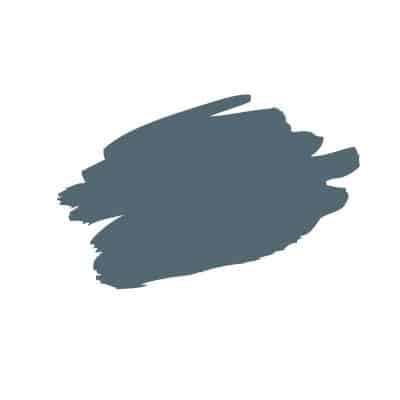 If you're a fan of navy blue, but want a blue that has more of a neutral, earthy tone to it, check out Waterloo. Waterloo, by Sherwin Williams has gray undertones, giving it a softness that allows it to work well in multiple spaces and with most decor.
Order a sample of Waterloo.
Pewter Green
If you're looking to break out of the mold with a kitchen cabinet color, Pewter Green is one of the prettiest farmhouse colors to use on cabinets. Besides the kitchen Pewter Green by Sherwin Williams works well in offices and media rooms. This rich color has some blue and gray undertones, which softens the color, while still maintaining the depth and richness most people are looking for in a green hue.
Order a sample of Pewter Green.
How to choose the perfect farmhouse paint colors for your home
With the growing trend of open-concept spaces throughout homes, it can be daunting to choose a whole house paint color scheme. Here are some pointers, as you choose farmhouse paint colors to work in each room of your home:
Tip #1: Start by picking a white paint color
The white paint color you choose should be used on all trim, moulding, and ceilings. You can even opt to use it in entire rooms, as well. For soft whites that work best in farmhouses, look to Simply White, White Dove or even Alabaster White.
Tip #2 Choose a main color to use in open spaces
Next, choose a neutral shade of paint that will work well in rooms that flow into each other. Good choices for open concept spaces are Agreeable Gray and Silver Song.
Make sure to pay attention to the undertones of the paint colors you're considering and see how those work with your furniture, floors, cabinets and other fixed elements in your home. If you can't tell what undertones a color has, place them next to colors in the same family and compare and contrast.
Paint a 12 x 12 square of paint onto a white poster board, (leaving a full inch of white surrounding it) and place that in the room you're considering for the best judge of color. Observe the paint throughout the day, noting how it reacts in different amounts of light.
Tip # 3 Have fun with color in laundry rooms, kids rooms, offices
Here's where you can pull in some fun shades like Waterloo, Pewter Green and even Blushing. Get creative with color in your little girls' room, laundry room, offices and bonus spaces. Consider these colors your accent colors.
Order samples of farmhouse paint colors
Tired of running back and fourth to the paint store to order samples of paint? You've got to check out Samplize! I discovered this company a couple years ago and love order samples of paint online much better than going to the paint store.
You can find every single paint color in one place and each sample is on a 12 x 12 sheet of peel and stick paper, so you can place the samples in several different places in your home.

Shop my favorite farmhouse finds!
FAQ on farmhouse paint colors
What are the best modern farmhouse paint colors?
The best modern farmhouse colors are soft and neutral in tone, so that they work well in a variety of spaces. In general, modern farmhouse paint colors look very natural typically have earthy tones. In terms of the best colors in this category, look to neutral colors in the greige, soft white and earthy green category.
Also of note, black paint colors are quickly becoming trendy in the modern farmhouse space and can add a rather dramatic look to any room.
Is gray still in for 2022?
Gray paint is on its way out, and in its place, greige paint colors are what most people tend to gravitate towards these days. Greige paint is a wonderful blend of beige and gray, creating a soft, neutral backdrop that's not too cool or not too warm.
Related paint color articles
Our favorite interior door paint colors
The best blue gray paint colors
My favorite pink paint colors for bedrooms