Cream paint colors understood, plus 4 creamy paint colors to try out
Recently, I reviewed my favorite off-white paint colors and so now it's only fitting I go over the best cream paint colors.
If you're in search of a cream its because you have darker, earthier tones in your home. Yes, I'd call cream neutral, but that doesn't mean it works for all homes. Find out when and where you can use cream paint in your home with my full guide.
Cream paint colors understood, plus 4 cream paint colors to try out
Cream paint colors belong to the white paint color family. White paint colors have many gradients, ultra bright white with tints of blue, to pure white, to off-white and then of course, cream.
I've included the Light Reflective Value (LRV) of each of these paint colors with 0 being pure absolute black and 100 being pure white. For the purposes of this list of creamy paint colors, I'll start with the darkest hue and move towards the lightest.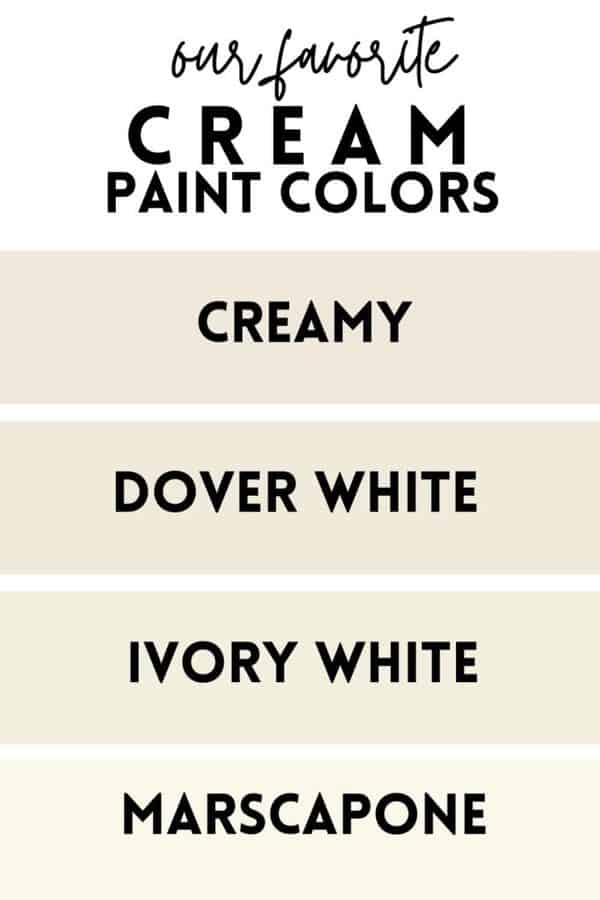 Sherwin Williams Creamy
A highly popular cream tone, Sherwin Williams Creamy is characterized by that classic yellow undertone seen in all cream paint colors. The darkest color on this list, Creamy has a bit more depth to it than some of the other colors I've reviewed below.
Creamy has a LRV of 81
Sherwin Williams Dover White
Not to be confused with Benjamin Moore's Dove White, which is actually an off-white paint color, Dover White is a cream paint color. One of the darker colors on this list, thanks to that LRV of 83, there's no denying the yellow undertone in Dover White.
LRV of 83
Benjamin Moore Ivory White
Another beautiful creamy paint color, Ivory White lives up to its name. A soft yellow undertone with a lighter light reflective value make this cream a good, middle of the road choice.
Ivory White has an LRV of 85
Benjamin Moore Marscapone
A soft yellow undertone plants Marscapone firmly in the cream paint color family. The lightest color on this list, Marscapone is great for those that need those creamy yellow undertones but don't want something too cream.
As with all of the cream recommendations on this list, make sure you try out Marscapone with other creams so you can note the degree of creaminess in each choice. It's easy to dismiss these cream paint colors as being too creamy or not creamy enough without comparing it to others.
Marscapone has a LRV of 90
Top things you need to know about cream paint colors
Your cream paint colors will either have a yellow or orange undertone. Most on this list have a yellow undertones. Yellow undertones do not play well with orange or pink undertones. So, if your floor tile has a pink undertone to it, or you have carpet that has a pink undertone to it pairing it with a cream that has a yellow undertone will end up in disaster. Your color palette will look off, as both undertones will clash and make the colors appear dirty.
You must compare cream paint colors to each other and to a true white to correctly observe the undertones. This is the number one reason I suggest you use the 12 x12 peel and stick samples from samplize versus getting a small can of paint to sample on the walls.
If you're not a paint expert, it's so much easier to see the undertones when you compare multiple paint samples at once. So if you're wanting a cream paint color, get multiple cream samples and then also get a true white like Chantilly lace.
Make sure your home supports a cream paint color before you start down this road. Cream paint colors are beautiful, but they aren't for every home. To support cream on the walls, your home needs to have more muted tones. Cream looks really good with homes that have more browns/beige in them, rather than crisp whites.
For example, if you have cararra marble or even an off-white quartz countertop, your home is likely not going to work well with cream. A more muted countertop that has brown undertones will work better with cream, whereas a true white will work better with cararra marble and an off-white will work best with a warm white quartz.
How to test out your cream paint color
Use either the peel and stick paint samples you can order online or paint a large square on a white poster board, leaving some white showing on all sides.
Put the paint color right up to the fixed elements in your home to make sure they work. If you have timeless hardwood floors you don't really need to worry about those "matching" the paint color, as they tend to work well with anything. But if you have grey floors, or carpet, tile, etc, you need to make sure you test the color to make sure it works with your fixed elements. Don't forget about testing the color with your cabinets, countertops, furniture, etc.
After you've made sure the undertones of your fixed elements work with your cream paint color, it's time to see what it will be like on the wall. Place your samples right up to the wall, stacked vertically with the white poster board behind it.
Never just paint a bunch of samples directly on to the wall color you currently have, unless it's primed with white, as this will really affect how your color reads.
Frequently asked questions about cream paint colors
Does gray go with cream?
Just like white has undertones, gray paint also has undertones that will need to be considered when choosing the perfect gray to match with cream. When selecting gray paint colors to work well with cream, stick with gray that has green gray undertones to it. Paint colors like Pashmina, Rockport Gray and Revere Pewter typically work well.
What color curtains go with cream walls?
Unless you're working with a designer, if you have cream walls, you need to stick with curtains that have warm undertones that will play well with cream. Shy away from undertones of pink/purple and orange, as they won't play well with the yellow undertones of your cream.
Can white and cream go together?
Although you may see beautiful photos on Instagram or in home interior magazines where cream and white have been mixed together, but in order to pull this off without a designer, you'll need a to put in a great bit of thought to this overall color scheme.
You can't just throw one stark white element into a room of cream with cream undertones. For your white to not look out of place in an otherwise cream room it must be repeated. A good rule of thumb is to repeat it at least 3 times with varying item sizes, i.e. don't just throw one additional little white trinket and call it good.
What color trim works well with cream paint colors?
Typically trim is white, but if you paint your trim true white with cream colored walls, will that look okay? The answer is maybe. If your entire decor scheme has creamy undertones and you paint your trim true white, it's not going to look good. If you don't want to incorporate white in your decor, paint your trim the same cream as your walls. But if you'd like to incorporate true white into your decor scheme, go ahead, paint your trim white.
What color should I paint my ceilings if I use a creamy paint color on my wall?
If you go with a cream on the walls, you need to go with an off-white on the ceiling. If you don't the cream white on the ceiling will actually end up looking darker on the ceiling. This principal applies to all whites. If you go with an off-white on the walls, go with a true white on the ceilings.