White Dove by Benjamin Moore: the best neutral white paint
White Dove, OC-17, by Benjamin Moore is a favorite warm white paint color of ours. Learn how you can use this soft white in your home.

White Dove by Benjamin Moore has long been a favorite white of decorators for its classic elegance and soft white hue.

Great for moulding, trim, doors and even walls or exteriors, White Dove is extremely versatile and works well to brighten any space without being too harsh.
This post contains affiliate links. Read our policy here.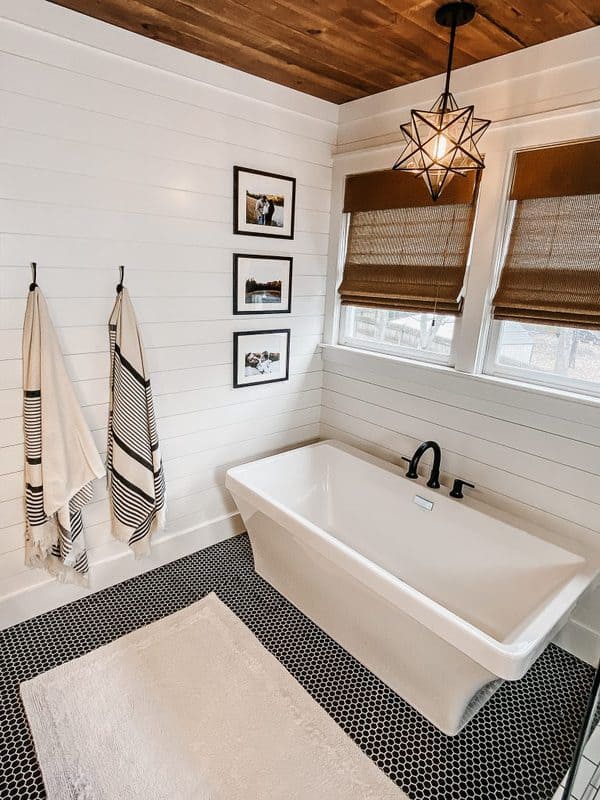 Is white dove a warm white?
Yes, if you're looking for a warm white, look no further than White Dove. Bursting with creamy undertones, White Dove is a very soft white. On a 0-100 scale, (with 0 being pure black and 100 being pure white) White Dove has a Light Reflective Value of 85.38.

Next to other popular shades of white paint, White Dove has a slight yellow tint to it, however, when by itself, you only notice a soft white, free of all yellow undertones.

Is white dove a good wall color?
White Dove is an excellent wall color! We absolutely love using White Dove in our house and have used it on shiplap in our bathroom, trim, doors, hallways and even on our home's exterior.

When using White Dove on walls choose a flat, matte or even an eggshell finish. Out of the three, eggshell has the highest sheen, followed by matte, and then flat. If you're worried about wiping marks off of the wall, choose a matte or eggshell finish of White Dove.
Below is a photo of our bathroom where we painted the shiplap white dove.

Can you use white dove on trim?
Yes, you can use white dove on trim. When using White Dove for trim or doors, use satin, semi-gloss, gloss, or high-gloss.

Satin is the absolute lowest sheen you want when painting trim or doors with White Dove. Trim like baseboard or chair rail are often hit more with feet and it's very difficult to clean flat or even matte paint. The glossier the finish, the easier it is to wipe away stains or scuff marks.
Below is a photo of our fireplace, where we used White Dove on our trim around the fireplace and the bricks.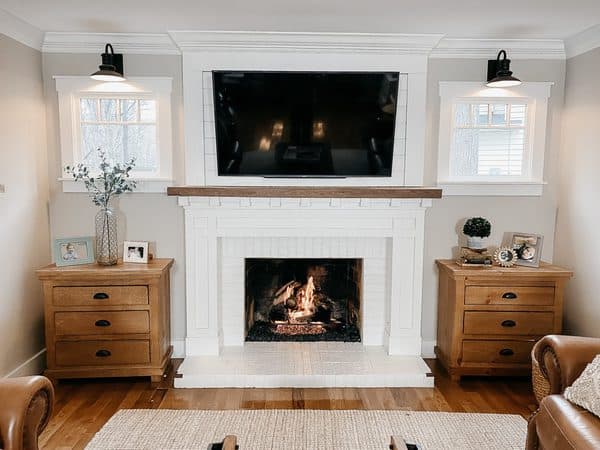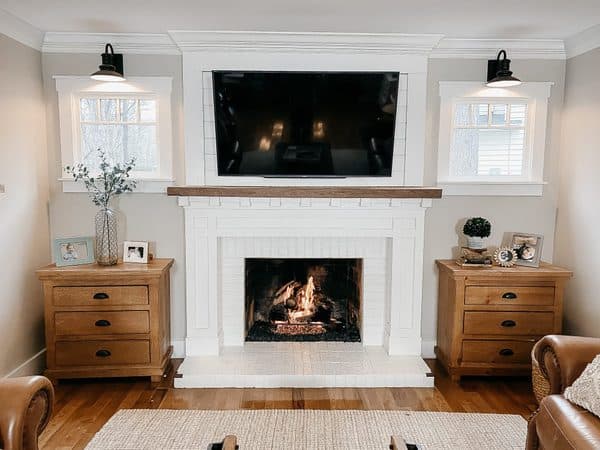 Is Sherwin Williams Alabaster the same as Benjamin Moore White Dove?
Alabaster by Sherwin Williams is another soft white, and while it's very close in color to White Dove, the LRV of Alabaster is 82, compared to the LRV of White Dove, which is 85.
Comparing the light reflective values, White Dove is slightly closer to true white than Alabaster.

While Alabaster has beige undertones, it's certainly not yellow, but it's not white either–it's more of an off-white.
Side by side, the two paint colors almost look identical. Because they're so similar, your best bet would be to paint the two side by side and compare how they look throughout the day.
Grab a peel and stick sample of Alabaster and White Dove.

Simply White vs. White Dove
While Simply White and White Dove are both in the "white" paint color family, they're actually very different whites. Simply White, OC-17 by Benjamin Moore, has a LRV of 91.7, which reflects quite a bit more light compared to White Dove's LRV of 85. Essentially, Simply White is a true white, whereas White Dove is an off-white color.

Even though Simply White has less beige undertones than White Dove, it still works well for walls, and especially baseboards and trim. Simply White is a brighter white than White Dove and if you're really going for that bright white look, I'd go with Simply White over White Dove.
Do keep in mind that you need a good bit of natural light to make Simply White look soft, as it's more of a cooler color than White Dove.
Grab a sample of White Dove and Simply White
Swiss Coffee vs. White Dove
While the LRV of Swiss Coffee is very close to White Dove's LRV, the colors are vastly different when compared next to each other. Swiss Coffee, OC-45 by Benjamin Moore, has a LRV of 83.93.

Out of all the white paint colors I reviewed, Swiss Coffee had the yellowest hue. The paint color almost had hints of gold, too. While still a white, Swiss Coffee looks like a very, very faint yellowy-beige in person. Paired side by side with White Dove, Swiss Coffee has more beige and yellow undertones.

Swiss Coffee is still a beautiful "white" that works well for trim and wall color, it's just not as close to a true white, like some of the other colors I've reviewed.

In a home with a lot of natural light Swiss Coffee will read closer to true white than a home with less natural white. If you're worried about lack of natural light casting a yellow hue when using Swiss Coffee, I recommend painting a test section and noting how the color looks throughout the day before going forward.
Grab a sample of White Dove and Swiss Coffee
Cloud Nine vs. White Dove
The LRV of Cloud Nine is 85.22, compared to 85, the LRV of White Dove. While the two colors seem very similar on paper, side by side there are differences.

Cloud Nine is brighter when painted next to White Dove, and has less beige undertones, too. To me, Cloud Nine has more of a yellowy-white feel, than the white-beigey feel you see with White Dove.
Grab a sample of White Dove and Cloud Nine

Tips for painting with White Dove paint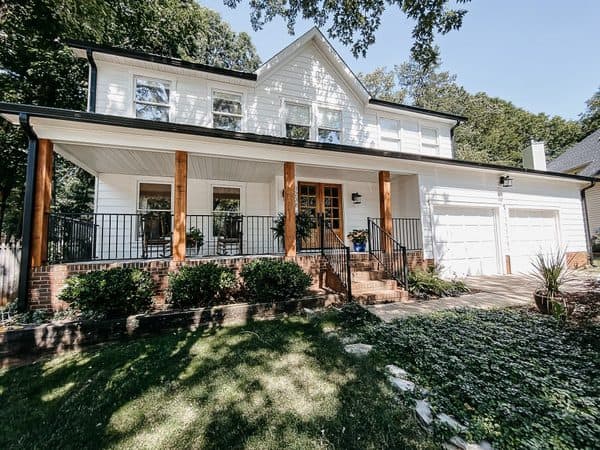 While White Dove is a fantastic neutral paint color, it doesn't go with everything. Here are some thoughts to consider when deciding on whether or not white dove is best for your home:
Look at paint colors together. Don't select a white paint color you think you might like and paint it in isolation. Paint many colors together to see how they work and pick up on their undertones.
Keep the light reflective values of the paint colors in mind to help guide you. All LRV of paint colors can be researched online.
Don't choose a paint color first–especially a white paint color. Remember, most white paint colors are not true "whites." Instead, choose your fixed elements first, like tile, countertops or floors before choosing a white paint color.
Your home's sun exposure plays a big role in how White Dove will look in your home. The only way to really know how it will look is to paint a large enough sample in a room and observe how the color looks through the day and at night.
Speaking of lighting, your overhead lighting will also impact how White Dove looks on the walls. Because of this, it's recommended that light fixtures are in place before you paint, so that you can see how the paint color looks with your lighting. Some lighting options may make White Dove look too yellow.
By far, I've found the easiest way to compare paint colors is to get the peel and stick paint samples. Here's where you can order White Dove.
What questions do you have for me about white paint colors? Let me know below in the comments.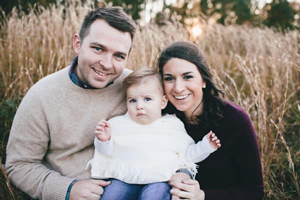 ABOUT DANIEL AND ASHLEY
As a licensed general contractor with more than 10 years in the business, Daniel can walk you through any home renovation or improvement project step-by-step. And if you're here for home design and paint color advice, Ashley's your girl! Join us as we share helpful tips and step-by-step tutorials on anything and everything home. We're also renovating our personal home along the way, and will use this blog as a way to document our progress. Read more...