Benjamin Moore Edgecomb Gray
A pretty middle of the road gray paint color in terms of undertones, Edgecomb Gray is more neutral than most grays. But even thought this color is praised for its neutral vibes, Edgecomb Gray isn't for every room.
I'll walk you through the color, explaining the undertones and when it works best, so stick around for my full review on Benjamin Moore Edgecomb Gray.
Edgecomb Gray undertones
Although Edgecomb Gray is fairly neutral it does have slight green undertones, so I'd technically classify this color as a gray-green hue. Technically speaking it's a blend of grey and beige, and is quite possible one of the most popular warm greige paint colors on the market.
Did you know the most important piece of information you can gather about a paint color are its undertones? Choosing a paint color with undertones that work well with your fixed elements is the key to acing the paint color. I'll unpack this statement below as we talk more about when Edgecomb Gray would be appropriate.
Is Edgecomb Gray warm or cool?
Edgecomb Gray is a warm paint color. Many grays have undertones of blue or even violet and are firmly in the cool paint color family, but this is not the case with Edgecomb Gray.
Edgecomb Gray complementary colors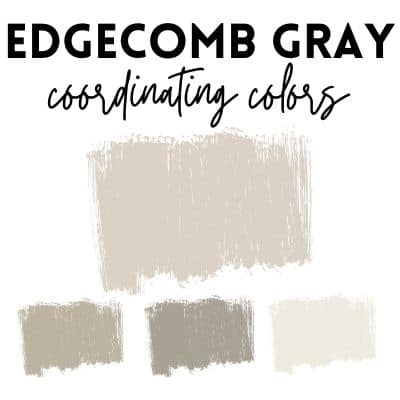 Pashmina–(bottom left color) Pashmina pairs perfectly with Edgecomb Gray as they both share the same green undertone, but Pashmina is noticeably darker and warmer.
Rockport Gray–(middle color) A deep, dramatic gray that pairs perfectly with Edgecomb Gray. I like Rockport Gray for an accent wall, built ins or even in an office.
Swiss Coffee –(bottom right) Although Swiss Coffee looks like an off-white, it's technically a greige paint color and has a green undertone, allowing it to work perfectly with Edgecomb Gray.
Tips for working with Edgecomb Gray in your home
Follow these three simple tips to determine whether or not Edgecomb Gray will work in your home:
Observe the undertones
The biggest thing you must do if you want to absolutely nail the paint color is to first, see what you're working with. Go around your home and note the undertones in your fixed elements (countertops, cabinets, flooring) and furnishings.
If overall, you have a warmer palette (on the lighter side of warm, not orange/red side of warm), Edgecomb Gray might work for you. If you have a cooler palette, Edgecomb Gray is a no-no. Do you see the image below? That's Edgecomb Gray. Look how great it works in this space with the warmer elements.
Now, if this space had a blue/gray couch, cooler area rug and accents that leaned more blue, Edgecomb Gray would have been a disaster; you'd go with a blue gray color instead.
If you're now realizing that a gray with green undertone isn't right for your space, check out some other popular light gray paint colors I recommend.
Evaluate the light
You want to test out the color first to make sure it goes with your fixed elements, but to also make sure it works with the light in your space. If you have tons of natural light, Edgecomb Gray will read more creamy gray and you won't see too much of that green undertone.
On the contrary, in a room that doesn't get a lot of natural light, you may think Edgecomb Gray reads too green and is a little muddy. Which is why you always need to test out the color and observe it throughout the day, which brings me to my next point…
Test the color out, correctly!
Don't go slapping Edgecomb Gray right on top of whatever color you've got on your walls now. You cannot correctly asses any color unless you put it on a pure white background. Get a poster board and put it behind your color sample (I like the peel and stick color samples for this reason) Or paint a large square on a poster board.
You can also easily look at color differences when you compare colors. In the case of Edgecomb Gray, look at lighter and darker grays in the gray green family, and then maybe throw in some grays in the gray blue family, just to make sure your room definitely needs a gray green and not a gray blue or gray blue/green.
Does Simply White go with Edgecomb Gray?
Yes, Simply White pairs perfectly with Edgecomb Gray. Simply White is in the off-white paint color family and has much more warmth to it than a cooler true white. You could also pair it with Dove White or Alabaster.
Edgecomb Gray vs. Revere Pewter
Edgecomb Gray and Revere Pewter are both in the gray green paint color family, thanks to their shared green undertone, but as you can see here, Benjamin Moore Revere Pewter is much less 'neutral' than Edgecomb Gray and the green undertone is far more apparent.
Edgecomb Gray vs. Pale Oak
Pale Oak and Edgecomb Gray are quite different–while Edgecomb Gray is definitely a gray, Pale Oak is actually a taupe paint color. Taupe paint colors are very different than gray colors; as they're warmer and tend to have purple/pink undertones. Choosing between these two will come down to deciding which way the undertones in your fixed elements lean.
Edgecomb Gray vs. Balboa Mist
It is sometimes hard to tell the undertones of paint colors, and then you pair them side by side and, bam! The undertones are practically screaming! Balboa Mist is in the cooler gray family, as it has a purple undertone. You'll choose Balboa Mist over Edgecomb Gray if your fixed elements are on the cooler/purpler side of the spectrum.
Edgecomb Gray vs. Agreeable Gray
Both Edgecomb Gray and Agreeable Gray SW 7029 are considered gray green colors, but as you can see here, Agreeable Gray has considerable more depth to it. Agreeable Gray is perhaps a better choice for rooms with a lot of natural light, as Edgecomb Gray could get washed out in that scenario.
If Edgecomb Gray isn't for you, now that you know more about the color, check out other grey green paint colors here. You may also find what you're looking for in my list of greige paint options, as well.