Our favorite pink and blush paint colors
Blush and pink paint colors aren't just for little girls' bedrooms anymore. Used in the right space, these beautiful pinks can be used on doors, in living rooms or even powder rooms.
Searching for a pretty blush paint color to use in your home? Or perhaps you're seeking more of a soft pink paint color–here's our list of the best blush and pink paint colors to use in homes.
Blush paint colors
Blush paint colors are members of the pink color family, but with a little more depth than your traditional pink. Instantly adding warmth and sophistication, blush paint can be used throughout the home.
Rose blush by Benjamin Moore
Rose blush is a beautiful blush hue, that's quite striking. Rose Blush is a darker blush than most of the other blush paint colors on this list, but is still warm enough to be flattering in most spaces.
Bashful by Benjamin Moore
Bashful is a nice light blush paint color, perfect for those looking for a pinkish color without the commitment of too much pink. Bashful has some soft beige undertones to it, helping to neutralize the color a bit.
Gobi Desert by Benjamin Moore
If you're looking for a blush color that's got a hint a mauve and even some gray and beige undertones, Gobi Desert by Benjamin Moore is a good choice.
Rose Silk by Benjamin Moore
Rose Silk is very similar to Rose Blush, but it has more of a mauve undertone to it. If you're searching for a darker blush, but don't want it quite as pink, try Rose Silk.
Mellow coral by Sherwin Williams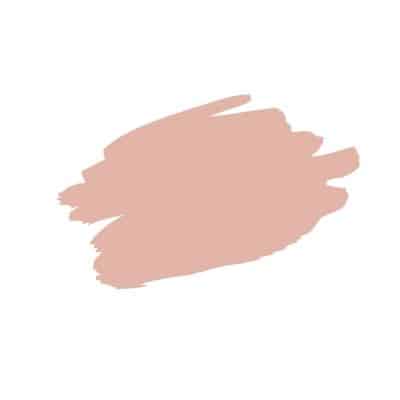 A beautiful color choice, Mellow Coral works well for those searching for a blush with more of a coral look and feel. Mellow Coral is a rich color that has orange undertones, but still has more of a pink hue, thanks to the wonderful balance of orange, blush and mauve.
Pink Shadow by Sherwin Williams
A dusty mauve rose, Pink Shadow shines in any room it's used in! The perfect balance of pink and blush with mauve undertones, Pink Shadow is simply beautiful.
Pink Ground by Farrow and Ball
Pink Ground is a really pretty soft pink with just a hint of orange/coral undertone, making it a pretty pale blush color.
Pink paint colors for bedrooms
Done right, pink paint colors can look really pretty in bedrooms. To create a softer look, rather than the harsh tones that tend to accompany bright pink colors, look for light pink hues with neutral undertones. Here are my favorite pink paint colors for bedrooms.
First light by Benjamin Moore
First Light by Benjamin Moore is a popular pink paint color, and one that works well in bedrooms. Lightened by an undertone of gray, First Light is a beautiful pale pink, and one of my favorites!
Pink bliss by Benjamin Moore
If you'd like a little pink but also want the room to feel bright and airy, Pink Bliss is the perfect choice.
Heather pink by Sherwin Williams
One of the richest pinks on this list and definitely on the other end of the spectrum than Pink Bliss and First light, Heather Pink is a beautiful pink paint color for bedrooms.
Angelic by Sherwin Williams
Not too dark pink, but not too light either, Angelic by Sherwin Williams is a perfectly balanced pink, perfect for bedrooms.
Other paint colors you may enjoy