That's a wrap on my first One Room Challenge! I LOVED putting this nursery together for my daughter. I took a risk with a bolder color palette than I'm used to and it paid off. I adore this space!
This post contains affiliate links. Read my policy here.
Girl's bold nursery room reveal
Before we get to the reveal, let's take a look at how far this room has come.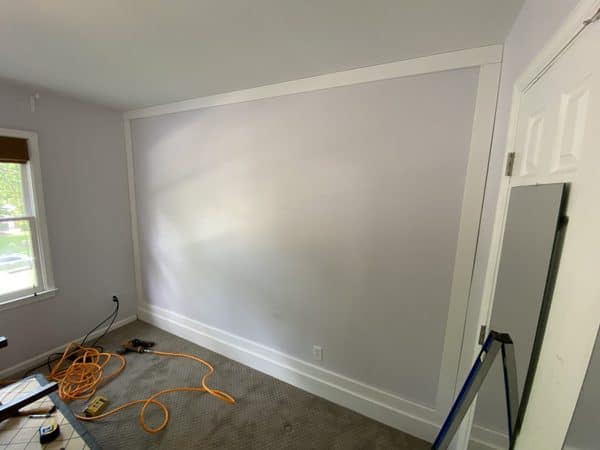 4 purple walls, mirrored closet doors and a ginormous ceiling fan. We used this room as our guest room for about 2.5 years before we decided to turn it into our nursery.
Our first project was adding a board and batten feature wall, which we painted Silver Strand by Sherwin Williams, which is a really pretty bluish/greenish gray.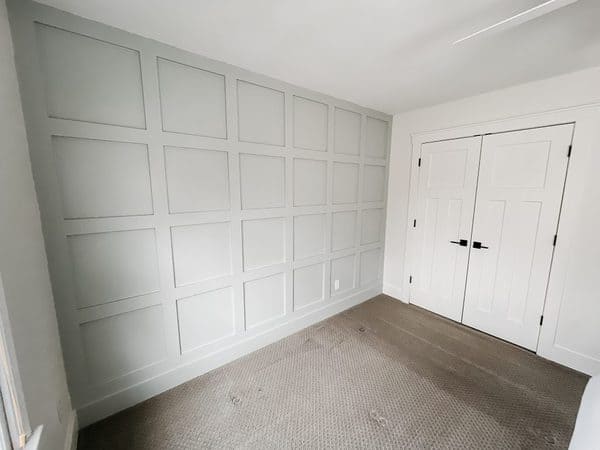 And then it sat for 6 months or so while life got crazy as welcomed our second baby, all while renovating our kids' bathroom at the same time. I finally got my act together this spring and decided to bite the bullet and try to finish the room by participating in the One Room Challenge, and this is what we ended up with:
My inspiration for the room was derived from the rug, which is really a unique choice for me because I really don't tend to decorate with reds and purples, but something about this rug really pulled me in. It's hard to tell from the pictures, but it's got a little bit of a worn look it and then a little fringing on the ends.
I knew the rug would look really pretty with something black, and since I wanted to reuse a lot of my old nursery furniture, rather than buying something else, we repainted a gray dresser black.
We sprayed the dresser in Sherwin Williams black magic and then I found these adorable mother of pearl and gold knobs that I added to dress it up. I really like how it turned out.
I found this adorable mirror and knew it would pair well with the dresser and lamp I already had. I added a whimsical changing pad color in navy blue to pull more color in this part of the room.
Our home is one big renovation project, and at the same time we were fixing up this space, we were also in the process of replacing all of our windows. We went with black aluminum-clad windows and it's amazing how much the black window sashes transform a space.

We weren't able to get around to painting the new trim around the windows, but hope to tackle that in the next couple weeks. We'll paint the trim the same color as all of the walls, in our favorite, Dove White by Benjamin Moore.
Our home only has 8 foot ceilings and it's amazing how much taking the curtains up to the ceiling does in terms of making the room look taller.
I love these little stools used as a side table next to the rocker. While this rocker isn't something I'd normally choose, when I selected it over 4 years ago, I was looking for something that would last through all of my babies and something that was seriously practical. I cannot tell you how easily this fabric wipes clean and it looks very new still to this day. If you're searching for a truly comfortable rocker that won't get ruined with some spit up, this is a great choice.
Next to the rocker, I opted to hang some artwork to tie the colors of the room in together. Sadly, some of the pieces got lost in the mail and one of the frames arrived completely shattered. Hopefully we get those in soon and I can update the post with the finished gallery wall.
Sources used:

Make sure you check out all the other amazing room reveals! Congratulations to everyone who participated!
You might also like: Paint colors for a girl's bedroom