Benjamin Moore Wickham Gray
A very light gray, Wickham Gray is fairly pale compared to some of the darker grays that have been dominating the gray hues for quite some time.
Is this pale gray right for you? Find out with my full review on Wickham Gray.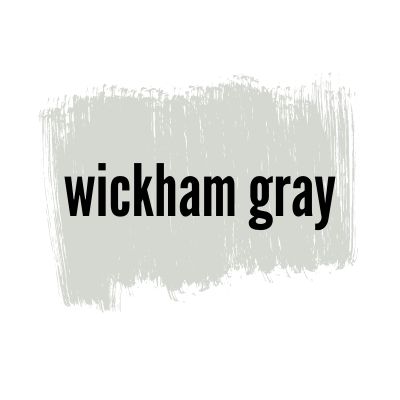 What are the undertones in Wickham Gray?
The undertones in Wickham Gray are complex, we've got a little bit of blue and a bit of green, which makes this paint color a bit more complex than grays that just have one undertone like blue or purple.
Let's unpack this just a bit because some people don't even realize that undertones are one of the single biggest thing you should worry about when selecting a paint color.
What typically happens when people select color is they'll ask friends or scroll the internet looking for a paint color. They'll find a photo they like and ask about the paint color.
Since they like the way the paint color looked in their inspiration photo, they'll just use it in their space without even evaluating how the undertones of that particular color will work with their furnishings and fixed elements.
Now that you know Wickham Gray is a lighter-toned gray with a green-blue undertone, you can make a more informed decision and we'll examine that a bit more below! If you know right away that you don't want a gray with green, here you can check out more light blue grey options.
Is Wickham Gray warm or cool?
The blue-green undertone found in Wickham Gray place this color solidly in the cool paint color family.
Will Benjamin Moore Wickham Gray work in my space?
Now here's the million dollar question, right? Wickham Gray will only work in your space if you need a light gray that has a blue-green undertone. Here's how to make sure this color is for you:
Identify the undertones in your fixed elements
A fixed element is anything you can't easily change. For most people it's the floor, the countertops, cabinets, big pieces like couches and chairs, etc. So, to do this little exercise you'll identify all the undertones in your fixed elements; and if you're wanting to go with a blue green gray like Wickham Gray, hopefully, you will have blue/green undertones in your home.
Say you have a gray couch, you might just assume, well this gray couch will go with gray paint. Not so fast–if your gray couch is truly more of a gray/purple or a gray/brown, it's not going to jive well with Wickham Gray.
Same thing for countertops. Say they are white, but they have creamy veining, that resembles a greige tone, then Wickham Gray isn't for you–it's much too cool to work well with these countertops.
Perhaps you like the blue gray but don't like the green. Check out other popular grays with blue undertones like Big Chill or Coventry Gray.
Ignore the other two colors on this image and look at the Wickham Gray cabinets. Do you see how well they pair with the white marble? White marble has blue veining so naturally, it works really well with a gray that has blue in it. Now, if you would have paired this beautiful marble with a grey that only has green undertones or even purple undertones it wouldn't have looked right.
Is it starting to make sense yet?
If you're now realizing that the undertones in Wickham Gray aren't for you, check out some other popular gray paint colors here.
Observe your light
Wickham Gray is a very light paint color. Using the color's Light Reflective Variance (LRV) to identify how light or dark a color is a good idea and in the case of Wickham Gray, we see that it's 68, so it's definitely on the lighter end of grays. It's not as light as other popular Grays like Gray Owl or Horizon, but it's still pretty light.
If you have a room pouring with natural light Wickham Gray might get too washed out in your space. The only way to know this is to test out the color, which of course, leads me to my next point.
Test it out
The only way to test out colors to truly get the color right is to get multiple shades of the color you want. Get various shades of grays with blue undertones and then you might even order grays with green undertones and grays with purple undertones.
You need to be able to see what works best in your space and the only way to do this is to compare the colors with other colors. You can also really easily see the undertones this way, too. You will also be able to see if you need a lighter or darker color this way, too.
Test out your wall colors the exact way I have below. You can do this by painting a large square of the color on a white poster board (leaving a white boarder) or by ordering the peel and stick samples. My vote is the peel and stick samples because it's just easier.
Which trim color will work with Wickham Gray?
While some grays don't do well with varying degrees of white, Wickham Gray is more forgiving and will work well with both an off-white and a true white. True whites are free of undertones and my favorites in this category are Oxford White and High Reflective White. Choose a true white if you want more of a pop between your trim and wall color.
If you'd like a softer look, I really love the creaminess combo of Wickham Gray and an off-white like Cloud White or White Dove.
Recently I named Wickham Gray to my list of best exterior paint color combinations for 2022, so check it out if you're interested!