Why off white paint colors are the answer to your design dilemma, plus 5 to try out
First there was beige, then gray, then greige and now, white is the most requested paint color for new builds and remodels.
Accidentally fooled into thinking that any ol' white paint color will solve the issue of the too dark living room or perhaps will work wonders on updating their kitchen, many homeowners request white paint colors, not really knowing anything about how the paint color will look in their home.
Spoiler alert: Most bright white paint colors won't look that great in your home unless you just have tons and tons of natural light and a lot of lighter/white furnishings. What you likely need is something softer, something with more depth, something off-white.
So if you're scratching your head wondering why the bright white didn't work well in your space or you're getting ready to renovate, pay attention to these 5 hard-working off-white paint colors.
This post contains affiliate links. Read my policy here.
5 of our favorite off-white paint colors
Before we jump in, you must understand that the two things you need to pay attention to when selecting an off-white paint color (and this applies to selecting any paint color, really!). One is the light reflective value of the color and two is the color's undertones.
Light reflective value (LRV) is how light or dark a paint color is, with 100 being pure, pure white and 0 being totally black. Most off-whites hang out in the 80s, compared to true whites that hang out in the low 90s.
Benjamin Moore Cloud White
Without a doubt, Cloud White is one of the number one white paint suggestion designers typically give to homeowners and that's because even though Cloud White is technically an off-white, it works with homes that have more beige undertones and homes that have cleaner, brighter undertones as well.
Now, is it a paint color you should use if you think your home has less than clean undertones and you don't want to get the paint color wrong? No, absolutely not. You must always test paint colors before committing. I'll go over how to test white paint colors after this list!
LRV is 87
Benjamin Moore White Dove
If you've been following for a while, you know that Benjamin Moore White Dove is one of my favorite off-white paint colors. White Dove has a good bit of creaminess to it, but it also has a hint of a gray undertone in it too, which is what draws me to this color so much, as the gray undertone keeps it from looking a smidge too yellow, like some off-whites can read.
White Dove is frequently used on kitchen cabinets as it pairs really well with quartz. In a recent post I shared my favorite white quartz options and I love how well White Dove paired with the ever popular Cambria Brittanicca.
LRV is 85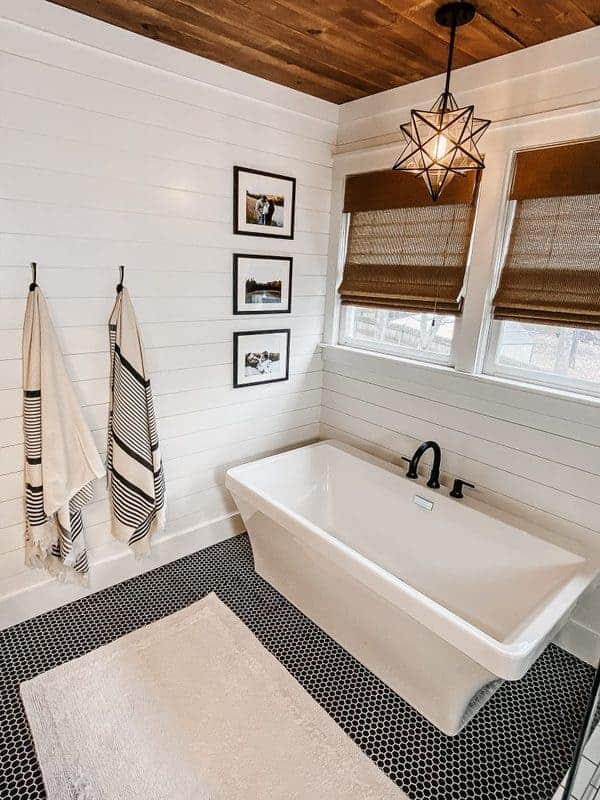 Sherwin Williams Pure White
Contrary to the name, Pure White by Sherwin Williams is not a pure white! Pure White is actually an off-white. While Pure White is considered an off white, it's not quite as creamy as say, White Dove. You'll know you need to go with Pure White over a creamier white when you compare it to your countertops and furniture.
LRV is 84
Sherwin Williams Snowbound
An almost perfect match to White Dove, Snowbound is another beautiful off-white paint color. Like White Dove, it doesn't really have those yellow undertones that a lot of creamy whites have, but it does have a purple undertone in it. Snowbound needs to be painted in a room with ample natural light (we're talking one or two sets of large windows, that preferably are south facing) if you don't want the cool undertones to be more prevalent.
LRV is 82
Sherwin Williams Alabaster
Hugely popular with the rise of the modern farmhouse trend, Alabaster is a soft white paint color that many homeowners choose for cabinets, trim or walls. Alabaster actually has a yellow undertone, giving it more of a creamy appearance and you can really see that when you compare it to a true white (which you absolutely should so you can clearly see the undertones!)
LRV is 82
What you need to know about using an off white paint color
There are so many types of white paint that it's important to know which type of white hue you're dealing with. At one end of the spectrum you have cool white, or whites that have some blue undertones and then at the other end, you've got cream paint colors. In between there are true whites and then off-whites.
To use off-white in your decorating you need to have a "cleaner" color palette than a color palette with undertones of orange and brown. For example, when we moved in to our home the kitchen had a granite with brown undertones and although I really wanted that white kitchen look, I knew that I could not use an off-white on the cabinets, and that's because brown/orange undertones work best with cream, beige and greige colors.
Compare your off white paint color choices with a "pure" white paint color. I like to use Benjamin Moore Chantilly Lace as my pure white paint color. This allows you to see how creamy/warm the off-white paint colors you are considering are. You can also easily see which off-whites have more yellow to them this way, as well.
There is no "go-to" white paint color. You must identify the undertones in your furnishings and fixed elements to correctly identify which white works best for you.
The steps to take to identify an off-white paint color that works for your home
First, you'll take a look around your home. Start with cabinets in the kitchen and identify the undertone. To use an off-white the undertones in your home's fixed elements need to work well with off-white. Off-white does not go with everything!
For example, orange/brown maple cabinets will not look good with an off-white. Same thing applies with carpet with pink, brown or beige undertones. If you have this type of carpet in your home, off-white is not for you.
Essentially, undertones of orange, brown/beige, and pink will not play well with off-white. If you've identified these undertones in your home's fixed elements, stop! and go check out cream paint colors!
Once you've identified the undertones in your home's fixed elements as working well with off-white, now it's time to test out the paint colors on your wall.
How to test an off-white paint color on your wall
White paint colors are tricky. Typically for other more saturated colors, I recommend getting those 12 x12 peel and stick paint samples and adhering them to white poster board to check paint colors. But with white, I recommend you go a bit more extreme.
First yes, order some samples and place them on white poster board and hold the board up to your fixed elements to examine the match. Then, prime a large section of a wall top to bottom. Paint half of that space (top to bottom) in the off-white paint color.
Alternatively, you can use a color like Chantilly lace instead of primer. You just need a true white to compare your off-white to. If you just throw white paint on walls that are painted blue or red or whatever, it won't allow you to see what the color actually is.
FAQ about off white paint colors
What's the best off-white paint color?
The best off-white paint color is the on that complements the undertones in your space perfectly. As you see above, the five off-white paint colors I reviewed all had different undertones. White Dove had a gray undertone, Alabaster had a yellow undertone, etc. You must look at the undertones of your couch, cabinets, floors, countertops, etc (basically anything that you can't remove) first before assigning the correct off-white paint color. What works in someone else's space won't necessarily work in yours.
Do off-white and white go together?
Most designers can layer off-white and pure white effortlessly. However, if you're not a designer and have trouble pulling rooms together cohesively, I'd shy away from layering pure white and off-white together.
What's a good warm white from Sherwin Williams?
Besides Pure White, Snowbound and Alabaster, you could also check out Greek Villa and Whitetail–both good off-white Sherwin Williams colors.