Laundry room bathroom combo renovation
Our laundry room bathroom combo makeover is finally complete and I'm sharing all of the details today!
Just like our master bathroom, our kids' bathroom was in dire need of a complete overhaul and we took it down to the studs!
The bathroom laundry room combo before
Oh, where do I even start with this bathroom? The bright teal paint, the tired tile and vanity that was literally falling apart. Right before we demoed everything, the vanity doors started falling off on their own!
This post contains affiliate links. Read my policy here.
Not to mention the fact that the laundry portion of this room was just not very pretty to look at.
Combining a bathroom with a laundry room
It wasn't my preference to have a laundry room housed in a bathroom, but that's the way the house was designed, and after exploring many other options to relocate the laundry and deciding they were going to be too expensive, we were stuck keeping it.
To make the most of it, I wanted to disguise the washer and dryer as much as possible, so that the bathroom didn't scream, laundry room.
Originially, we planned to position the washer and dryer side by side and add butcher block counter tops over top with built in cabinetry or shelving.
However, upon more planning and discussion, we decided to stack the washer and dryer and take advantage of the extra space that would leave for more storage. We live in a pretty modest-sized home, so it's key to maximize storage.
Inside the bottom storage cabinets we have a space for towels, linens, toilet paper, and a dirty clothes hamper. We added a rod to both of the upper cabinets so I could have space to hang dry clothes.
Suffice to say, I am absolutely thrilled with how it turned out! The shiplap and trim work is so beautiful that I completely forget there's a washer and dryer in this bathroom (thanks, Daniel!)
As you can see, just like with our farmhouse bathroom renovation, we decided to go all in on the shiplap. We also covered the popcorn ceiling with simple tongue and groove V-joint boards, which adds even more texture to the space.
Because this bathroom is long and lean, the bathroom door posed quite a space problem. I was tired of it hitting me in the butt each time I tried to do laundry so we opted to replace it with a sliding barn door that we sprayed Sherwin Williams Iron Ore.
I love the statement the door makes in our hallway, and it's simply beautiful to look at from the inside of the bathroom, too.
We paired the dark charcoal door with beautiful gold hardware and we were able to track down a locking mechanism for the barn door at our local hardware store, but I've also seen many online that would work, too.
We framed the door with farmhouse door trim that matches the rest of our home. And of course, we finished off the room with the farmhouse baseboard trim style.
I went with large black hexagon tiles as the floor tile because I needed something to contrast with all the white and I absolutely love the statement hey make.
For the tile around the shower we used a gray subway tile that reflects light so beautifully–I'm simply thrilled with how it turned out.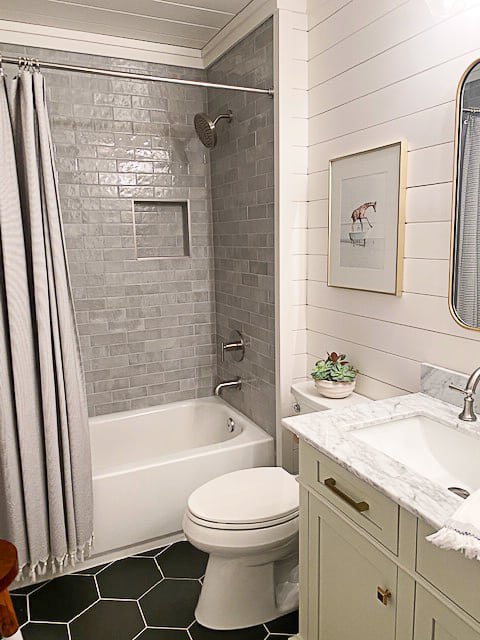 I wanted a soft green color on the vanity and since I didn't see anything like that online, we ended up finding a vanity we liked and just sprayed it Ancient Marble by Sherwin Williams.
Mixing metals was huge in this bathroom and I really had fun with it. As a general rule, when mixing metals you typically keep all of your plumbing fixtures the same to create some cohesiveness.
At the last minute I added my favorite stool to the room to help with bath time, and I'm loving the warmth it brings to the space.
Shop the look–laundry room bathroom combo