This barely-there grey color is a popular choice for those seeking a lighter gray. But is it right for your space?
Find out if Benjamin Moore Gray Mist is a good choice for you with my full review!
What undertone does Gray Mist have?
Believe it or not, Gray Mist has green undertones, and is what I'd classify as a grey green paint color! Although the green undertones are barely there, you must take this into account when picking a paint color for your space.
Undoubtably, the biggest reason people end up hating their paint color is because they didn't notice it had an undertone until after it went on the walls, and at that point, the undertones were practically screaming at them!
We'll talk more about what Gray Mist's undertones mean for you below, as I help you walk through the process of deciding to use this color or not.
What color is Benjamin Moore Gray Mist?
Most of you are probably wondering why I'm giving you this information, as Gray Mist has to be a gray, but would you believe that it's actually a greige??
Since greige is a combination of gray and beige, with any grey beige paint, you will notice either color depending on your lighting. Sometimes the color will lean closer to gray and sometimes it will look more beige.
What's the LRV of Gray Mist?
The LRV (Light reflectance value) of Gray Mist is 73.96, which is pretty darn light. In fact, by itself, Gray Mist kinda looks like an off-white, but when paired with an actual off-white, you can easily see the depth of color difference. Most off-whites have an LRV in the low 80s, just for a frame of reference.
Tips for deciding if Gray Mist is right for you
The key to getting the right paint color is to make sure you follow these three simple tips.
Evaluate the undertones in your home
Gray Mist is easier to work with than a lot of paint colors, as it has a good blend of gray and beige, making it fairly neutral, but that doesn't mean it works all of the time. Here's how to make sure it will look great in your space.
Go around the room that you're considering painting Grey Mist and identify the undertones in the room. Look at anything that can't easily be changed out. This means you'll need to evaluate your countertops, floors, cabinet color, furniture and artwork. Does Grey Mist look right with the elements in your home?
As Grey Mist is a much warmer color, it will not work well with colors that are cooler. For example, if you've got a gray couch with blue undertones, Gray Mist is not for you. You need to look to a gray with blue undertones like Gray Owl. Here you can browse my full list of light gray paint colors for every decor scheme.
Evaluate your light
You might find an inspiration photo of Gray Mist in a magazine or online and fall in love with it, but for the purposes of making sure this light gray actually works in your home, you've got to actually test it out in your home.
Use large paint samples and observe how the color looks given your light. Gray Mist is very, very light, and if you wanted the color to hold its own, you might be disappointed if you use it in a room with a lot of natural light, as it will most likely be washed out. If this is the case, you'll need to look to other gray hues with green undertones that are darker. Edgecomb Gray comes to mind you decide Gray Mist is too light.
Test it out
Don't rush this step! You must test paint colors out before you commit. Either paint a large square on a white poster board or use the peel and stick samples and place them behind a white poster board. You need a pure white (free of any undertones) background to appropriately asses the color.
You can even carry the color sample around your room. Hold it up next to your couch or next to your rug. Do they work well together?
Gray Mist vs. Classic Gray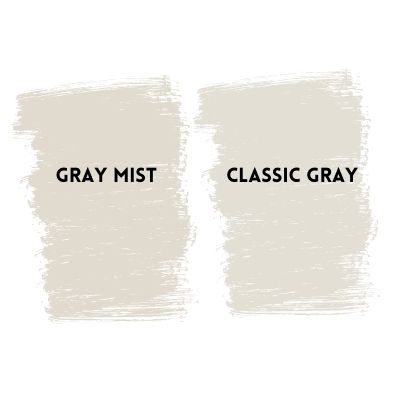 While Gray Mist and Classic Gray are both technically greige paint colors, Gray Mist is more beige, while Classic Gray is more gray. The LRV of both colors is practically the same, so no real difference in light depth.
Need coordinating colors for gray mist? Find a green with gray undertones when you browse the best green gray paint colors.
Not convinced Gray Mist is for you? Check out my big list of gray green paint colors here or you can browse my list of greige color paint recommendations, too.