How to choose a ceiling paint color
Most new builds will simply throw up a builder-grade bright white on the ceiling, but if you're renovating or remodeling, you have the opportunity to carefully think through your ceiling paint color.
Sure, you can just specify any white, but hopefully as you've learned by reading some of my other posts, white paint is tricky!
In this helpful post, I'll specify which white paint color to choose based on your wall color, and offer suggestions on paint sheen for ceilings and trim.
Should you paint walls and ceiling the same color?
This depends on the look you're going for. If you're going for a dramatic effect, yes, sometimes people paint their ceilings the same color as their walls. You see this in bedrooms or offices, typically. For the most part, ceilings should be much brighter than the walls, especially if you're using a white paint color.
Which white ceiling paint is best?
Let's go over which white to paint on your ceiling when you have white walls and when you have color on the walls.
Now, let's say you have "white" walls. I put white in quotes because depending on the white you picked, you could either have a blue white, a true-white, a soft white or a cream!
Ideally there needs to be some degree of separation between your walls/trim and your ceiling. It's a really nice look to provide that contrast. And, as a general rule, if you paint the same white on your ceiling as you would on your walls, your ceiling comes off as looking darker.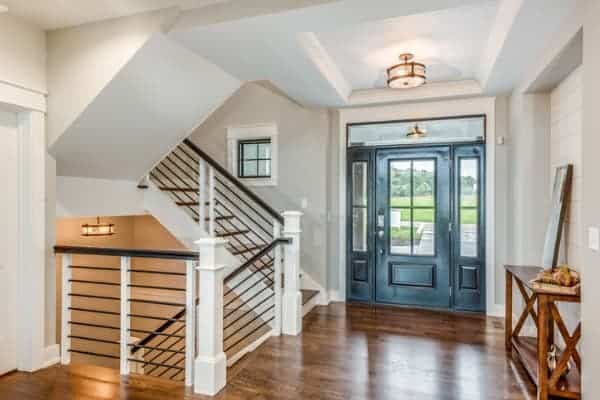 So, to do this the right way you need to first identify which white is on your walls.
Do you have a true white on your walls? True whites are colors like Chantilly Lace, Oxford White, and High Reflective White. True whites don't have any visible undertones, as opposed to off-whites that have yellow and/or greige undertones or creams.
If you've got true white walls, you need to go with a blue-white for your ceilings. So Benjamin Moore White Diamond or Sherwin Williams Ceiling Bright White.
What about if you have an off-white paint color on your walls? Say you have one of my favorite soft whites, White Dove. To provide that contrast on your ceilings you'd go with a true white like Chantilly Lace.
If you have a cream-colored wall like Sherwin Williams Creamy, you'll go with the next brightest shade of white and use an off-white color on your ceilings.
Are things starting to click?
Cream wall color–> search for an off-white paint color
Off-white wall color–> search for a true white
True white wall color–>search for a blue-white paint color
Your trim color should be the same as your wall color except in the case of using a cream wall color. In that case, that will be wayyy too yellow for trim. Go with an off-white trim and an off-white ceiling color.
What sheen should white ceiling paint be?
You want your ceiling to be a flat white finish. Typically you'll see people do matte walls (satin walls in a bathroom) and then the trim is one step above that, sheen-wise. So if you're doing matte walls, you'll do satin trim and then a flat ceiling.
Should you paint your ceiling darker than the walls?
When you're trying to highlight ceiling details like moulding, sometimes it looks really nice to paint your ceiling darker than your walls. This really should only be done when you have very high ceilings, as doing this with 8 or 9 foot ceilings will just make it feel like the ceiling is closing in on you.
If you have colored walls you can repeat the same color on the ceiling for dramatic effect.
If you have white walls, identify which type of white and choose a color lighter for the ceiling.
If you have neutral colored walls (gray, beige, greige, taupe), choose a white that is one shade lighter than your trim color.
Ideas for choosing ceiling colors other than white
Many times, homeowners will simply cut their wall color dramatically and put that on the ceiling. When I learned about paint colors, I was always taught never to cut colors, as the undertones shift and things just get wonky.
If you like this effect, what you need to do is to identify the lightest paint color in color family of your wall color and use that one on the walls. I wouldn't recommend this strategy unless you're dealing with a designer or paint color consultant though.
For example, if you've got Revere Pewter on your walls, you could think about choosing Classic Gray for your ceilings. Revere Pewter is a gray with green undertones and so is Classic Gray, but Classic Gray is about as bright as you can go before you get into the off-white category.