Modern and timeless black granite countertops- our top picks
On hunt for darker countertops that weren't too high maintenance, I started heavily considering black granite countertops for our up-coming kitchen remodel.
Originally, I had my heart set on soapstone. I'm a huge fan of the leathered look you typically see in kitchens that have soapstone countertops, but after reading about the stone, it seemed too fussy for my busy family.
The world of black granite is really quite beautiful and many options look almost exactly like soapstone. So if you're considering darker countertops without the maintenance, this post is for you.
Are black granite countertops out of style?
A neutral kitchen with black countertops will always be in style. You'll find pictures of luxury kitchens using black countertops and white/neutral cabinets from 20 years ago that still look stunning today.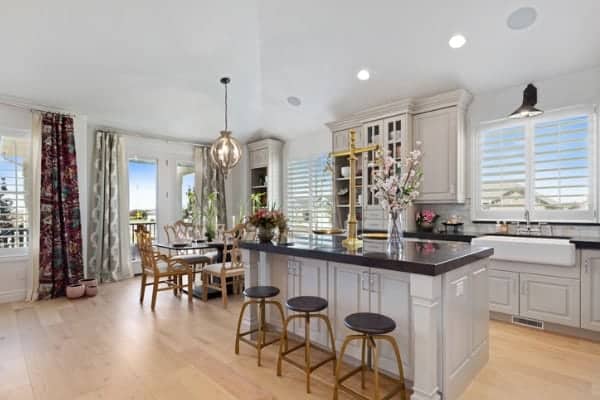 Is black granite expensive?
Compared to the ultra popular white quartz countertops, Black granite is relatively inexpensive. As I shopped around for granite and quartz countertops for our kitchen remodel I was quoted between $55-$65 per square foot of black granite. This included traditional black granite, honed black granite and leathered black granite. On the contrary, white quartz was between $75-$100 per square foot, and the more white the quartz got, the closer it was to that $100 per square foot cost.
Is black granite good for kitchen countertops?
Yes, granite is a natural stone able to withstand heat, doesn't scratch and isn't prone to chipping. Compared to the other popular countertop materials like quartz, butcher block and marble, granite is by far the easiest to have in the kitchen.
If you're still on the fence, here's a big post I wrote comparing granite and quartz.
Recently black honed and black leathered granite has become popular (although I still maintain that it's a timeless countertop option), which looks a lot like soapstone. If you love the look of soapstone but worry about the upkeep and the patina issues, black honed/black leathered granite is much more durable and easier to keep nice in a busy kitchen.
Black granite countertop options
A curated list of my favorite black granite countertop options on the market today.
Negresco
Kicking things off with the front runner for our kitchen, Negresco. This beautiful slab of black honed granite is a very matte black with white and gray veining throughout. This stone really reminds me of soapstone–it's absolutely stunning.
Nero Mist
Nero Mist is a beautiful matte black granite with dramatic gray veining. Nero Mist is a honed granite, which means it hasn't been polished. Honed granite has a flat finish that is smooth to the touch.
Make sure you scroll through the pictures below to get an up-close view of this beautiful stone!
Black pearl granite
This a very black polished granite with micro specs of gold, green, brown and gray, which make this a very warm stone in overall color. Very different from the honed or leathered type of granite in terms of look. The black pearl is a very popular dark granite color, but it is highly affordable compared to quartz or soapstone. You can get black pearl in a leathered or honed finish.
Absolute Black
Just like the name implies, Absolute Black is a pure black granite. This granite is significantly darker than Negresco and Jet Mist. The sample shown above is polished, but most places offer this in a wide variety of finishes included honed and leathered.
Jet mist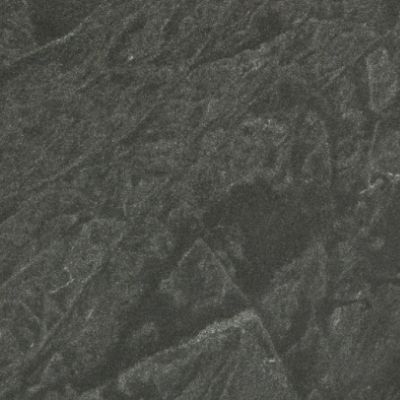 I've seen Jet Mist referred to as Virginia Mist, too. Jet Mist is a weathered gray honed granite. Jet Mist is the closet thing to soapstone, color and texture-wise.
Understanding the finishes available for black granite countertops
Did you know that most black granites can be made in a wide variety of finishes? Here's a run down of some of the most popular:
Polished black granite
This one is the most popular and is also the most low-maintenance. You may have to seal this once a year, but overall, most people say polished granite is easy to live with in a kitchen or bathroom.
Leathered black granite
Many people think leathered and honed are the same finish, but they are very different. Leathered black granite is also referred to as a brushed finish and this process is carried out by running a diamond-tipped brush over a honed stone. This stone is much more resistant to staining than the honed type of finish, but is not quite as matte as a honed stone.
Honed black granite
Honed granite is a satin finish that is very matte. Honed black granite very much looks like soapstone in appearance. This type of stone is very beautiful, but it is prone to showing fingerprints, and stains. If you search for honed black granite on houzz or pinterest, you'll see that some people love living with this stone and some people are displeased with the stains on their stone.
In terms of finish–Polished is the most glossy finish, then leathered, then honed is the most matte finish.
Things you should know when selecting black granite countertops
Polished black countertops are relatively low maintenance. I've also done extensive research, and it seems leathered black countertops are pretty easy to care for. However, it does seem like honed countertops are a bit more tricky to care for.
Make sure you visit a slab yard and view the actual stone before you commit. You might also touch the honed stone with your fingers to see how it reacts. Some people say oil from fingers and cooking items is hard to get off.