Will Evergreen Fog work well in your home?
A stark departure from last year's color of the year, Sherwin Williams has named Evergreen Fog as the 2022 Color of the year.
Designed to invoke a feeling of new beginnings, Evergreen Fog is a warm grayish green hue that works well with a wide variety of decorating styles.
See how Evergreen Fog can work for you with my full guide!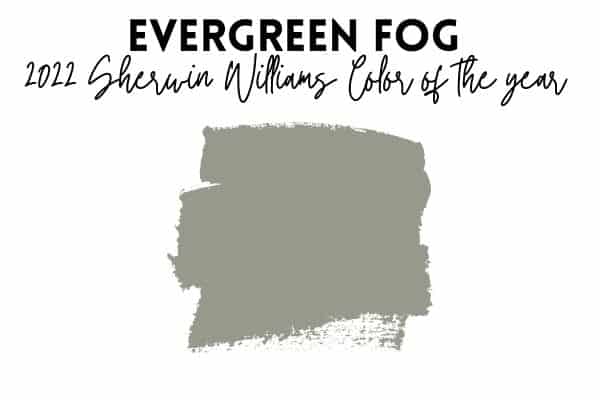 This post contains affiliate links. Read our policy here.
What are the undertones of Sherwin Williams' Evergreen Fog?
This green hue, which I'd technically classify as a green gray tone, has greige undertones.
Greige is the blending of gray and beige–now here's where this color gets tricky, because of the greige undertones, Evergreen Fog can look dramatically different in different lighting conditions and when paired with certain fixed elements and decor.
If you're strongly considering this tone in your home, please keep reading, as I've outlined how Evergreen Fog will work in your home depending on lighting.
Is Evergreen Fog a green or grey paint color?
While it's a close toss up, Evergreen Fog is a green paint color with quite a bit of grey in it.
This greenish gray hue has a very earthy vibe and is a really great neutral wall color.
Try out this color in your home when you grab a 12×12 peel and stick paint sample of Evergreen Fog.
How does Evergreen Fog work with your home's lighting?
Without a doubt, one of the biggest mistakes I see homeowners make time and time again is forgetting to factor in their home's lighting before they make paint color choices.
As you can see in some of the photos above, Evergreen Fog is a darker paint color, but it still manages to look light and bright in the rooms where its used. This is largely due to the fact that the rooms have a good bit of natural light.
For example, painting Evergreen Fog in a room with two large south-facing windows is typically going to have this gray green tone read more light sage green.
On the contrast, painting this tone in a room with north facing windows (opposite the sun) will likely make this color look much darker, almost like a deep muddy gray hue.
If you paint this color on the walls and find out it's much too dark for the light gray green tone you were going for, don't simply go to the paint store and ask them to lighten it by 50% without first testing this new color on your walls–this changes the undertones in the paint color entirely.
I love a good neutral green tone, but not one that's too dark and muddy. I have a whole post on grey green hues you can check out if you need more paint options.
What trim colors work well with Evergreen Fog?
Depending on the look you're trying to achieve, there's a few different options to consider as far as trim colors go.
If you want a bold contrast, I'd go with Alabaster. It's a bright white with a greige undertone in it and it will complement Evergreen Fog well, as they both share the same undertone.
If you want more of a muted pairing, go with Shoji White. Another white with a greige undertone, but far less of a bright white. Shoji White is a creamy white with a good bit of gray/beige in it.
Evergreen Fog coordinating colors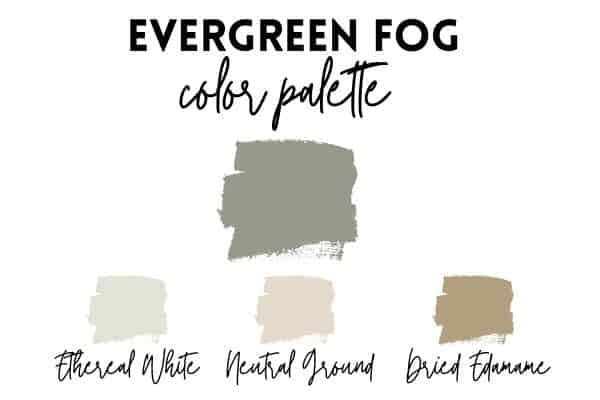 Ethereal White- a cream paint color with soft greige undertones. Even though it's called Etheral White, I really wouldn't classify it as a white paint color, as its significantly darker than most whites, but pairs really well with Evergreen Fog, since they share the same undertones.
Accessible Beige- one of my favorite warm greige paint colors, this color works really well with Evergreen Fog.
I would only pair Evergreen Fog with Accessible Beige if your room has plenty of natural light, as Accessible Beige can look muddy and dark with not a lot of natural light.
Neutral Ground–In between Ethereal White and Accessible Beige, Neutral Ground pairs nicely with Evergreen Fog. Neutral Ground is a good, well neutral, and I'd consider it a creamy off-white.
Dried Edamame- A warm neutral brown, Dried Edamame pairs well with the 2022 color of the year, as they are both earth tones.
Urbane Bronze– The 2021 color of the year isn't going anywhere fast, as it works beautifully with Evergreen Fog. Sherwin Williams Urbane Bronze is actually a dark gray paint color with bronze undertones in it.
Beyond this beautiful hues, Silver Song, one of my favorite Farmhouse paint colors would coordinate really well, too.
What if Evergreen Fog is too dark for my home, what other similar color should I try?
Besides just eyeballing different paint chips, you can always see which colors are actually darker by looking up a color's light reflective value.
On a 0-100 scale, colors that have a LRV of 0-50 absorb more light than they reflect and colors above 50 reflect more light.
Evergreen Fog is a warm green color with greige undertones, and although in some photos it looks like a relatively light paint color, it's actually quite dark compared to other similar tones.
The LRV of Evergreen Fog is 30. Similar hues that have a higher LRV that you may try out include, Willow Tree or Escape Gray by Sherwin Williams.
If that's still too dark and you really want that beautiful gray green, try a much lighter hue like Horizon or Soft Fern, both by Benjamin Moore.
Even though colors look super light on the paint chip, painting them in a room with not a lot of natural light will darken them up a bit.
You might also try out some greige shades, too, as Evergreen Fog has strong grey and beige undertones. Thunder or Mindful Gray might be good starting points.
Try Evergreen Fog out in your home with Samplize! They have 12 x 12 peel and stick paint samples (using two coats of real paint) that you can peel and stick on your walls to sample a paint color. No more trips back and forth to the paint store!
I recommend placing the peel and stick sample on a piece of white poster foam and taping that directly to the wall (do not lean it up against the wall as it will change the color the way the light hits it) to try out your color. Observe all throughout the day, with lights on and off to see how you like it.
Is Evergreen Fog the color for you? Let me know what questions you have in the comments below!
Evergreen Fog not for you? Check out my favorite green paint colors, or browse my recent paint color reviews.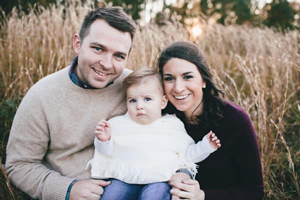 ABOUT DANIEL AND ASHLEY
As a licensed general contractor with more than 10 years in the business, Daniel can walk you through any home renovation or improvement project step-by-step. And if you're here for home design and paint color advice, Ashley's your girl! Join us as we share helpful tips and step-by-step tutorials on anything and everything home. We're also renovating our personal home along the way, and will use this blog as a way to document our progress. Read more...