Benjamin Moore Cloud Cover: a color review
Intrigued by the soft white tone of Benjamin Moore Cloud Cover? Find out if it's the right hue for your next project with my full paint review.
Is Cloud Cover a warm white?
There are 4 different types of white paint colors and Cloud Cover falls under the "off-white" category. It's one of the most pigmented off-white hues that I recommend, but nonetheless, it's still technically an off-white.
Now, why's this important? Here's why–the world of white is very complicated and lest you think any differently, you're sure to choose the wrong white. You might end up with a white that's too cold or too blue or even too yellow if you don't know which type of white you're dealing with.
If you're still new to all things white paint, make sure to take time to read about every single type of white in my best white paint for interior walls guide.
Below Cloud Cover walls with Simply White trim
What are the undertones in Cloud Cover?
All off-white paint colors have yellow undertones but Cloud Cover also has grey undertones. It's very similar to White Dove, another color that is an off-white that has yellow and grey undertones, however, Cloud Cover has much more depth to it than White Dove. I'll go over several color comparisons below.
What colors work well with Cloud Cover?
Off-white paint colors can be fickle when it comes to what to pair them with. Because Cloud Cover is so creamy it doesn't work with all furnishings/colors. Cloud Cover is frequently used on cabinetry, and looks the best when paired with extremely creamy quartz countertops.
Cloud Cover is simply too warm to be paired with countertops that don't have a good degree of creaminess to them. If you're considering Cloud Cover for your kitchen cabinets, make sure you check out my guide to the best white colors to choose from when painting cabinets white.
If you want to use Cloud Cover as a trim color, make sure you compare it to your wall color, versus other white paint colors. Sometimes when a white is too creamy it can make other colors look "dirty." Likewise, if you go with such a creamy white for your trim, you might not get that pop of contrast that you want between the wall color and trim color.
Below Cloud Cover used on a dresser
What color should I paint my trim if I'm using cloud cover on my walls
In the photo above you can see that the designer used Cloud Cover on the walls and Simply White on the trim. Both colors are considered off-white paint colors and I think because of the noticeable difference between the two hues, this works. However, you can also paint the trim the same color, too.
As for ceilings, when going with an off-white wall color, the general rule of thumb is to go up to a true white ceiling color if you're using an off-white wall color. A couple true white colors you could consider as trim colors to go with Cloud Cover walls include Benjamin Moore Chantilly Lace or Sherwin Williams High Reflective White.
How do I know if cloud cover is right for my home
Here's the three best tips I can give you as to whether or not Cloud Cover can work for you.
Evaluate your light
White paint really needs to have a lot of natural light to look good. This idea even applies to off-white colors like Cloud Cover. If you want to go with Cloud Cover in a room opposite the sun that only has one small window, you're likely going to be disappointed, as the color will come across as gray and dingy. Make sure you use this in a space that has ample natural light.
Observe your fixed elements
You want to evaluate what's going on in your space before you commit to any paint color. Cloud Cover isn't cream but it really isn't stark white either.
If you're considering Cloud Cover for your cabinets, make sure you really compare it with your countertops. A lot of quartz options would be too bright for Cloud Cover.
If you want to do Cloud Cover on your walls, compare the color sample to other neutrals in the room.
Does it work well with your other fabrics or is it too yellow or not creamy enough. Where you run into trouble is when you use Cloud Cover with other fabrics that aren't close enough to the off-white color. The only way you'll know is if you test it out.
How to test out Cloud Cover
Don't skip the step of testing out your paint colors, even with white hues. I recommend using large samples to test out colors. Either paint a large sample on pure white poster board (leaving a white border) or order those peel and stick samples here.
When seeing if Cloud Cover will work with your walls bring the sample (with a white background) to bossy fixed elements and furnishings and compare. You always want to put a sample on pure white poster board, and not directly on the wall or by itself so that nothing is negatively influencing the color for what it actually is.
Cloud Cover vs. Simply White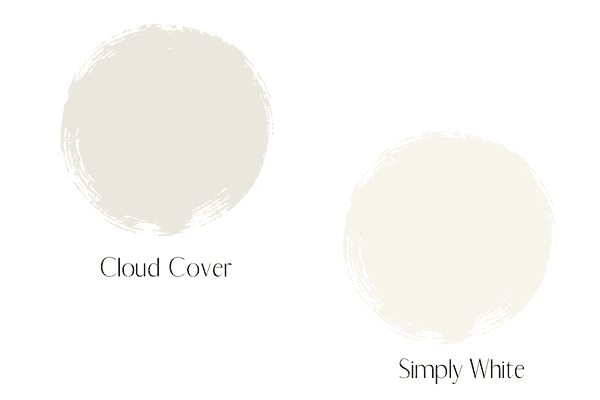 Cloud Cover and Simply White are both technically off-whites, but as you can see above they are vastly different. Simply White is used a lot when pairing with white quartz countertops because it's got just the right amount of off-white tint to it, without getting too grey or too yellow.
Cloud Cover vs. White Dove
Again, both Cloud Cover and White Dove are off-whites, but they are different. Both hues have yellow and grey undertones to them, but the grey undertone is way more pronounced with Cloud Cover.
If you're curious about the difference between simply white vs white dove you can read more in my in-depth blog post.
Cloud Cover vs. Chantilly Lace
I wanted to show this comparison to illustrate the vast difference between an off-white paint color and a true white color. Chantilly Lace is as true as you can get when it comes to white colors, with no visible undertones. So, the next time someone says white paint is all the same, you'll tell them differently!
If Cloud Cover isn't for you, browse the best off white paint colors here.