Is Benjamin Moore Chantilly Lace right for your home?
Chantilly Lace has consistently risen in popularity over the last decade as white paint colors have continued to dominate decor styles.
A bright white, Chantilly Lace is a stark contrast from soft whites and creams, but is it right for every space?
Find out exactly when to use Benjamin Moore Chantilly Lace with my practical tips and full color review.
What are the undertones in Benjamin Moore Chantilly Lace?
Believe it or not, Chantilly Lace is one of those rare, true paint colors, free of undertones. The world of white paint colors is very complicated, but you can count on a few whites, Chantilly Lace included, to give you that clean white backdrop each and every time.
Is Chantilly Lace the whitest white?
Chantilly Lace is a very bright white and is considered a true white, which means it's free of any undertones
However, it is not THE brightest white. A Benjamin Moore white that is even brighter than Chantilly Lace would be something like Pure White. Pure White is an ultra bright white and it's so bright it even has a blue undertone to it. Pure White is not typically a color you would put on your walls; it's typically used for ceilings.
I recommend Chantilly Lace when you need a very clean white. If you need something that's even remotely soft, Chantilly Lace is not the paint color for you.
Deciding if Chantilly Lace is right for you
Not sure if this bright white is right for your space? Follow these three simple tips:
Look at your fixed elements
You might think a white free of undertones is fool-proof, but before you break out the paint roller, take a step back and observe your space to make sure it's going to work.
The thing you need to be careful with is when placing ultra bright white with other whites. This rarely looks good unless you're a designer and really know how to make the two hues of white work together.
A fixed element is anything you can't move and you also need to consider your furnishings. For example, are you attempting to use Chantilly Lace in a room with an off-white couch or rug? You might not like how the two look together.
A lot of people want to use Chantilly Lace on their kitchen cabinets, which is totally doable, you just need to countertop and backsplash to pull it off.
Does your countertop look like this?
Of course a photograph is hard to what's fully happening without seeing it in person, but for the most part, we can see that the undertone in this countertop is cream. Chantilly Lace would be waaaay too cold for this countertop, and you'd need to choose a cream paint color if your countertop looked something like this.
Alright what about the countertop above? It's much lighter than the first countertop I showed you, but unfortunately, it's still too warm for a clean white. I'd consider this countertop an off-white and would pair it with an off-white paint color like White Dove.
Okay, finally, we've arrived at a countertop that would pair perfectly with Chantilly Lace. Just look how different this countertop is than the one I suggested we pair with an off-white color. This countertop is pure white with a blue undertone and will only work with a true white or a blue white, like high reflective white. In fact, if you paired this countertop with an off-white, it would look downright awful!
Are things starting to make sense now?
Make sure to observe your light
If you're thinking of painting your walls Chantilly Lace you need a good bit of natural light in your home to pull this off without this true white color looking pretty cold. Take a good hard look at the space you're thinking about painting and observe the lighting throughout the day. You might even paint a large section of the wall in Chantilly Lace and see how you like it.
Test it out
You should always test paint colors before committing, white colors included. I prefer those peel and stick samples so that I can place them in front of white poster board (you don't want the current wall color influencing the color your testing out).
If you're considering Chantilly Lace for your kitchen, put the samples right under your countertop, that way you'll easily tell if it's too bright for your counters.
During the testing phase, it's always good to get multiple hues in the same color family so that you can make the best decision based on your decor. Go ahead and test some off-white colors, too.
OH, before I forget… If Chantilly Lace is your wall color or trim color, you need to go with a blue-white as your ceiling colour. Something like BM Pure White or SW Ceiling Bright White is what you need.
Which Sherwin Williams color most closely resembles Chantilly Lace?
While paint colors differ in formula from brand to brand, Sherwin Williams does have a few whites that are considered true whites, just like Chantilly Lace. For a white free of undertones go with Sherwin Williams High Reflective White.
Colors that go with Chantilly Lace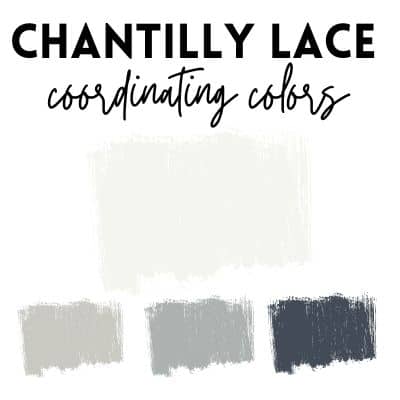 Many, many colors work well with Chantilly Lace but here are some of my favorite pairings:
Chantilly Lace and Hale Navy: Hale Navy is one of my favorite navy blue paint colors and it looks positively stunning next to a crisp white.
Chantilly Lace and Boothbay Gray: Boothbay Gray is a medium-toned gray with significant blue undertones that's just really breathtaking and looks beautiful with a clean white.
Chantilly Lace and Stonington Gray: Many grays look very pretty with the clean white profile of Chantilly Lace and Stonington Gray is no exception. Other grays that work really well with Chantilly Lace include Moonshine, Passive, Horizon, Classic Gray and Gray Cashmere.
Not convinced Chantilly Lace is the right color for you? Check out my article on choosing the best interior white paint for your home.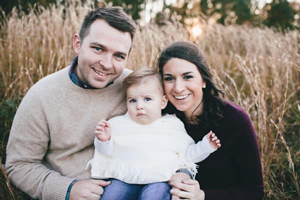 ABOUT DANIEL AND ASHLEY
As a licensed general contractor with more than 10 years in the business, Daniel can walk you through any home renovation or improvement project step-by-step. And if you're here for home design and paint color advice, Ashley's your girl! Join us as we share helpful tips and step-by-step tutorials on anything and everything home. We're also renovating our personal home along the way, and will use this blog as a way to document our progress. Read more...