8 deck stain colors to consider
The best way to protect your deck is to routinely stain it. Additionally, you can also make an old deck look new again by using a stain (granted the wood is still in good shape)
To that end, today we'll be reviewing different solid and semi solid deck stain colors. If you're not sure if you need a solid or semi-solid, scroll down below these stain options for an explanation of why you might choose one over another.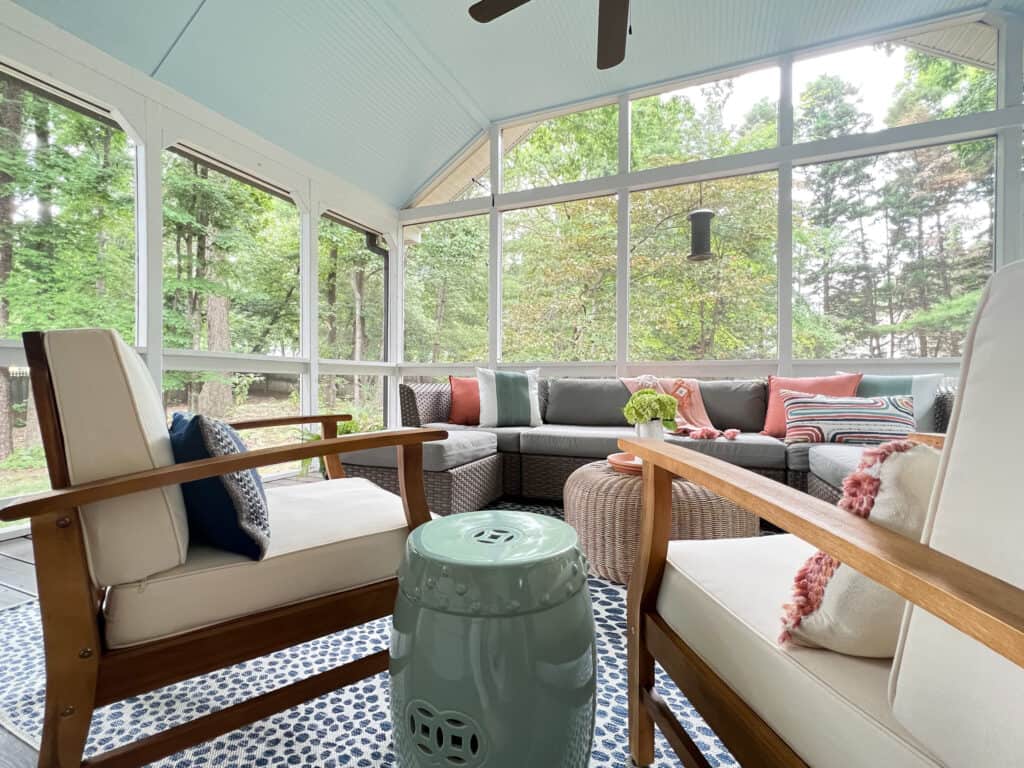 Solid deck stain colors
For these solid stains, I've included the stain painted on decking boards right next to the paint company's swatch of what the color will look like. Just like with regular paint color swatches vs. what they actually look like on the wall, you'll notice a big difference.
Granite–PPG Paints
Granite looked too brown on the swatch but when we tested it out, it was exactly what I needed. The base of our large outdoor sectional is brown with a taupe undertone. Taupe undertones are either pink or purple. Granite most definitely has a taupe undertone but when pairing it with our taupe sectional, it looks just right. Not too brown and not too gray.
Phoenix Fossil–PPG Paints
If you've read any of my other paint color reviews, you know by now that all colors have undertones. Gray is no exception. Phoenix Fossil is a gray with purple undertones. Gray paint either has purple, green, blue or a combination of two of these.
Heritage Gray–PPG Paints
Heritage Gray and the stain below are very similar. However, Heritage Gray has a blue undertone, while the stain color below is warmer, thanks to its purple undertone.
Gibraltar Gray–PPG Paints
Gibraltar Gray is a gray with a purple undertone, making it much warmer of a color than the grays that have blue undertones.
Antique Silver–PPG Paints
There's no denying this blue undertone in this gray stain, as it's practically screaming at you.
Semi-solid deck stain colors
As you can see, semi-solid deck stain colors provide significantly less coverage than solid stain deck colors and you're able to see the wood through the stains.
Bluestone–Cabot
If you want a barely-there gray with blue undertones, this stain choice is perfect.
Pewter Gray–Cabot
This deeper gray/blue or blue/gray depending on how you look at it works well with a cooler color scheme.
Chesnut Brown–Cabot
Brown is a very common deck stain color, but be careful with browns, as a lot of them can read red. Chesnut Brown definitely has some strong red undertones.
What's the difference between solid stains and semi-solid stains?
Depending on what you're trying to cover up, or the look you're going for, you can either choose solid or semi-solid stains.
When we moved into our home the deck off of our screened in porch was practically falling apart, as it had never been maintained. We redid the deck, but opted to not redo the decking under the screened porch, as the wood was still in decent shape. To marry the old decking boards with new decking boards, we opted to use a solid stain, as opposed to a semi-transparent stain.
A solid stain is thicker than a semi-transparent. You need to do two coats of a semi-transparent stain and they need to be thin coats. Don't try to save time and do one thick coat, as this will cause chipping.
To be honest I wasn't quite sure that I was going to like the solid stain, but given our predicament, it had to be done. Once the project was complete, I loved the end result and would probably opt for it again even if the old wood didn't demand a solid stain. Several people have commented that they thought our decking boards actually looked like trex material, which is a win in my book!
With a semi transparent stain you're looking for a color change, but you want to see wood grain and knots. Semi-transparent is not the same as a clear coat! You need to do two coats with a semi-transparent stain.
PSST! Here you can find even more stain colors for wood!
How often will I need to re-stain my deck?
You'll want to re-stain your deck every other year. Keep in mind, if you choose a semi-solid stain, the deck will become more saturated in color over time.
Choosing the right deck stain color for you
Just like when choosing a paint color for your home, with deck colors you'll need to evaluate them in terms of their undertone and then determine the best color for your space based on your fixed elements. Look at your deck furniture in this case to guide you.
You will likely need to sample multiple stains and hold them directly up to your furniture or other fixed elements (perhaps you have a stone fireplace on your deck, make sure you evaluate it and determine the undertone of that when choosing a deck stain color).
Related reading:
How much does a screened in porch cost?
Screened in porch ideas