21 best paint colors for kitchens with white cabinets
Sifting through tons of options when choosing paint colors for a kitchen with white cabinets can be frustrating, and after planning a kitchen renovation you're likely out of ideas by the time the paint color choice rolls around.
But don't just guess, especially if you want to go with a neutral wall color, as you're likely to end up making a costly painting mistake.
Take the guess work out of picking a paint color for your kitchen with white cabinets with my full guide and 20+ paint color recommendations!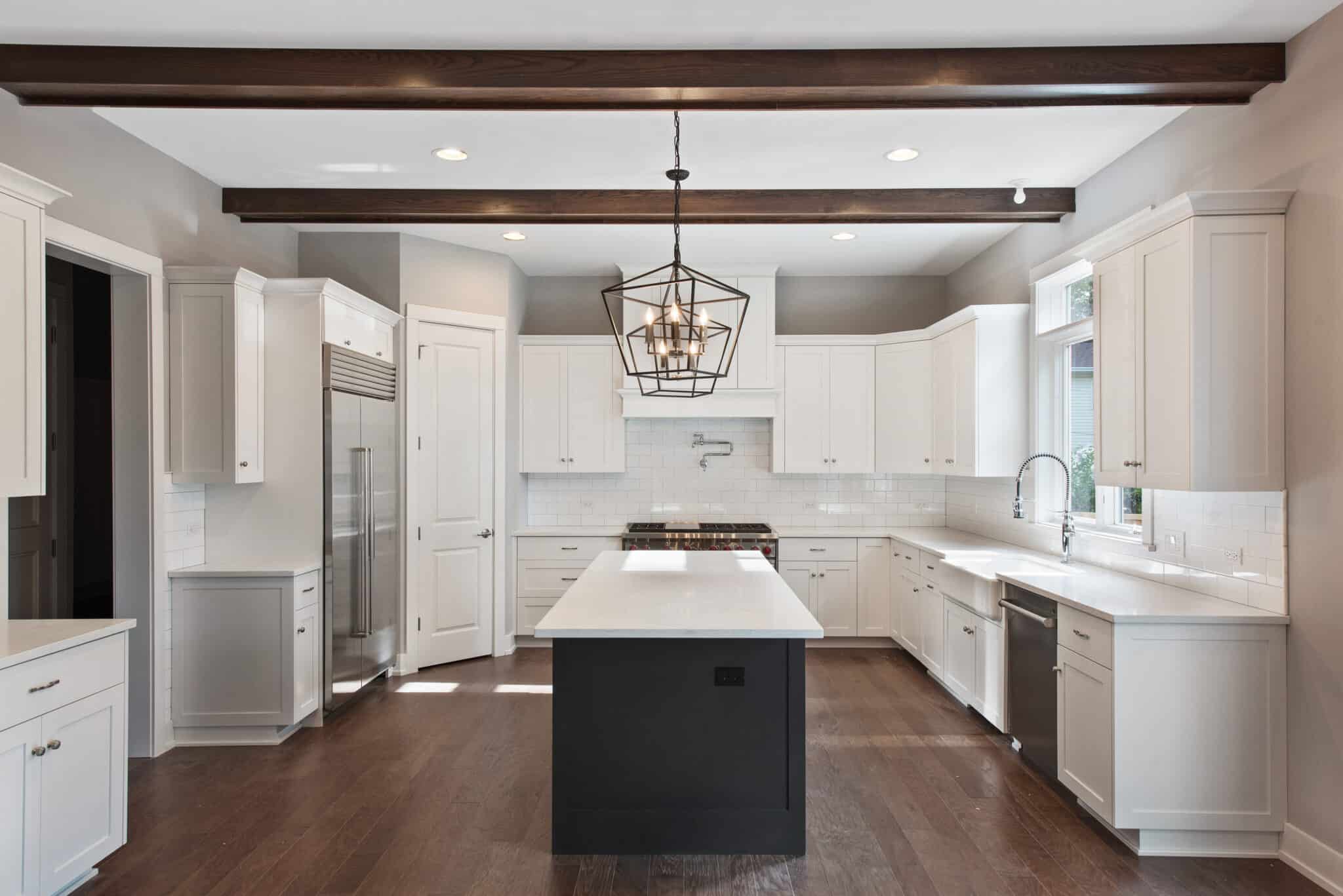 Paint colors for kitchens with white cabinets
Keep in mind, before you email me asking for that one magic neutral color that simply agrees with everything: There is not a single neutral color that works in every kitchen.
Homeowners often find this statement fairly daunting, as they're already exhausted with the new build or kitchen renovation when it comes time to paint, but it's the truth.
Don't worry though, I'll give you tons of tips for how you can choose a neutral (or non neutral) hue that will work for your kitchen.
We'll start with neutral wall tones and make our way to more pigmented hues as the list goes on.
Beige wall colors for your kitchen with white cabinets
If you scroll down past these paint recommendations you'll see why I'm giving you the undertones of colors.
You'll need to identify the undertones in your white cabinet paint, your floors, countertops and backsplash in order to pick the correct neutral to complement your space.
Benjamin Moore Muslin
If you have creamy white cabinets that are either firmly in the off-white category or lean a bit into the cream category and the rest of the fixed elements in your kitchen (counters, backsplash, etc) has a pink beige undertone to it, Muslin would be the perfect wall color for your kitchen.
A color like Muslin will be perfect for you if your kitchen is a bit more on the creamy side, rather than stark white.
Benjamin Moore Ballet White
A very neutral beige, Ballet White is a cream/beige with a green undertone to it. Some lighter color granites with green/beige undertones would be suited for this beige wall color.
Ballet White on the walls pairs nicely with off white cabinets, like White Dove.
Sherwin Williams Shoji White
Another cream tone that could easily pass as a barely-there beige. A good color for when you want significant warmth on the walls, but still want to keep things fairly neutral and the big elements in your kitchen lean creamy/beige with a green undertone.
Shoji White walls in a kitchen would best be pared with off-white cabinet colors like Sherwin Williams Alabaster.
Benjamin Moore Feather Down
Here's another beige with a mild green undertone, perfect to warm up those walls next to white cabinetry.
Feather Down is darker than Ballet White, so if you liked how that looked but wanted something a bit darker, give Feather Down a try.
Greige kitchen wall colors for white cabinets
Greige splashed onto the scene when homeowners wanted something in between gray and beige, and so now we have the best of both worlds with greige colored paint.
I'll share a few of my favorite griege colors but if you want to dive even deeper, check out my post on the best greige colors, for even more inspiration.
Sherwin Williams Heron Plume
Heron Plum is a greige tone with a slight green undertone. I know what you're thinking, green undertone? Yes, gray or greige colors either have green, purple or blue undertones and some colors even have a combination of these colors.
Green undertones are easiest to work with, but they're still there, so you do have to contend with them.
Heron Plume will work well with a softer white cabinets like SW Snowbound, but I tend to prefer it with a more crisp white cabinet (true white)like High Reflective White.
Benjamin Moore Swiss Coffee
If you're looking for a very pale greige tone, you need to sample Swiss Coffee. This greige tone has green undertones to it.
I prefer Swiss Coffee on the walls in kitchens that have true white cabinets, but this wall color will also work if you have off-white cabinets, too.
Benjamin Moore Pale Oak
Pale Oak is technically a taupe, which can be hard to work with, but works in certain situations. I like Pale Oak because it's very, well, pale. Not only is it a taupe, but it's also a greige.
Taupes have pinkish/purple undertones, so do be aware of that, and while the pink/purple tones in Pale Oak are faint, they are there, so if you're using this color in a kitchen that opens up to other rooms make sure you see how the colors work together.
Gray walls with white cabinets
Gray paint colors can be tricky, but you can get the colors right if you know the undertone of the gray paint color and test things out before committing.
Gray paint colors have either green, purple or blue undertones. Some gray colors can have a combination of these colors as undertones, too!
Sherwin Williams Accessible Beige
For a while, Accessible Beige was the color of all color to make everything in your house fresh and up-to-date. While technically a gray paint color, many classify this as a greige as it seems warmer than a gray, and not quite as cool as most grays.
Accessible beige has a slight green undertone and works well with both true white and soft white cabinets. My favorite look is paring Accessible Beige with a soft-white cabinetry.
Sherwin Williams SilverPointe
If you used a true white cabinet color and paired that with a marble countertop, listen up, because Sherwin Williams SilverPointe Might be perfect for your kitchen.
SilverPointe is light gray with blue and green undertones and works best with cooler finishes. Think marble or very white quartz. Most quartz is on the warmer side, but there are a few lighter quartz countertops that are cooler.
Use Silverpointe over a gray with just a blue undertone if your adjoining rooms have some green you want to play up.
If you like to decorate with a lot of blues and your kitchen is on the cooler side, Sherwin Williams First Star might be for you.
First Star really only works with marble countertops with a blue undertone, black granite countertops, or quartz with blue undertones. Subsequently, it also pairs best with cabinetry in a true white tone.
Sherwin Williams Worldly Gray
Worldly Gray is a warm gray with flashes of purple undertones. This is a highly popular color but hard to get right a lot of times thanks to that darn purple undertone.
I prefer to pair this color with a true with cabinet, but it also works with some soft whites. Not all soft whites have the same degree of yellow undertone, so make sure you really test out Worldly Gray to see how it looks with your cabinetry.
Benjamin Moore Edgecomb Gray
If you need something a little more saturated than some of the other paler grays on this list, give Edgecomb Gray a try. Edgecomb Gray has a green undertone to it.
Edgecomb gray will really stand out next to true white cabinetry, but also works with off-white, too. This color is best paired with warmer white tones and looks great with warm white quartz.
Benjamin Moore Wickham Gray
Ben Moore Wickham Gray is one of my favorite neutral colors. Because so many people like to decorate with blues, Wickham Gray is a perfect neutral color for a space decorated with blue hues.
Wickham Gray has a blue and green undertone to it, which I really like because it doesn't come off as too cold, as its got that green to warm it up a bit.
This color can work well with true white cabinetry and also looks good with most off white colors, but not all, so make sure you test it out. Because of that blue/green undertone, it is better suited for backsplashes and countertops that are on the cooler side.
Green wall colors for kitchens with white cabinets
If you want color on the walls, green is a great option. Here are my favorite green paint colors for kitchen walls.
Benjamin Moore Saybrook Sage
Ben Moore Saybrook Sage is a gorgeous color and perfect for those that want a little color on the walls but don't want something screaming at them. Saybrook Sage is like a mashup of gray and green, with more green than gray.
I prefer Saybrook Sage with warmer whites like Ben Moore White Dove, but it will also work with true white cabinetry.
Sherwin Williams Austere Gray
Very similar to Saybrook Sage, but more gray than green, Austere Gray is really pretty. This color looks really good with crisp white tones and will work with some off-whites that aren't too creamy.
Benjamin Moore Palladian Blue
Palladian Blue has been a favorite paint color of mine for years, thanks to it's beautiful mixture of blue and green and spa-like qualities. This color works well with warm and true white cabinetry and is enhanced by countertops and backsplashes with cooler tones to them.
Sherwin Williams Silver Strand
Sherwin Williams Silver Strand is like a perfect marriage of blue, green and gray. This chameleon of a color definitely changes depending on light and your decor.
I prefer this color with true white cabinetry, but also really like it with some off-white colors, too.
This is a great color to choose if elements in your kitchen are blue/green and you have blue and green tones in your rooms adjoining the kitchen.
Blue paint colors for kitchens with white cabinets
Benjamin Moore Van Courtland Blue
Van Courtland Blue is a really nice blue hue that's got an icy blue undertone. Beautiful next to true white cabinetry, Van Courtland Blue works well in a kitchen that has blue accents and/or an adjoining room decorated with blue.
Sherwin Williams Debonair
Debonair is a color you don't hear a lot about, but it's so stunning, nonetheless. A rich, sultry blue without getting too dark Debonair is beautiful.
Sherwin Williams Lullaby
A pale blue is always a good choice for kitchens with cooler tones. Lullaby would pair perfectly with marble with blue undertones, quartz with cooler tones or even black granite.
Sherwin Williams Stardew
This pale-medium toned blue is a dream. Pairing nicely with true white cabinetry and most soft white cabinetry, as well, this hue is really pretty and can be accentuated with soft blue accessories throughout the kitchen.
What color should my trim be in my kitchen if I have white cabinets?
Your trim needs to match your white cabinet color with one exception. If your cabinets are actually a cream and not a white, you need to use a soft white color on your trim. Never paint trim in a cream color, as it will just come off as yellow and dirty.
What color should I paint my kitchen with white cabinets?
Now, here's a loaded question. First we need to determine what type of white color is on your cabinets.
If you've read any of my other white paint color reviews, and especially my post on white cabinet paint, you know the world of white paint colors is tricky.
You've got pure white, which is free of undertones. Then you have white so pure it's actually a blue-white. And of course you have off-white and then there's also cream.
Next you need to evaluate the space your kitchen is in. Do you have a galley kitchen that doesn't really open up to anything? Then you've got more options, in terms of color.
Most likely your kitchen opens up to one or more rooms, and you'll need to take the decor and color schemes of those rooms into consideration when you choose a paint color.
Next you'll need to consider the tones in your kitchen. The real heavy-hitters are your backsplash, cabinets (yes, remember, all whites colors are not created equal), floors (unless they are a medium-toned wood floor) and your countertops.
If you're going with a neutral color in your kitchen, you'll have to work the hardest here as you need all of the undertones to work together. Hopefully your cabinets, backsplash, floors and counters already work together, undertone-wise, and now you just need to choose a neutral that has a corresponding undertone.
tones should be darker than cabinetry rather than looking like an exact match.
If you're going for a splash of color, your job is a bit easier, but you still have work to do. The color choice should complement other elements in the kitchen and work with the adjacent rooms.
What's the easiest way to determine the undertone(s) in my kitchen?
I touched on this briefly above, but here is a more in-depth answer to this question. Let's look at some real world examples. Now, in my opinion, all of these kitchens could have benefitted from a color consultation, but I digress.
Here's the first example: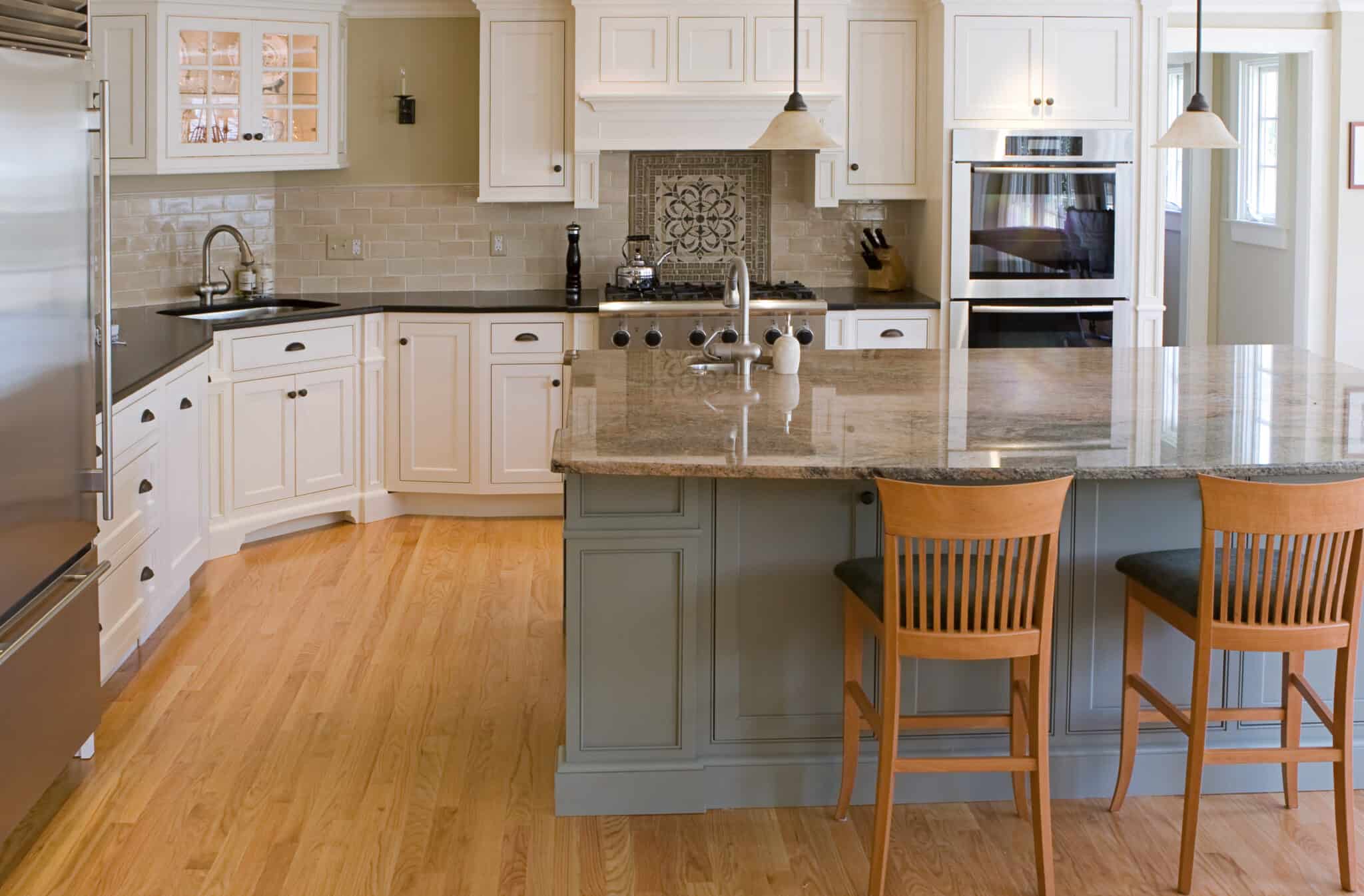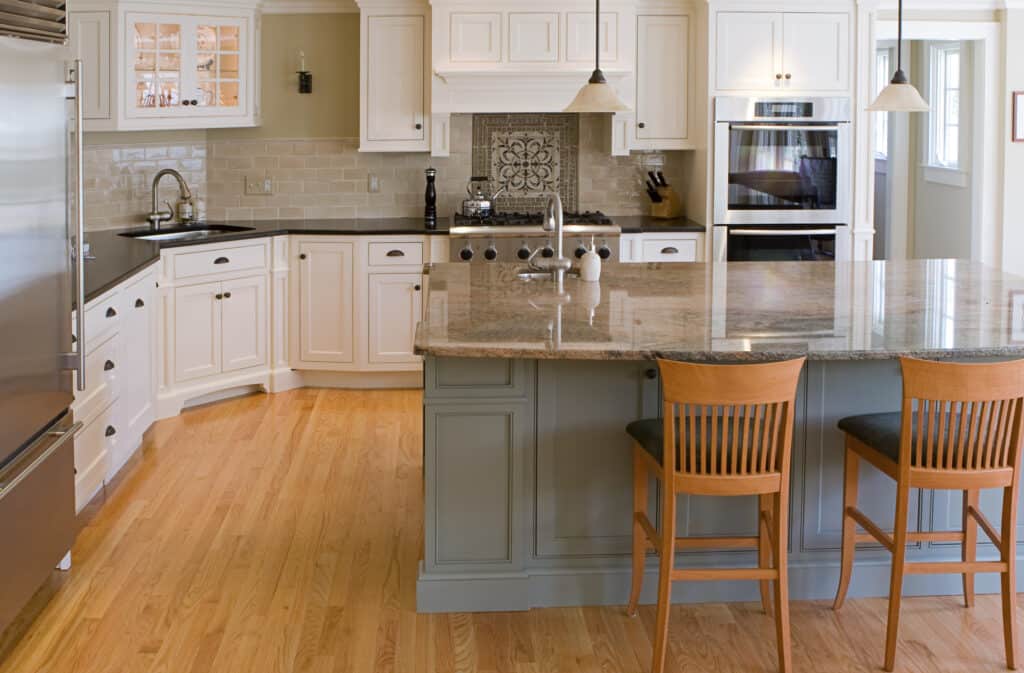 There's a lot going on in this kitchen. We have off-white cabinets with a black countertop and what appears to be a taupe backsplash. Then there's a granite countertop which looks to be in the gold beige/brown category.
In an ideal world your countertops and your backsplash would be in the same undertone family and if that was the case, the neutral color for your wall would be a no brainer, as you'd go with a neutral in the same undertone as your counters and tile.
Let's say the island countertops were black too, so then really all you would need to focus on would be the taupe tile and in that case, you'd go with a very pale taupe wall color. Pale Oak might be a really pretty option in this kitchen.
The current wall color which looks to be a gold or green beige color relates to nothing in the room and looks totally out of place.
Here's our second example:
Here we have a beautiful marble countertop with cherry red floors and what appears to be a green gray backsplash. Again, ideally you would have paid attention to the marble, which is a true white and done the backsplash in a cool tone like a blue gray or just a plain white subway tile would have been nice.
Pretending they went with a blue gray tile or a white backsplash, you could do a pretty pale blue gray on the walls. Gray Owl would be pretty here. You could of course do white walls (the same color as the cabinets) or could do a color here. A blue, green or blue green wall would be nice here.
Here's our third example: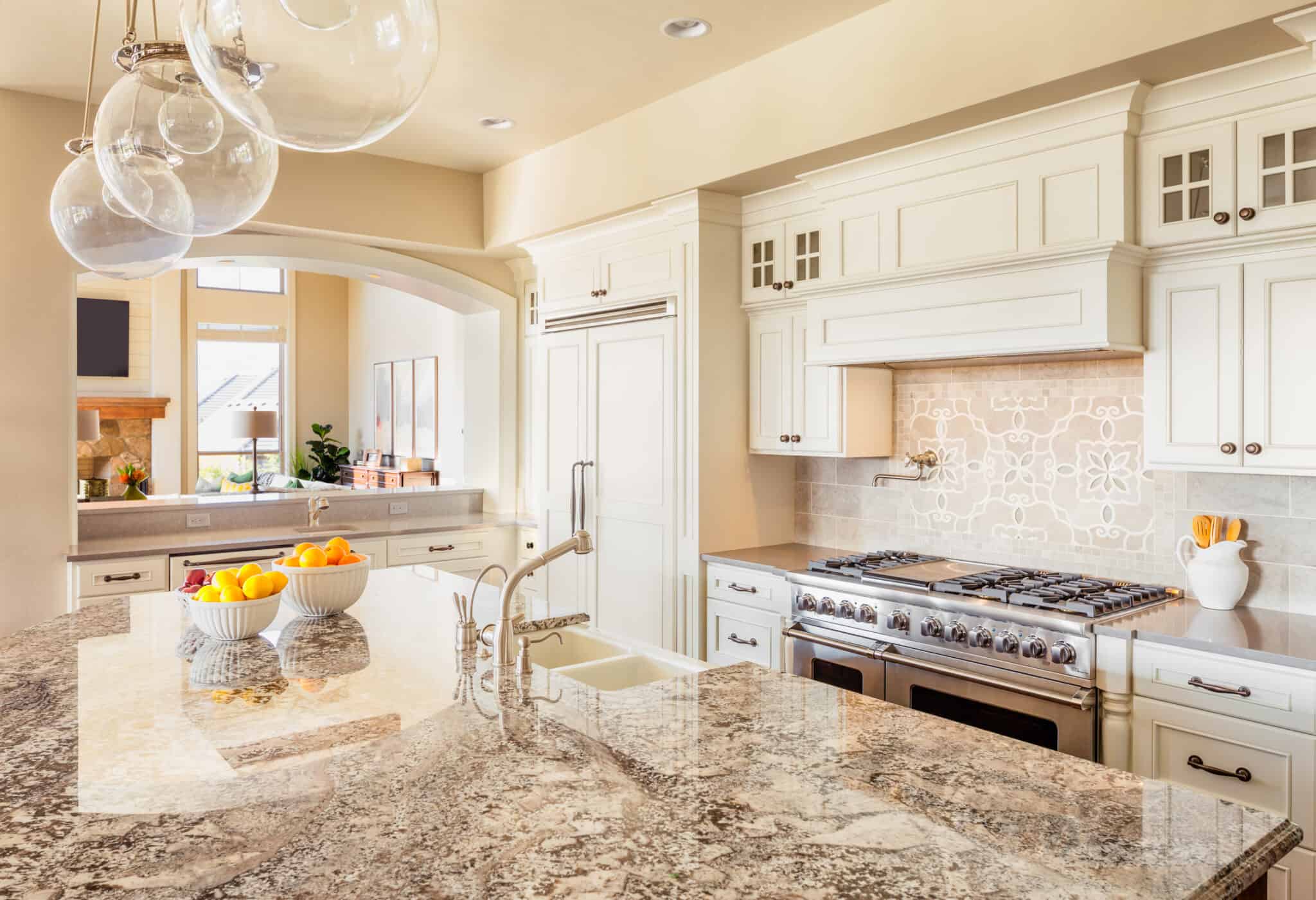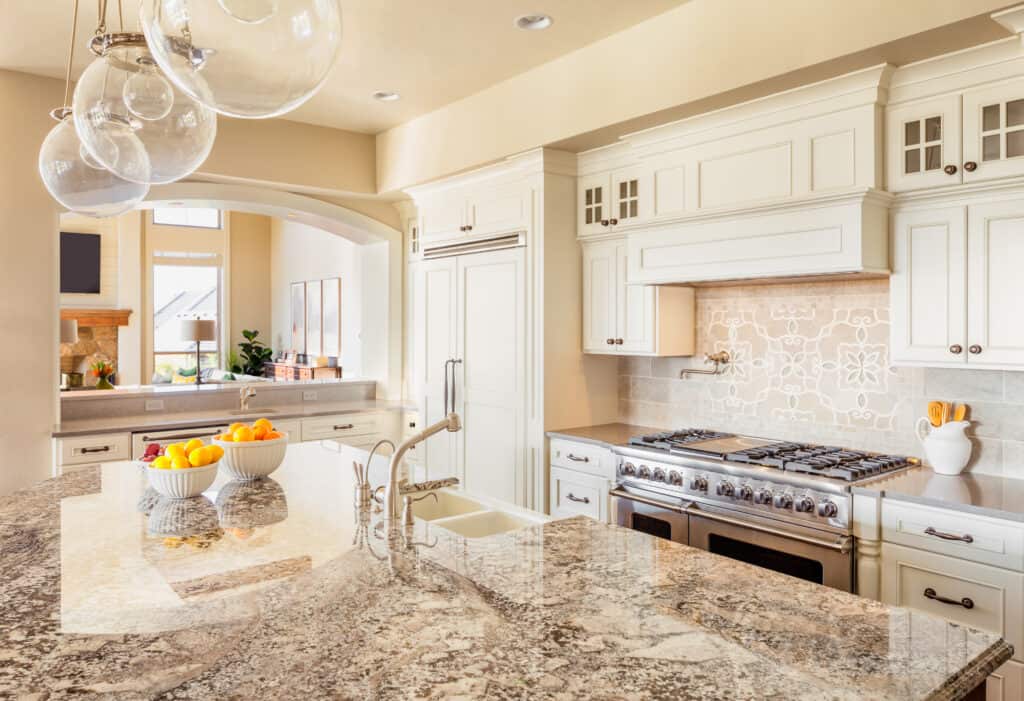 These countertops look to be a cream, but close enough to white to count, so let's walk through this example. The wall color in this kitchen really works, as it really relates well to the gold beige granite countertop.
I do think the backsplash is a little more of a pink beige, so I would have changed that to mesh better with the countertops, but overall, this gold beige wall color really works nicely here.
So, the easiest way to determine the undertone in your kitchen if you don't already know?
Get some paint samples and see which color best relates to your countertop. I have blog posts in all major color families (taupe, white, gray, beige) to help you with some color samples.
To summarize:
Your wall color in your kitchen must relate to your countertops, backsplash and cabinet color. Everything needs to be in harmony!
Real kitchens with white cabinets
This stunning beach house kitchen is so gorgeous! Here's an example of white walls in a kitchen with white cabinetry.
Here's a beautiful kitchen remodel from Cook at Home Mom. The paint color on the walls is SW Repose Gray, which is a gray with a slight blue undertone–perfect for the blue rug and cooler countertops.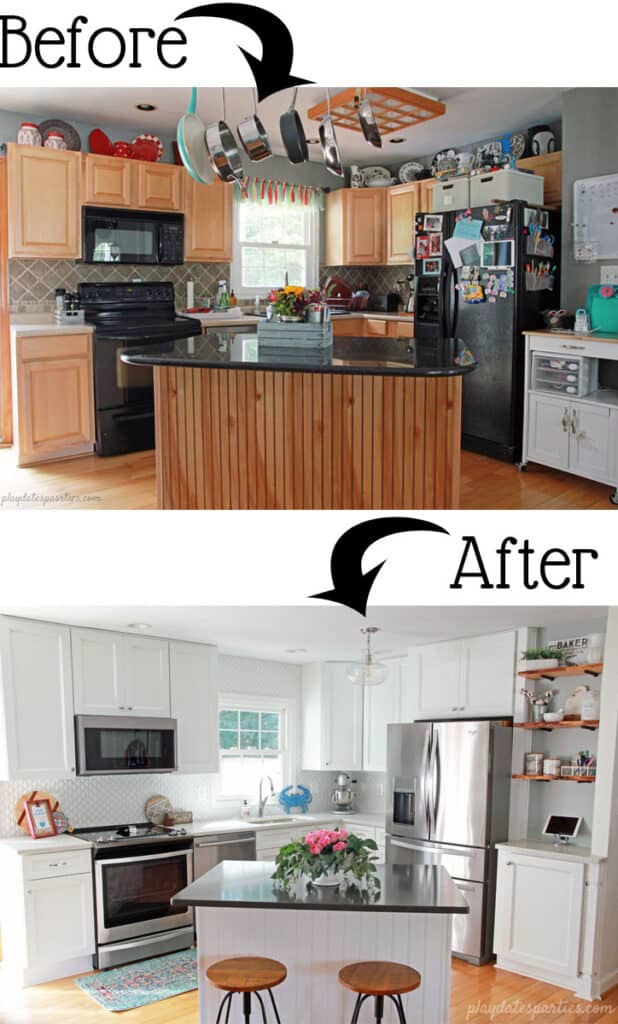 Here's a fabulous transformation from play dates and parties. I'm not exact sure of the actual color used in her kitchen, but it looks like a gray with blue/green undertones like Wickham Gray. Her countertops have blue veining in them which work well with the blue/gray undertones in the gray.
Here's a kitchen with a light gray paint color from Houseful of Handmade. I'm not exactly sure of the precise color, but if I had to guess, it's very close to Ben Moore Edgecomb Gray, which is a light greige with a green undertone.
Isn't this kitchen from Running to the Kitchen beautiful? The wall color adjoining the kitchen with white cabinets looks like Agreeable Gray.