Sherwin Williams Snowbound
In the world of off white paint colors things are rather complicated. You can't just choose any ol' white, as you'll be left underwhelmed.
Just like with every paint color, you must see the color for what it really is, fully comprehend its undertones and understand how it works with the lighting in your home.
Don't be exhausted with this thought though, let me walk you through it, so you can confidently choose Sherwin Williams Snowbound or toss it in the 'no' pile.
What color is Sherwin Williams Snowbound?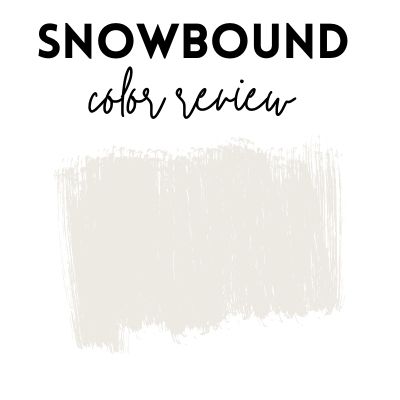 You'd think a color with the word snow in it would be a true white, but Sherwin Williams Snowbound is anything but. The undertones of Snowbound firmly plant this hue in the off-white category.
What are the undertones in Snowbound?
Here's where it gets tricky! White paint colors are notoriously hard to pick out because of undertones, and Snowbound is no exception! By itself, Snowbound looks like a soft white, but compared with other whites, you can really see the purple/pink undertone.
For example, if you're really convinced you should go with Snowbound (and I'm not saying you shouldn't!) make sure to compare it with a true white like Oxford White, because then you'll really see those pink/purple undertones!
Is Snowbound a bright white?
Snowbound is an off-white, which is much different than a bright white. If you are looking for a bright white, Snowbound is not for you. You may like Chantilly Lace or even brighter, Sherwin Williams Extra White.
In the realm of white paint colors you've got quite a range. There's crisp white (some might call this blue white), then there's true white (free of undertones), then off-white and finally, cream.
All four of these white paint categories are vastly different, so now I hope you understand that you can't just go chose a random white and end up being happy with it, unless of course you chose correctly, and in that case, you should also go buy a lottery ticket 🙂
Alabaster vs. Snowbound
Both technically considered warm whites or off-whites, Alabaster has a yellow undertone while snowbound has more of a purple/pink undertone, which you can really see when they're side by side.
Should I use Snowbound in my home?
By now you know whites are hard to choose, but they're not impossible! Follow my three tips for making sure Snowbound is your color.
Tip#1: Make sure the color works with your home
Every single day someone emails me and asks what my "go-to" white is. They're likely asking this because they feel overwhelmed in choosing a white and they just want me to sign off on one that will work for them.
The dirty little secret of paint colors is that there is no "go-to" color that works for everyone. You have to choose the color that works with your furniture and fixed elements and works with the lighting in your space.
So, go around the room you want to paint with Snowbound and take a good hard look at it. What are the undertones in things you can't change (countertops, cabinets, furniture, floors, etc) and note the undertones.
If they aren't going to be harmonious with the purple/pink undertones found in your home, you're going to hate Snowbound. It's likely necessary you need to go around your home and pair the paint sample with your furnishings/counters/whatever you're trying to match.
Typically when you're considering Snowbound as a cabinet color, you want to match that with a more off-white with purple undertones for the best result. I have seen Snowbound paired with bright white countertops with blue undertones and you can immediately tell something is 'off.'
Tip# 2: Observe your light
Don't go off an inspiration photo of you found online, make sure you try out the paint color in your home, with your lighting. This is where a lot of people get into trouble. Snowbound might come off as a neutral enough soft white in someone's home and way too creamy in yours.
With a lot of natural light, you likely won't notice the undertones of Snowbound too much, but in rooms that don't have too much light, the undertones will practically scream at you.
A lot of people use Snowbound on their exterior, and it seems to always come across as crisp white free of undertones in the presence of outdoor light.
Tip #3: Test it out…the right way!
Now it's time to get serious about testing out your paint colors. Give yourself time and space to make sure it agrees with your home. I can't tell you how many times I get messages telling me they need a paint color recommendation because their painter is coming the very next day.
Weeks, heck, even months, ahead of painting, start acquiring samples. I like the peel and stick paint samples you can get online because you can really test out the color that way. I place my samples in front of a white poster board (see below) and compare with other hues in the same category.
For example, below I compare Snowbound with other off whites like White Dove, Simply White and Cloud White and then I threw in Oxford White, a true white (no undertones). Doing this allows you to clearly see what you're working with. Plus you can even move the sample around and compare it with your furniture/rug/pillows, etc!
Have you decided on Sherwin Williams Snowbound after reading this or are you looking into other off white paint colors now?