Slate Tile by Sherwin Williams
Looking for the perfect moody blue for your home? Give Slate Tile by Sherwin Williams a try.
A deep bold blue that's not too navy and not too teal, Slate Tile has a gray undertone, giving way to a rich hue that works as a perfect accent color.
Ready to jump in with this pretty tone? Find out if Slate Tile is right for your next project with my full review.
This post contains affiliate links. Read our policy here.

Is Slate Tile a blue or gray paint color?
Technically speaking, Slate Tile is a blue paint color with a strong gray undertone. I'd classify it as a blue gray paint color.
What are the undertones of Slate Tile?
While it's easy to see that Slate Tile has undertones of gray in it, you might be surprised to find out that it also has a hint of green in it, too.
Depending on the lighting in your home, Slate Tile will either come off as a blue gray color or a dark blue green paint color (as evident by the photo below).
I'll explain how to know which undertone will pull more based on your home, below.
Order a peel and stick paint sample of Slate Tile!
Coordinating colors with Slate Tile
Slate Tile is considered a neutral paint color and because of this, it really works well with a lot of different paint colors and various home decor styles.
Typically, most homeowners opt to use Slate Tile as an accent color, pairing it with other white or gray tones. Here are some of my favorite combinations.
Slate Tile and Snowbound
If you want your Slate Tile to really pop, I like pairing it with a crisp, clean white like Snowbound (also by Sherwin Williams).
A lot of white paint colors have a yellowy undertone to them, but Snowbound has a cool undertone to it, which makes it act more like a stark white than an off-white.
If you don't want to pair Slate Tile with something as bright as Snowbound, you could try Alabaster. Alabaster sits right in the middle of crisp white and off-white.
Slate Tile and Gray Owl
I recently reviewed Benjamin Moore Gray Owl and it's quickly becoming one of my favorite paint colors! The goldilocks of gray paint colors, Gray Owl isn't too warm and isn't too cold.
It's a perfectly balanced light gray paint color with slight cool undertones, making it a perfect match for Slate Tile. For the most contrast, make sure the room you're painting Gray Owl and Slate Tile in has ample light.
Slate Tile and Krypton
How do I know if Slate Tile will work in my home?
Slate Tile is a bold paint color that really packs a punch of color. Best used for accent colors, Slate Tile looks striking when lighting conditions are right and when paired with a well suited color scheme.
Find out if Slate Tile will look good in your home with these tips.
Observe the light in your room
Put down those paint chips! Only looking at paint chips to help you pick paint colors is a recipe for disaster. You must observe the color in your own home. The easiest way is to use Samplize's peel and stick paint colors and place these on your wall.
For a true read, place the colors on a white poster board and hang on your walls. If you want to get the actual paint sample, paint a large square on a white poster board and hang on the walls.
If your room faces the sun, Slate Tile will look more like a blue gray color. If your room opposes the sun and/or you live in an established neighborhood with many trees, you will see more of the blue green undertones of Slate Tile.
Bottom line–you really won't know what undertones will show up more until you test it out in your space. The lighting in your home and the decor/floors/trim will all factor in as to how the paint works in your space.
You may also like:
Blue gray paint colors designers swear by
Beautiful green blue hues to use in your next project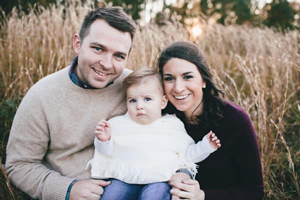 ABOUT DANIEL AND ASHLEY
As a licensed general contractor with more than 10 years in the business, Daniel can walk you through any home renovation or improvement project step-by-step. And if you're here for home design and paint color advice, Ashley's your girl! Join us as we share helpful tips and step-by-step tutorials on anything and everything home. We're also renovating our personal home along the way, and will use this blog as a way to document our progress. Read more...