The best exterior paint color combinations
Planning a new build or breathing new life into a fixer upper? These exterior color combinations have me wishing I was repainting my exterior soon.
What are the most popular exterior house color combinations for 2022?
White continues to dominate both interior and exterior paint color trends. Blues, of course, will always be popular and neutrals paired with complementary accent colors can never go out of style. I'll highlight some of my favorite hues in all of these color categories below.
8 exterior paint color combinations you'll love
As you browse these paint color combos, take the time to think about your home's overall style, as your home's overall aesthetic should be a starting point directing you to the perfect hues to highlight the style and interior of your home.
Wickham Gray, White Dove and Newburg Green
This color combination almost has me trying to convince my husband we need to repaint. Although Wickham Gray has been a trending paint color for many years now as we've been knee-deep in gray colors, this hue is timeless. Wickham Gray is medium-toned gray with undertones of both blue and green, which just makes it so yummy because you can pair it with so many accent colors.
In the photo above, I've paired Wickham gray with a soft white trim, White Dove. I also think Wickham Gray will work with a crisp white like Chantilly Lace, but I like the softness of this combo. Not all soft whites will work. White Dove has a gray undertone, which makes it work beautifully with Wickham Gray.
The door is a beautiful green/blue hue, Newburg Green. I'm always looking for an excuse to use this beautiful hue, and it works perfectly to bring out the blue/green undertones in Wickham Gray.
Manchester Tan, Bleeker Beige, Soft Chamois
Who doesn't like a classic tone on tone craftsman? These timeless hues will always be in style, as far as I'm concerned.
The main color on this beauty is Manchester Tan, a beige with a green undertone. While beige will always be a popular exterior color, this hue has taken a backseat to other neutrals like gray and white over the last decade or so, but guess what? Beige is back in.
I've paired Manchester tan with Soft Chamois. Now Soft Chamois is a color you've probably heard of if you're into paint colors, but it's a very misunderstood color. It's not a white, it's a cream with a green/beige undertone. As you see now, the undertones in this hue work perfectly with Manchester Tan.
This picture doesn't quite do the home justice, because rather than using a brown paint color as you see above, I'd finish this look with a beautiful medium toned stained wooden door.
Palladian Blue, Hale Navy, Chantilly Lace
Is there ever a time where blue won't be one of our most-loved colors? Probably not. Benjamin Moore's Hale navy is about as classic as you can get. Not too navy and not too dark, the perfect smoky blue.
I've paired home with crisp white trim in a true white color, Chantilly Lace. To finish off the look, I've used Palladian Blue, one of the prettiest hues in Benjamin Moore's entire line. Palladian Blue is the perfect mix of blue and green and it wonderfully highlights Hale Navy.
Alternatively, you could think about Hale Navy, Chantilly Lace and a classic wooden-stained door.
Tate Olive, Soft Chamois, wooden accents
Tate Olive is just the quintessential color when it comes to modern craftsman exteriors. This olive hue is not too green and not too bright and it's got some creaminess to it, too. I've paired it with Soft Chamois, a color I used on a house above. Soft Chamois works here because it's a cream with a beige/green undertone.
Now, could you do an off-white here instead of a cream? You could. But, it's just a different look. Tate Olive with the cream is soft and inviting. I also think simply white would work, it's just a bit of a different direction.
This home looks best with a beautiful wood-stained door.
Whale Gray, Onyx, Oxford White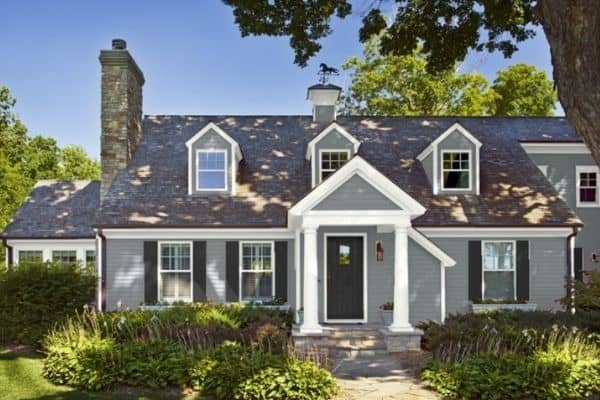 Another timeless option–slate gray, black and classic white. Here I've chosen Whale Gray, a beautiful gray blue hue to be the main character of this home's story. I love staying classic here and pairing it with a true black like Onyx and finishing everything up with a true white like Oxford White.
In a perfect world, this roof would be a tad darker/more black to really pull in the black accent color.
White Dove, Wrought Iron
The farmhouse trend has been going strong for several years, and with every new home being built using some version of modern farmhouse, I thought I'd at least throw my favorite farmhouse hues in to the mix.
For a more timeless farmhouse vibe, I like the softer whites like White Dove. White Dove does have that hint of greige undertone though, which makes it pair really beautifully with hues like Wrought Iron. Wrought Iron is a really pretty deep charcoal color.
Cloud Cover, Boothbay Gray
This color combination may be my favorite on the list. I think this exterior color combination works for both farmhouse and classic style homes. Cloud Cover is another really pretty soft white, like White Dove.
I've accentuated this really pretty home with a soft blue/gray tone and one of my personal favorites, Boothbay Gray. Boothbay Gray will also work with true white colors like Oxford White, but it also looks divine with softer whites, too. I like the softer look here, especially with the lighter colored roof.
Revere Pewter, Dark Olive, Cloud White
As far as neutrals go, Revere Pewter is one of the most classic Benjamin Moore colors of all time. If you want that warm neutral vibe on the outside, you can't go wrong with Revere Pewter. This popular color is technically a gray hue with a green undertone, which is why I've paired it with these beautiful green shutters in a deep olive hue.
Of course, this home would also be beautiful with a wood-stained door.
Things to know when choosing the right exterior house colors
Take into consideration the elements on your exterior
Ultamentaly, you must asses all of the elements on your home to make sure they'll work with the paint colors you've chosen. If you have stone, you need to make sure the colors correspond. Take into consideration your roof and garage doors or other items you can't change.
Colors look much brighter outside
Don't go off of a paint swatch for choosing colors, but especially when you're choosing exterior colors. Colors will look much, much brighter outside. Go back and look at how revere pewter looks on the home several photos above. It looks pretty light, right? Well if you've used Revere Pewter in your own home you know that it's not that light of a color. You must test out these colors outside, which brings me to my next point…
Order paint samples
I recommend you order those peel and stick paint samples or just buy the paint and paint a large square on a white poster board, leaving a white boarder. Take the samples outside and hold them up against your stone and other fixed elements on your home.
What color house sells the fastest?
White exteriors are the hottest paint color right now, but you now know that neutrals done right will never go out of style and blue is always in.
PS–these are all Benjamin Moore colors. If you're looking for Sherwin Williams equivalents, just ask below in the comments!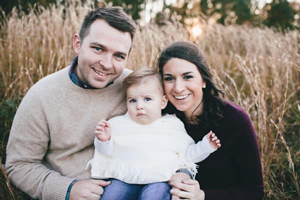 ABOUT DANIEL AND ASHLEY
As a licensed general contractor with more than 10 years in the business, Daniel can walk you through any home renovation or improvement project step-by-step. And if you're here for home design and paint color advice, Ashley's your girl! Join us as we share helpful tips and step-by-step tutorials on anything and everything home. We're also renovating our personal home along the way, and will use this blog as a way to document our progress. Read more...