Benjamin Moore Boothbay Gray: a color review
Looking for a gray that isn't too taupe or putty-like in color? Boothbay gray might work for you! A medium-toned gray, with undertones of blue, Boothbay Gray is really quite stunning.
If you're thinking about using this color make sure you read my full guide below to find out whether or not it will work in your space!
What color is Boothbay Gray?
Boothbay gray is technically a gray paint color with blue undertones, but it reads more like a blue than a gray, so I'd classify it as a blue grey paint color.
Is Boothbay Gray a warm color?
Because Boothbay gray has blue undertones it is most definitely a cool paint color. If you like the idea of a blue gray but think Boothbay Gray is too dark, why don't you try Gray Owl? It's another blue gray, but it's much, much lighter than Boothbay Gray, as it has a light reflective value of 66, compared to Boothbay Gray's LRV of 48.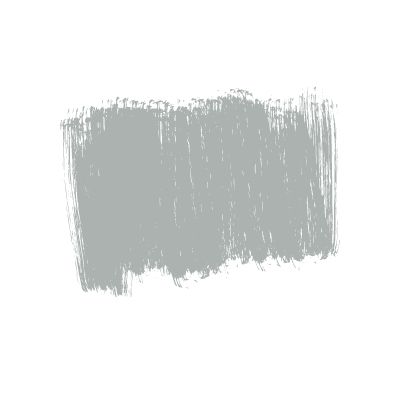 Does Boothbay Gray go with Agreeable Gray?
When determining whether or not colors go together, you must look at the undertones, and in this case, no-Boothbay Gray does not go with Agreeable Gray. Agreeable Gray is a gray with a green undertone, which makes the color look very neutral overall.
Boothbay Gray has a blue undertone. When these colors are paired together their undertones stand out much more and it doesn't work well. If you're looking for colors to pair well with Boothbay Gray, you'll want a darker or lighter color with a blue undertone in it, for the most pleasing pairing.
Boothbay Gray vs. Coventry Gray
Boothbay gray and Coventry Gray are both firmly in the blue gray family, as they are both gray paint colors with cool blue undertones. Boothbay Gray has a light reflective value of 43, while Coventry Gray has a light reflective value of 48; while the colors are close in shade, Coventry Gray is lighter than Boothbay Gray.
What color trim would work well with Boothbay Gray?
Boothbay Gray is a cool paint color so you'll need to keep this in mind when you pick out a trim color. I'd recommend a true white like Chantilly lace. Chantilly Lace has no visible undertones and will look very striking when paired with Boothbay Gray.
You could also get away with an off-white paint color like White Dove, but this is only because White Dove has a little bit of gray in it. Don't just choose any off-white, as most will be too yellowy to work well with Boothbay Gray.
Snowfall White is another off-white that looks good with Boothbay Gray, too. Just remember to compare your trim samples to your paint color to make sure the undertones align.
Must know tips for working with Boothbay Gray
Alrighty, let's start off with the biggest tip for this color, which is….Boothbay Gray has a blue undertone. You likely already know this, as I mentioned it a couple times before, but it bears repeating.
Why, you ask? Because undoubtedly, someone will select Boothbay Gray for their living room, and then when they realize it has a strong blue hint to it, will email me wondering why the gray they selected actually reads more like a baby blue!
Just look at the absolutely gorgeous built ins below painted in Boothbay Gray. Does this read more blue or gray to you? To me, it's more blue, but I love how it's used here and think it works perfectly for the space.
Now that we've established Boothbay gray will most likely lean towards blue in your home, let's go over some other tips.
Most importantly, you want to make sure the undertones in everything you're not planning on replacing (i.e. couch, floors, rug, etc). will work with this paint color.
For example, if you have a couch that is pinky-beige, it's not going to work well with this color. You need a couch that's in the blue-gray family or a couch that's considered a neutral like a classic leather couch.
Same goes for floors. Pink beige carpet or even more taupe carpet is not really going to go well with Boothbay gray, as they don't share the same undertones. Classic wood floors go with everything, so that's not a concern, unless you have dark cherry floors or very gray colored wood floors.
If you're using Boothbay Gray in your kitchen on your cabinets you need to compare it to your countertop. If you have a brown/beige granite, it's not going to work. A cool white or even a creamy white with gray undertones would work.
Bottom line-make sure your fixed elements go with the blue-gray in Boothbay Gray.
Now that you've hopefully determined you can use Boothbay Gray in your home, it's time to test the color out! My favorite way to test color is to use the peel and stick paint samples you can get online.
You can very easily place the large samples on a poster board and put them right on your wall to test the colors. Or, hold the sample right under your counters to test the color for cabinets. You can also bring the sample over to your couch to see if the work well together.
Much easier, and an overall better way to test paint color and how well it will work in your home than getting a paint chip or sample that you paint on the wall.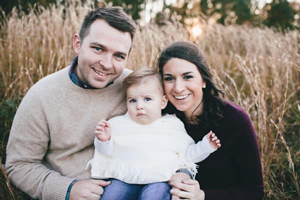 ABOUT DANIEL AND ASHLEY
As a licensed general contractor with more than 10 years in the business, Daniel can walk you through any home renovation or improvement project step-by-step. And if you're here for home design and paint color advice, Ashley's your girl! Join us as we share helpful tips and step-by-step tutorials on anything and everything home. We're also renovating our personal home along the way, and will use this blog as a way to document our progress. Read more...