Sherwin Williams Egret White
Sherwin Williams Egret White is a pale neutral, perfect for interior spaces. Since neutrals are notoriously hard to nail down, today's post is all about deciding if this light tone is right for your space.
What color is SW 7570 Egret White?
Believe it or not, Egret White is actually a taupe! More technically speaking, it's a taupe greige. Now that you've digested the fact that Egret White is anything but white, let's now dive into the fact that it's a taupe greige.
So what is greige? Greige color paint choices are very pale warm grays. Greige colors often look like a blend of gray and beige without committing to one or the other, but rather straddling the line between the two.
Taupe colors are warmer than gray but cooler than beige. They're a good neutral if you're searching for something in between gray and beige; especially if you feel like a lot of the grays are just too cold.
Now, here's the sticking point with taupe though. It does have an undertone that's notoriously hard to work with! Taupe undertones tend to either be pink or purple or a blend of the two.
Most people look at me like I have two heads when I tell them that a neutral color has pink or purple undertones. I remember thinking this way too before I got wrapped up in the world of paint colors.
It's not until you look at the paint colors in relation to other neutrals that you see these undertones.
If you're new to picking a neutral paint color, the one thing that always comes back to bite you is undertones, so you have to pay attention to them.
To answer any questions I've already received, no, Egret White is not an off-white or light gray paint color, so if you were looking for either, you're out of luck here.
What are the undertones of SW Egret White
Egret White is a light taupe/greige with purple undertones. These undertones don't slap you in the face, but there's no denying their presence, either.
When you compare Egret White to other taupes like Cedar Key, which definitely has a pink undertone or Elmira White, which also has a pink undertone, you can very clearly see the purple undertone.
What is the LRV of Sherwin Williams Egret White?
LRV stands for Light Reflectance Value and has to do with how light or dark a paint color is. Zero is pure black and 100 is pure white. The LRV of Egret White is 70, which means it's a very light paint color.
To give you a frame of reference, many popular off-white colors are in the low to mid 80's range.
Is it a warm color?
Yes, Egret White is a warm paint color, thanks to that taupe-greige hue with purple undertones.
What trim color should I use with this color?
Egret White was a little bit fussy to deal with when it comes to pairing with a white trim color. It's not going to work with any ol' white.
Normally, the general rule of thumb is you can't go wrong with true white paint colors when it comes to choosing a white trim color to pair with a pale paint color.
Good news, the general rule of thumb works here, and I especially like Egret White with Pure White or Oxford White.
Many people have off-white trim, myself included. But, unfortunately, this paint color does not go with every off-white color.
My ride or die, White Dove just didn't look great here. I liked Egret White the best when paired with the off-white color, Simply White.
You'll get more of a contrast when you pair Egret White with the true white colors, but it will still work well with a soft white. Just make sure you test out your soft whites before committing.
You can learn more about the differences between Simply White vs. White Dove here. Or you can browse more Benjamin Moore off white colors here.
Still deciding if Egret White is for you? In the video below you'll find my full color review:
Sample color palette
Taupes like Egret White tend to go really well with blues, greens, blue/greens and other taupes with a purple undertone. Look for decor items that are similar in color to the paint choices I list below.
Any medium-darker blue green color looks great with taupe colors. A couple of my favorites are Agean Teal, Newburg Green and Waterloo.
Of course, if Egret White is in an open concept room and you need another neutral for an adjoining room, you must stick with the same color family, so make sure to look to taupe colors for that application.
Egret White vs. Pale Oak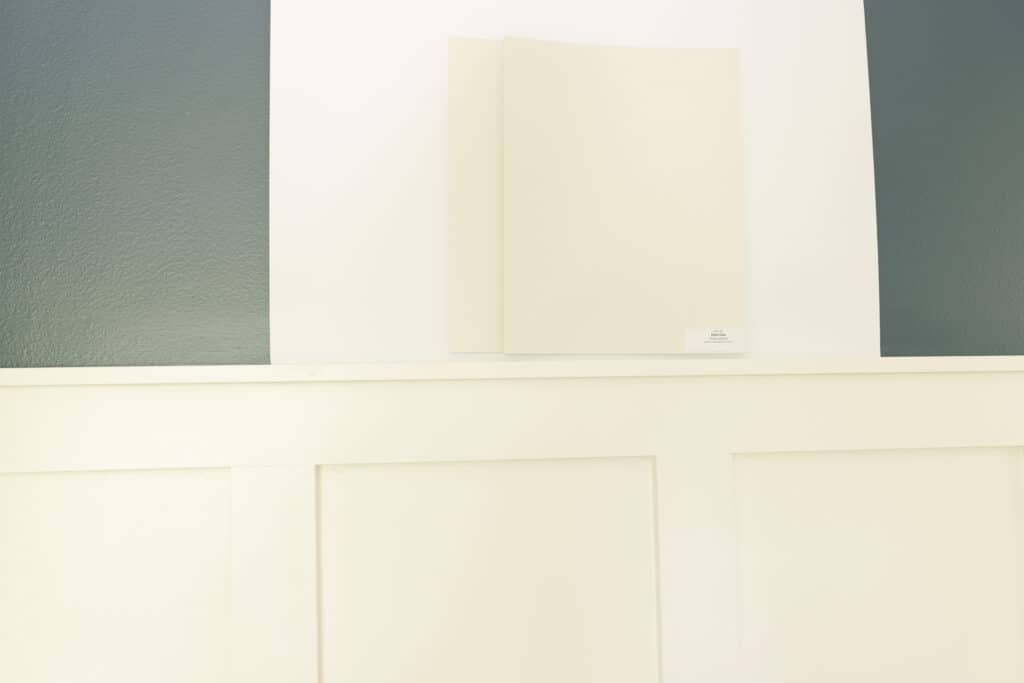 Egret White and Pale Oak are very similar in that they are both greige paint colors and they are both taupes. Where they differ is undertone. Pale Oak has a pink undertone while Egret White has a purple undertone.
If you like where these paint colors are heading, also make sure to sample Balboa Mist, too.
Egret White vs. Alabaster
Egret White and Alabaster don't even come close. Alabaster is an off-white paint color with a good bit of a yellow undertone.
Egret White vs. Agreeable Gray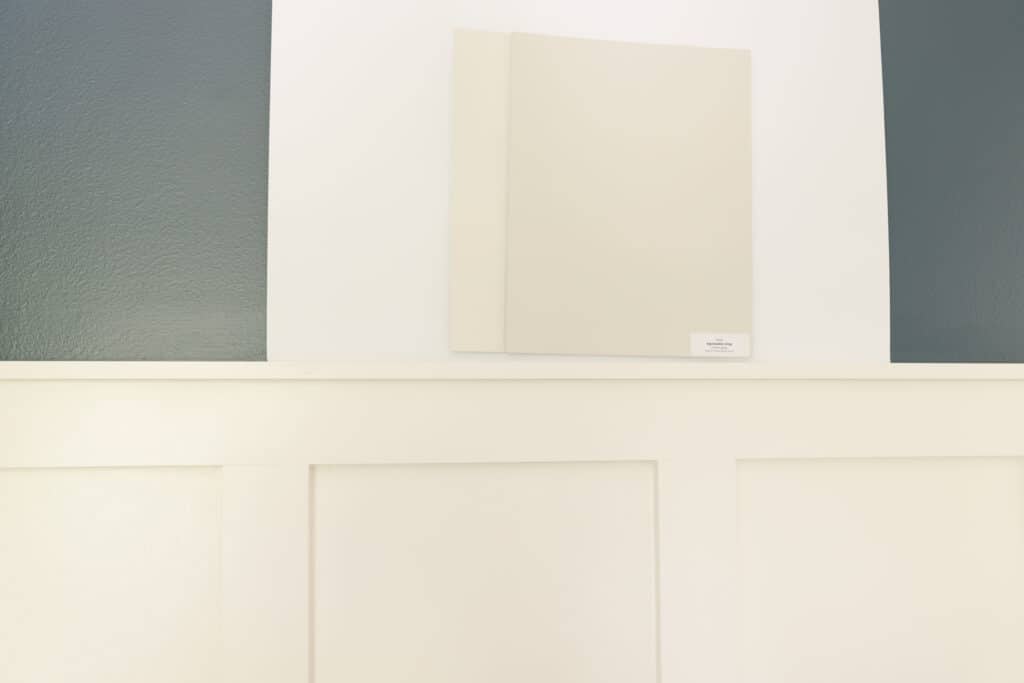 Agreeable Gray is technically a greenish gray hue, but it also looks like a greige as well. As you can easily see, Agreeable Gray is darker than Egret White.
Deciding if Egret White is right for your project
Get the color right the first time with these three easy tips.
Evaluate your light
Don't forget to take into consideration the light in your room. Oftentimes, people get caught up with sourcing a lot of photos for the paint color they're considering and they use this to basically decide the color.
Photos online often have been highly edited and typically the light in the room has been manipulated. The house in the photo also may be lighter than your room or darker.
This is why the best practice is to test out the color in your space. North facing rooms have less light and will make colors look darker.
You may find that in a room without significant light that the purple undertone on of Egret White comes out too much for your taste.
If this is the case, look to other greige colors unless your room demands a purple undertone and if that's the case, look to SW Zurich White.
If you find you need something lighter, but still want a greige, check out Classic Gray or even Edgecomb Gray
On the opposite end of the spectrum, with a south facing room, your room may be too bright, therefore washing out the color, and if that's the case, you might need to look at darker taupes.
Look at your fixed elements
Here's why neutrals are tricky–you must make sure the neutral undertones in your home, think your countertops, backsplash, flooring, furniture, rugs, etc, match the paint color, undertone-wise.
To really make the color work for you and not look 'off,' if you pick Egret White you should have fixed elements with a purple undertone.
Many fabrics have purple undertones and if yours do, great, this color will likely work for you. But if you find you have green undertones or even pink, blue or something else, this color will not work for you.
If you don't know what undertones you have in your home, you'll just need to test out multiple neutral colors before you find a close match.
Test out the color, the right way!
Once you've decided on a color, you must always then test out the color. Notice how I have my color sample on the wall. This is exactly how you should be testing out paint colors.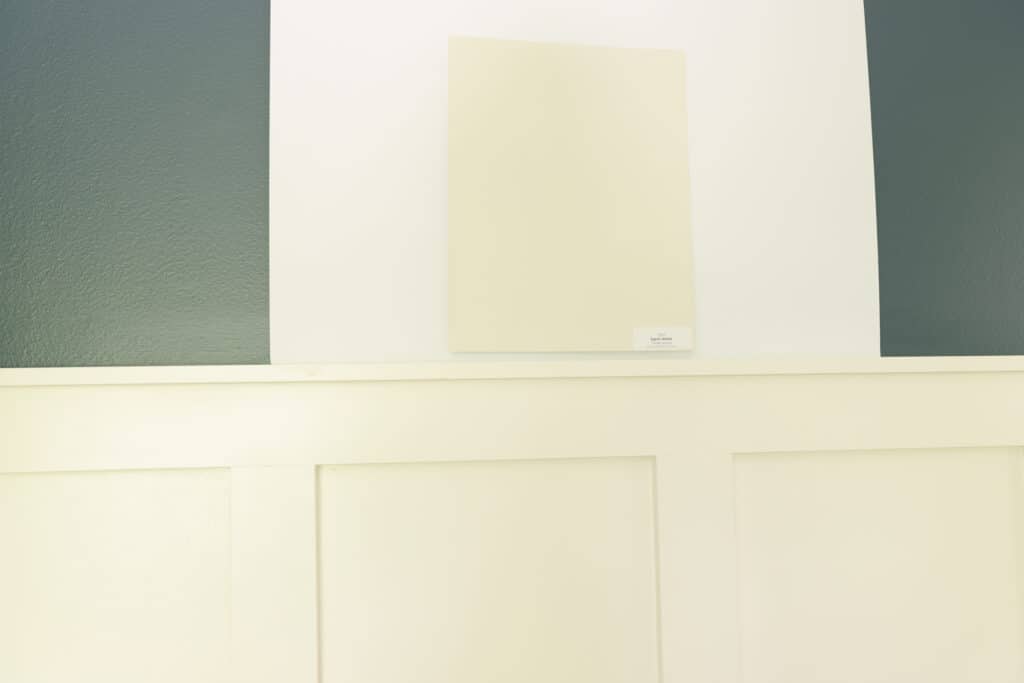 Do not put the color directly on current wall color or the old wall color will impact the new one. Do not paint tiny little boxes of color.
I'm using my professional color boards, but you can get the same effect by using the peel and stick real paint samples of color that can be found here.
During the testing phase you should also test multiple colors. This is really the only way you can see undertones and figure out what your room demands.
Still not convinced Egret White is for you? Check out some of the best sherwin williams greige colors or if you like the taupe look here are more taupe wall color ideas.