Beautiful ceiling ideas for your whole home
Don't overlook the ceiling for a spot to add personality and dimension to a room. We recently renovated our bathroom with shiplap and while that added a ton of personality we wanted to up the drama factor and also do something interesting on the ceiling.
We loved it so much we ended up doing a ceiling treatment in our bathroom laundry combo, too.
If you're renovating a room in your house or planning a new build don't forget about the ceiling. Today I'll showcase the ceiling treatments we've done in our home and Daniel will walk you through the more technical aspects of each design if you want to DIY the job.
The best ceiling ideas for your home
Buckle up, because we've got ceiling ideas for every room in your home, plus your porch. We'll cover ceiling design ideas that range in cost from expensive to inexpensive, so there's something for every budget.
Kitchen ceiling ideas
Boxed beams in a grid is an immediate eye catcher. However, you really need a fairly large area to pull this look off, so don't go applying this to a half bath!
This design will most often be seen in a living room that carries into a kitchen, so the effect really impacts a huge portion of the main floor.
There's an incredible amount of trim work involved in creating each grid, and mapping them out to accommodate your ideal lighting locations can be tricky, mathematically speaking.
It can take several hours to plan this layout correctly, so take your time and put the saw down until you're definitely ready to begin.
And what to put in that flat area? The possibilities are endless. Some opt for a simple and clean surface like a painted drywall, while others prefer breadboard or shiplap planks.
One very common look is to paint all of the dropped boxed beams and trim work while staining the flat beadboard portion.
Consider the decor of the room and make sure that your ceiling doesn't detract from the feel of the room by being too busy. These ceilings are a statement piece, and you want the statement to fit in with your home.
Exposed timber beams always make a great addition to any room. Unless you're in a quaint cabin in the mountains, you'll probably want to have at least 9 foot ceilings for this design to not feel like it's crowding you.
Exposed beams add a tremendous amount of warmth and ambience – they connect you to the very structure of the home, and something about that is grounding for the heart and mind.
These beams are typically 4″ thick, and over the top of them you'll find all kinds of aesthetic options available. Beadboard, shiplap, wide plank pine boards – the possibilities are endless.
Oversized beams are always impressive. Most often, these come from old barns or factories. Because of their age, the texture of the beams can be full of all kinds of unique markings and character from years of aging.
If character and imperfections aren't your thing, you can always get new beams installed that are clean with smooth lines.
Either way, the sheer size of some of these expansive framing pieces is sure to make a massive statement for any room.
Ceiling ideas for the living room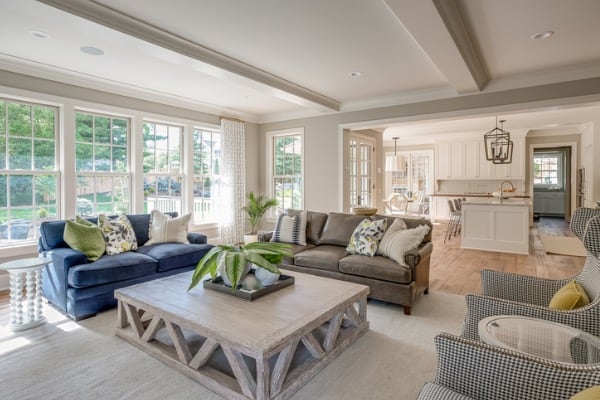 If you like the decorative look of the boxed beams but don't want the busyness of the grid dominating your space, you can eliminate the grid and simply install the beams in only one direction.
We always recommend installing anything that stretches long distances in the direction of the shortest span.
This makes the narrow part of the room feel wider while not drawing attention to the length of the room. You don't want people feeling like they're trapped in a long tunnel when they're in your living room.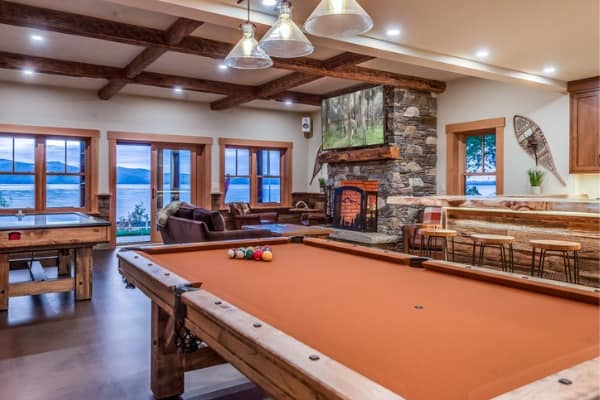 Rustic beam grids bring a lot of character to any space. While they obviously work in a cabin setting or around a rustic fireplace, they can serve well in a more formal setting as a counter balance by providing some attractive contrast.
The boxed beam grid here shows a contrasting drywall surface. Notice how the can lights are installed in the center of each square.
If you're trying to highlight artwork on a wall, this kind of ceiling can feel a bit limiting since you can't just place a directional can light anywhere you want, so you'll likely end up installing a wall mounted down light to feature your paintings.
Ceiling ideas for the bedroom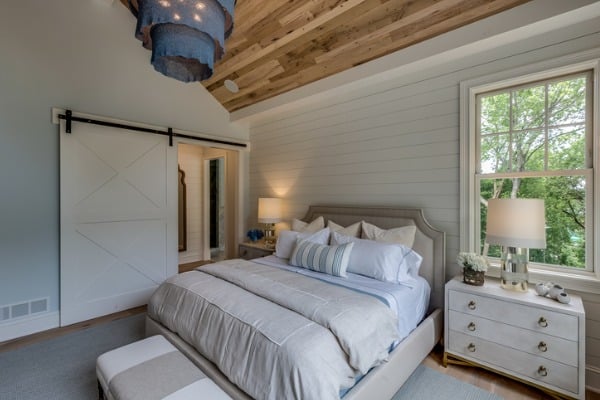 Just because it's called "flooring" doesn't mean it has to go on the floor.
Just remember to get a large sample or try to find a picture that displays your flooring material on a large scale in a room.
What looks like very small variations on a 5 inch sample can turn out to have much more movement and contrast across a large scale when the uniqueness of the wood shines through.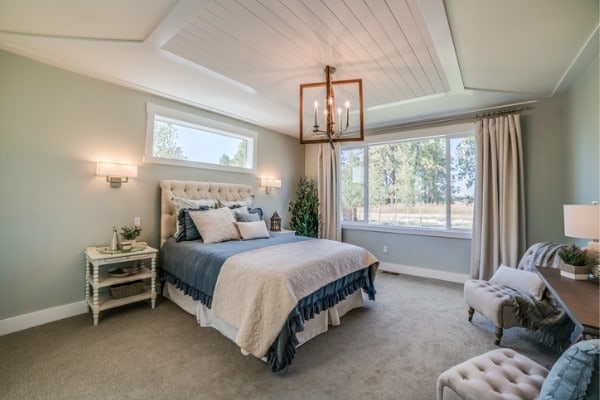 Get creative. Combining elements from several different designs can work if you don't go too crazy.
Ceiling treatments that feature light fixtures have a way of pulling your eyes towards the unique elements you want to stand out.
You can't really go wrong with a beadboard ceiling. In small or large spaces, or has a way of adding immediate character and depth to a space without feeling overwhelming.
It's one of the few features that works well in an 8ft ceiling application. It's thin while still adding the grooved depths that make it more interesting to the eye that a smooth drywall ceiling.
Ceiling ideas for the bathroom
A bathroom is a great place to get creative with a ceiling. You can try things in smaller spaces like small accent portions that wouldn't make sense in a larger room like a kitchen or living area.
Tying in decor items on the sink or in the tub that pull on the ceiling color chosen can really make a small room feel cohesive even though there may be several different textures or materials used in a tighter space.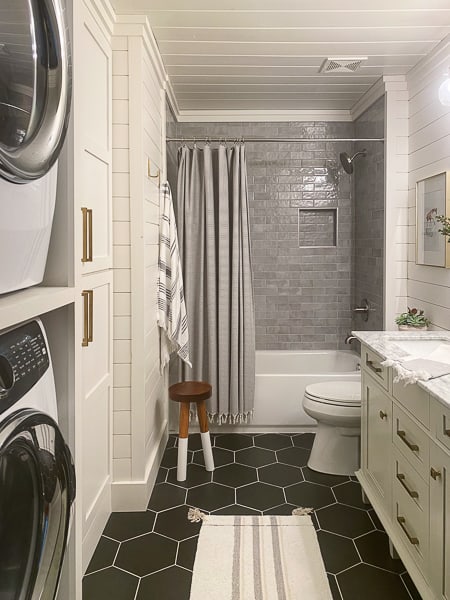 We installed tongue and groove in our kids' bathroom to cover up popcorn and add some dimension to the ceiling. The ceilings in this bathroom are 8 feet so were were limited with how creative we could get without feeling like the ceiling was too low.
Cathedral ceiling ideas
Never let a cathedral or angled ceiling go to waste. This added height and angle is a perfect opportunity for creating an expansive atmosphere that's both inviting and impressive.
A high ceiling with an eye catching feature will define the space in your peripheral vision, always making you aware of the scale of the room you're in.
Find more cathedral ceiling ideas here.
Wood ceiling ideas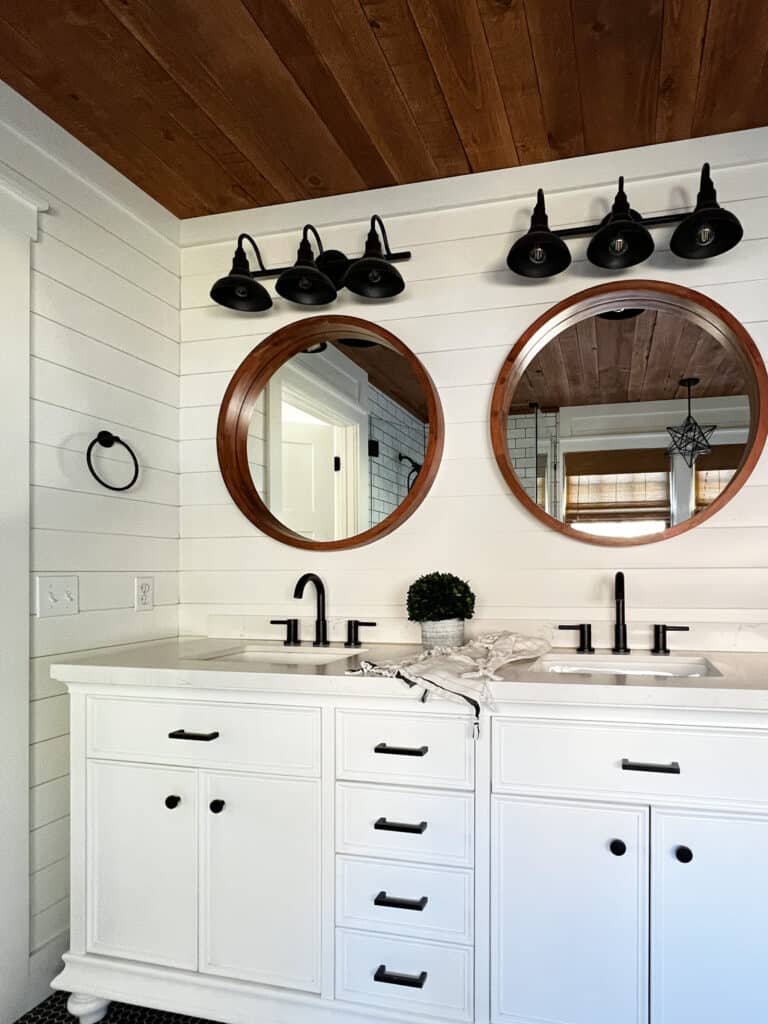 To cover the popcorn ceiling in our farmhouse master bathroom, we put rough-sawn pine boards up. This was a last-minute decision that turned out to really soften the look of the room and tie in the wooden mirrors beautifully.
Because our bathroom has 8 foot ceilings, we were somewhat limited with ceiling design, but adding flat boards like these or tongue and groove would work perfectly.
Porch ceiling ideas
Outdoor porches are often used to get creative on the ceiling. This ceiling was built with 4×10 rough sawn Cedar beams.
Over top is a 1×8 V-Joint material running perpendicular to the structural beams. Cedar is a popular and beautiful alternative to ugly treated lumber because it weathers very well in exterior applications.
Painting your large beams or staining them a very dark color is a bold look, especially when contrasted with a very light color like a stark white.
Low budget ceiling ideas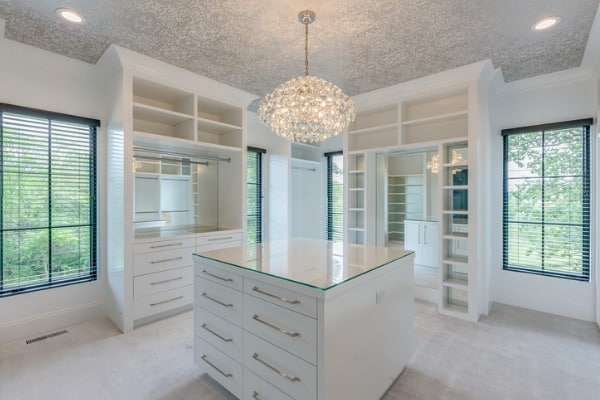 Flooring isn't the only out of the ordinary surface covering that can find its way onto a ceiling. Just because it's called WALL paper doesn't mean you can't stick it to a ceiling and experience a pretty special change to a room.
Ceiling ideas: Frequently asked questions
What's the cheapest way to cover a ceiling?
Beyond drywall, a tongue and groove ceiling is fairly inexpensive to put up. This is what we did in our kids' bathroom as you can see below.
How can I make my ceiling more attractive?
Crown molding will always make a ceiling feel like a finished space rather than a forgettable element of the room.
Trim is the punctuation for any space that forms the overall impression of a room, so don't skimp on the crown.
What color makes ceilings look higher?
Beyond going with a white ceiling paint, you can fool the eye to make it appear like your ceilings are higher by going several shades lighter on the ceiling if you are using a color on the walls.
If you're going with white walls, go with one shade of white lighter on the ceiling. For example, many homeowners are going with off-white colors for their walls these days, and to make their ceiling look higher, they should opt for a true white paint color for their trim and ceiling color.
Many people also like to put a color on the ceilings too and this helps to draw the eye up, giving the illusion of higher ceilings.