10 White houses with black trim that will make you fall in love
Planning a new build and considering a white house with black trim or perhaps you're updating the exterior of a home you're trying to flip? Here are 8 photos that prove that white exterior is here to stay.
White houses with black trim
Most people think of the farmhouse style when they think of white homes with black trim, but as you'll see in this roundup of white homes, this style works for most any architectural design.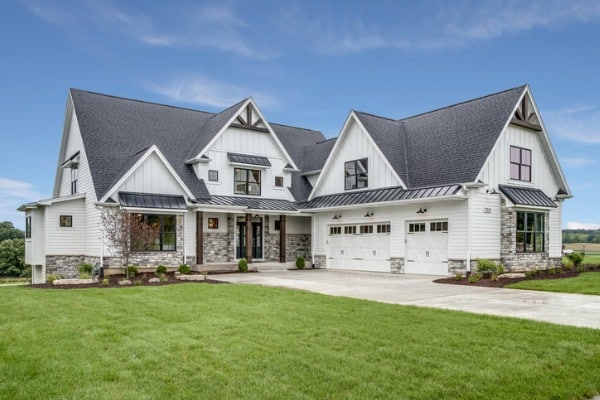 Even if you're planning on black windows to help define the white exterior, you still need additional elements to add visual interest. The stone, black tin roof and hints of wooden accents in the porch columns take this house to a whole different level. Don't forget to think about accents like lighting over the garage and how that changes things, too!
I pretty much love everything Plank and Pillow touches and their latest home that they built themselves is no different. Talk about the quintessential modern farmhouse–beautiful creamy white paint is brought to life with black-trimmed windows a beautiful wooden door and soft wooden accents flanking the grand entrance. I also really like how they chose to add the wood beam window headers as an added touch!
Here's a modern European-style homes that proves black trim isn't just for farmhouses. I love the use of these black windows against the beautiful white stone. The dark stain on the garage doors also adds a dramatic look to an otherwise soft color palette.
In this custom build by THR Design Build, farmhouse meets modern European. Black windows are accentuated by the beautiful cedar trellis, and warmed wooden garage doors. The sloped roof and rounded grand entrance also provide substantial interest and a welcomed step away from the traditional straight lines you typically see.
Here's another non-farmhouse with black windows! This modern home is softened by the creative use of brick and visually appealing thanks to many black windows in all different shapes and sizes.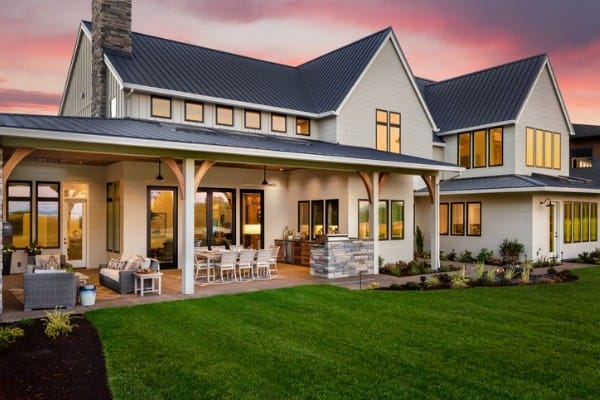 If I have to choose a favorite, here it is. Beyond the typical elements you normally see on farmhouses, the shape of this home just screams farmhouse. I love how the black windows make even more of a statement next to the tin roof. And of course, who can argue with this outdoor space? The black trimmed windows elevate the outdoor living set up, giving this space a relaxed luxury vibe.
I chose this image to show you because of the black door. I'm super partial to pairing a white home with a beautiful brown-stained door, but could totally be swayed to change my mind and go with black, thanks to this beautiful photo.
We'll wrap up with another quintessential farm house, complete with beautiful wooden tones and black windows. I love how they've done the front porch, it's very unique!
A couple tips to enhance your white house with black windows
Loving this black window trim but don't need to replace your windows any time soon? You can just paint your existing window sashes! You can check out some of my favorite Sherwin Williams black paint colors in an earlier blog I wrote if you're thinking about going that route.
If you're in the market for new windows you can get either vinyl windows that already come black or wood windows that you paint black. You can also get black aluminum clad windows, too.
Planning our white house with black trim
Long before the modern farmhouse trend emerged, white was the most popular color for a home's exterior. But now, with the farmhouse trend in full force, white exteriors are being made even more beautiful with black trim.
Even with adding touches of natural wood elements to a white home, sometimes without a contrasting trim color, white can be a little bit boring. We noticed this immediately when we painted our home white before we had replaced our windows.
Even though we had a wooden door and wooden porch posts, our white home was definitely missing something. Since our windows were in dire need of being replaced anyway, we're now in the process of replacing all of our windows for ones with black trim. I'll add in an after shot soon, but for now, here's our current exterior before the black windows are added.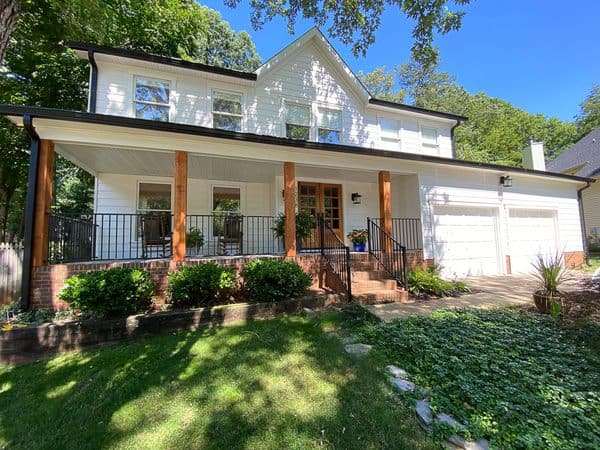 FAQ about white houses with black window trim
Do black trim windows cost more than white?
Black vinyl usually costs about 15% more than white vinyl. Black aluminum clad windows are even more expensive, by approximately 25% than a comparable wood sash.
What color front door looks best with a white house?
I may be biased, but I think a warm brown wood stain on a door looks the best with a white house. You need a stark contrast to really give a white home something visually interesting, so think about colors or wood stains that would lend to that effect. Black doors also look beautiful, too!
Keep reading:
Shop my favorite modern farmhouse finds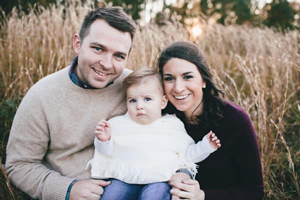 ABOUT DANIEL AND ASHLEY
As a licensed general contractor with more than 10 years in the business, Daniel can walk you through any home renovation or improvement project step-by-step. And if you're here for home design and paint color advice, Ashley's your girl! Join us as we share helpful tips and step-by-step tutorials on anything and everything home. We're also renovating our personal home along the way, and will use this blog as a way to document our progress. Read more...