Sherwin Williams Web Gray
A deep charcoal with undertones that give this dark gray color some serious depth, Sherwin Williams Web Gray is beautiful.
Popular for exteriors, islands, vanities, or built ins, Web Gray is a wonderful accent color. When used in rooms with ample light, Web Gray is also really pretty in little boys' rooms, offices, or powder rooms.
Considering Web Gray for your home? Here's my full color review.
What are the undertones in Web Gray?
Web Gray is a deep gray color that has blue undertones, making it a member of the gray blue paint color family.
Undertones are important to be aware of with paint colors, as they need to match your home's decor scheme or your paint color will look very 'off,' and I'll go into more detail about what this means below when we evaluate if this moody gray will work for your home.
How do I know if Web Gray is right for my home?
Web Gray is right for your home if you have ample light and have undertones in your home that pair well with the color. Let's break that down:
Make sure the undertones in your home align with Web Gray's undertones
You already know from reading above that Web Gray is a gray with blue undertones. If you want to use this color in your home, you need to make sure the furnishings and fixed elements (i.e. anything that can't be easily swapped out) have the same undertones.
If you're thinking of a color to go in your office but have furniture in the room with warm undertones, it's not going to pair well. But if you have a blue/green sofa or a crisp white sofa, this color will work well.
Do you see how well these cabinets painted Web Gray work with that gray backsplash. The gray backsplash has undertones of blue, making it really work nicely with Web Gray's undertones. Now, if the backsplash had been more of puddy-colored gray, it would have not been so great.
Make sure you have ample light
Web Gray is not a black, but a grey-blue color, and most people choose it because they're looking for a moody dark blue.
Don't choose this beautiful color in a room that doesn't get a lot of natural light, because you'll be disappointed.
Your moody blue will look black, which is great if that is what you were going for, but not so great if you wanted that deep blue hue. You may need to examine other blue gray paint options during this process, if you think Web Gray is just a bit too dark.
Don't forget to test out your color sample
If you perfectly match the undertones to the paint color, I'd still advise testing out the sample. You can go about that one of two ways–either paint two coats of your sample directly onto a white poster board and position that as I have in the photo below or order those peel and stick paint samples.
I always advise to test out multiple colors in the shade family, too. You will be surprised at how easy it is to spot the undertones that way. Isolated many colors look exactly what they "should" be, i.e. gray looks gray, it doesn't look blue-gray or green-gray or even purple-gray. But when you compare multiple shades in a color family, you realize there is no true gray.
Which trim could should I pair with Web Gray?
If I'm going to recommend a trim color to pair well with Web Gray I'm going to go with a crisp clean white like Chantilly Lace or High Reflective White. Just like gray paint colors are hard to get right because of their various undertones, whites are hard too!
White paint colors can have undertones too and you want to avoid going with an off-white or a creamy white because it's just not going to give you that pretty pop between the dark gray and your trim. Whites free of undertones like Chantilly Lace or High Reflective White will work best in this scenario.
Which colors go with Web Gray?
I like mixing Web Gray with blue and gray hues. Here are some of my suggestions:
Nimbus Gray-a beautiful blend of blue and gray, nimbus is a soft blue with significant depth thanks to the gray undertone.
Passive–A very easy to work with light gray (thanks to its blend of undertones) that will work well with blue undertones while still providing a good neutral base.
Online-A medium toned gray, Online is a cool gray with blue undertones, which provides good contrast between it and Web Gray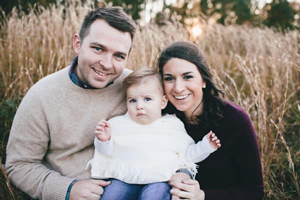 ABOUT DANIEL AND ASHLEY
As a licensed general contractor with more than 10 years in the business, Daniel can walk you through any home renovation or improvement project step-by-step. And if you're here for home design and paint color advice, Ashley's your girl! Join us as we share helpful tips and step-by-step tutorials on anything and everything home. We're also renovating our personal home along the way, and will use this blog as a way to document our progress. Read more...