Searching for that deep blue hue that almost looks black? Deep navy hues with undertones of black and charcoal are becoming increasingly popular, used on everythign from exteriors to interior accent walls.
Searching for that moody navy blueish black hue? Here are 7 of our favorite blue black paint colors.
This post contains affiliate links. Read our policy here.
Blue black paint colors
These are arranged darkest to lightest, based on each paint color's light reflective value.
Sherwin Williams Anchors Away
We'll kick things off with the darkest color on this list. Anchors Away by Sherwin Williams is a beautiful deep blue color. This bluish black color leans more towards blue than black, and really reminds me of Benjamin Moore Hale Navy, but it's just slightly darker than that paint color. This deep hue looks really good when paired next to Pure White colored trim.
Farrow and Ball Railings
I have been seeing Railings by Farrow and Ball used a ton on cabinetry and I love it. It's such a moody hue and is just the perfect amount of dark without being too dark. Technically a soft black paint color, railings has a strong blue undertone, so I'm including it in this line up.
You can really see the blue in Railings when you hold it up to a true black like Black Magic. I have another post on black paint colors that are very closely related to the Railings color family if you'd like to go in that direction.
Benjamin Moore Polo Blue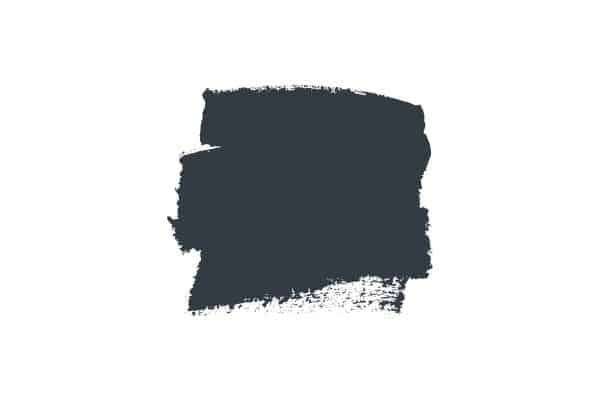 Very similar to Anchor's Away, Polo Blue is a dark navy paint with a good amount of black/gray in it. Not quite as dark as Anchor's Away, Polo Blue is a good choice if you want that deep navy look but don't want it to be confused as a black paint color in low lighting situations.
Witching Hour Benjamin Moore
This next color is a beautiful mesh of gray, black and blue, but I'm still classifying it as a bluish black color. If you like the idea of gray but wish it had more drama, Witching Hour is a color to check out. This hue really reminds me of Railings, but much lighter. If you want a dark color and like the Railings vibe but don't have a ton of natural light, Witching Hour is your best bet.
Blue Note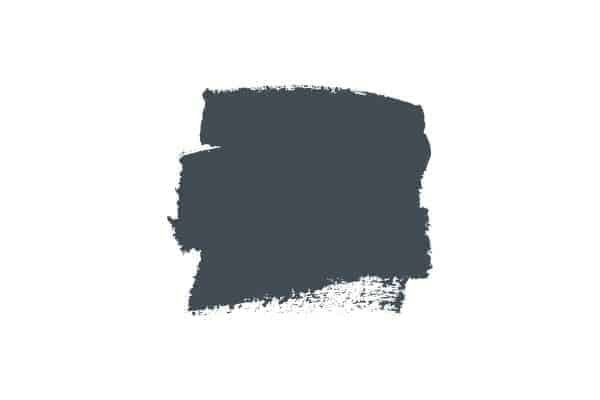 Blue Note is a very pretty hue with undertones of black and also deep hunter green. Because of the undertones of Blue Note, this color will look vastly different depending on where its used and how much natural light is present.
Evening Dove Benjamin Moore
One of the lightest colors on this list, Evening Dove is a softer blue with strong gray/black or even charcoal undertones. Evening Dove reminds me of a lot of blue gray paint color options, and you can check out that post if you're interested in a lighter hue than some of the colors on this list.
Outer Space Sherwin Williams
Outer Space by Sherwin Williams is the lightest color on this list, but still packs a punch in the drama department. While this is a blue-black paint color, there's a slight green undertone to this color. This is your best bet if you're looking for a blue black hue in a room with little natural light.
Tips for choosing a blue black paint color that works for your space
Blue black hues are tricky. In the right light they can look like dark tones, not too blue, and not too black. If you paint them in a room opposite the sun with one small window, you'll likely feel like you chose a black paint color, not a blue-black color.
You must test these colors out on your walls before committing. The easiest way to do this is to order samples from Samplize. I'm a huge fan of using samplize because you can easily order a few colors in the same shade family to quickly compare undertones and see how they will work with your trim color, decor, etc.
Alternatively, you can go to the paint store and get samples to paint on a white poster board. Paint large squares on the white poster board and tape it to the wall. Don't lean it against the wall–this will alter how the color appears.
Observe the color throughout the day and make sure you like it. See how it looks at night with overhead light on, too.
Even though you may have your heart set on one specific paint color, get samples of paint in shades that are darker and lighter than your favorite. You may be surprised which one you like and which one really works with your lighting and decor.
Which trim colors work well with blue black paint colors?
I really like the contrast between light and dark when picking out trim colors to go with these deep, dark hues. A bright white like Chantilly lace would be really pretty paired up against dark navy tones.
Alternatively, you could look for a softer white with undertones of gray in them. I like Decorator's White for this pairing, as it's a cool-toned white.
Find other paint color reviews here.