Sherwin Williams Big Chill
A cool, but not too cool, light gray, Sherwin Williams Big Chill, is well, super chill. Many grays have strong blue undertones, but not this guy.
Considering this chill paint color? Find out if Big Chill is right for your home with my full color review.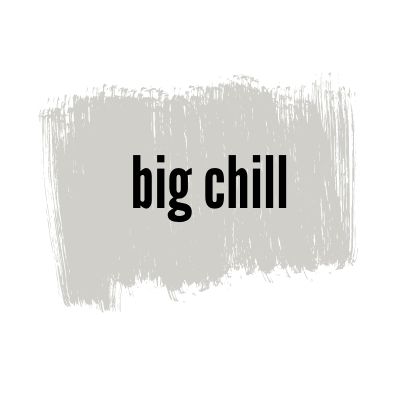 What are the undertones of Sherwin Williams Big Chill?
Big Chill has soft blue undertones. Many popular light gray paint colors have blue undertones, but the undertones in Big Chill are much less dramatic than say the blue undertones in Gray Screen or Stonington Gray.
Undertones in paint colors are super important, so if you're wondering why I'm even brining up the slight undertone in Big Chill, read on, because I'll explain below just how important they are when it comes to getting the right paint color for your space.
What is the LRV of Big Chill?
LRV stands for Light Reflective Variance and it has to do with how light or dark a paint color is. Big Chill sits on the lighter side of things, with a LRV of 62. Coventry Gray is pretty dark, but still very popular and it's at 48. On the opposite side of the spectrum sits Horizon, with an LRV of 73.
Big Chill vs. On the Rocks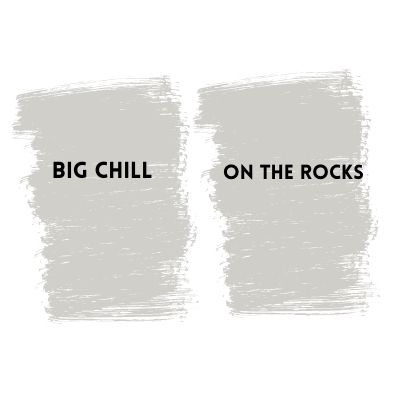 Big Chill and On the Rocks are very, very similar but have one slight deviation in terms of undertone. Big Chill has that blue undertone while On the Rocks has a slight purple undertone.
Now, the blue undertone in Big Chill is super chill, just like the name, of course, but if it's still too blue, the purple undertone in On the Rocks might be just right for your space.
The colors both have the same LRV, so they're both equally light.
In terms of color depth, Big Chill is a good option if you have a normal amount of light. Now, if you have a room filled with windows that faces the sun, you might think Big Chill gets too washed out in your space, so you might need to find something with an LRV in the 50s.
Now that we've examined the nuts and bolts of Big Chill, let's get to the most important part…will Big Chill even work in your home or will another blue grey color work better?
Will Big Chill work well in my home?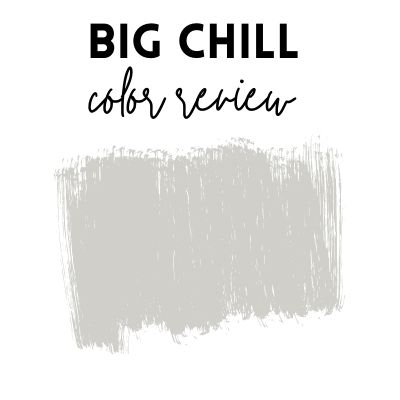 Sherwin Williams' Big Chill will work in your home if you need a light gray paint color with a blue undertone. Let's examine that just a bit further:
First, start with the undertones you've already got going on in your home
If you're starting from scratch (i.e. you're remodeling and getting all new furniture/floors/finishes or you're planning a new build), stop scroll to the last paragraph in this section!
For those of us that are attempting to pick out a new paint color to freshen up our space, the first thing you must do is to go around your home and identify the undertones in your fixed elements. Good things to definitely make note of in terms of undertones are countertops, backsplashes, cabinet colors, furniture, rugs, flooring (unless you have classic hardwoods, as those go with everything).
For example, I'm not going to recommend someone use Big Chill on their cabinets if they have a warm white quartz with warm gold/beige veining, because the undertones in Big Chill won't match the undertones in the quartz. On the contrary, if you have a white marble with blue veining, now that's going to work really well with a gray with blue undertones like Big Chill.
Now, I did mention this earlier, but it bears repeating in this section–the blue undertone in Big Chill is soft. So if you were hoping for a color that really reads more blue, you might not like this one. But, on the other hand, if you want a gray that doesn't read too blue, you might fall in love with Big Chill.
But if you're like many that ask for a gray without an undertone, unfortunately, you're going to be disappointed, because it doesn't exist. With gray, you've either got purple, blue or green and sometimes a combo!
Is this starting to make sense?
Many, many people don't pay attention to undertones and when they select a paint color, they just choose the one they like the best, rather than the one that works the best with their space. The end result often falls flat because undertones clash and something just looks "off."
Next, examine how light or dark of a color you need
You know that the LRV of Big Chill is 62, which places it in the light category. Examine how Big Chill works in your specific room.
Lots of times people fall in love with paint colors they see in magazines or online and what they don't realize is that a huge reason why they like that paint color is because the lighting in that home is perfect for that color.
We'll talk about how to test out paint color next and you can get a good feel for how light or dark the color will come across in your space when you test out the color, correctly!
Test out the color, the right way
Do not let me see you paint a bunch of small splotches of color directly on to your current wall color to attempt to "test out" the color. You cannot evaluate a color when it's painted on to another color, unless of course that color is a true white paint color like Oxford White.
The best way to test out your color is to stick those peel and stick paint samples behind a white poster board and to compare them to other colors, like I have below. Comparing the color you think you want to other colors really, really helps you pick up on those undertones!
A lot of times, people come to me saying they want a specific color, having no idea what the undertones in it are, and when I pair it next to other color that have opposite undertones their eyes light up and they can see the undertones much easier that way.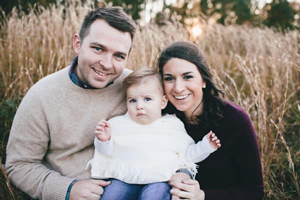 ABOUT DANIEL AND ASHLEY
As a licensed general contractor with more than 10 years in the business, Daniel can walk you through any home renovation or improvement project step-by-step. And if you're here for home design and paint color advice, Ashley's your girl! Join us as we share helpful tips and step-by-step tutorials on anything and everything home. We're also renovating our personal home along the way, and will use this blog as a way to document our progress. Read more...