Sherwin Williams Peppercorn
Sherwin Williams Peppercorn has been rising in popularity since 2012 and continues to be one of the most loved paint colors as homeowners build or renovate.
Despite Peppercorn's popularity, it might not be right for each space and every home? Mulling over peppercorn for your new build or renovation? Find out if it's right for you with my guide!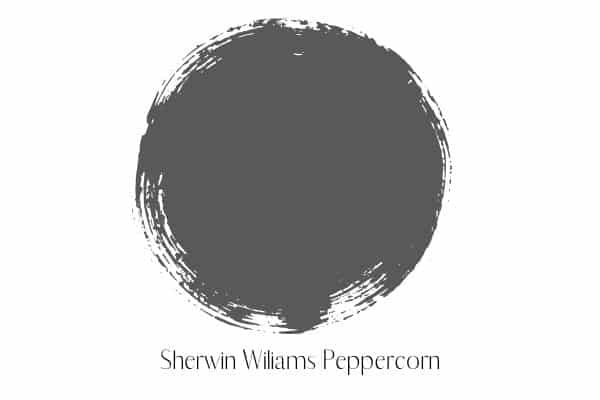 This post contains affiliate links. Read our policy here.
What color is Sherwin Williams Peppercorn?
I've definitely classified Peppercorn as a black paint color before, but technically speaking, it's a deep, deep gray.
If you wanted something closer to black, Peppercorn is likely going to be too soft for you. Now, will peppercorn look darker and more closely resemble a black paint color in rooms with low natural light? Yes, and we'll dive into that a bit further down the post.
What are the undertones in Peppercorn?
Here's the real downer, all paint colors have undertones–even Peppercorn. Gray paint colors either have blue, purple or green. Sometimes they just have one of these colors or sometimes they have two and sometimes even all three are present.
With Peppercorn, you get a purple and blue undertone and either color tends to come out more based on the decor around it.
Think Peppercorn is the color for you? Order a 12 x 12 peel and stick sample here!
What colors work well with Peppercorn?
What trim color pairs well with peppercorn?
Peppercorn is a bit fickle when it comes to trim colors. My tried and true favorite trim color, White Dove (which is technically an off-white color) doesn't exactly look the best. It's just a bit too creamy for that pop of contrast between wall and trim.
A true white like Chantilly Lace really works best. You can check out other true whites in my guide on understanding white paint shades. Even white paint colors have undertones, and lots of them, so if this concept is all new to you, make sure you know which type of white you're going with.
If you want to use peppercorn in a room in your home and you have an open concept that already has a trim color that isn't a true white or a blue white, you really can't change the trim color just in that room and get away with it, so keep that in mind.
Really the only rooms in your home that you can change the trim color from the rest of the home are in the bathroom.
What's one shade lighter than Peppercorn?
Did you know every single paint color is assigned a Light Reflectance Value? Zero is the darkest black and 100 is pure white.
Peppercorn is pretty dark and it has a LRV of 10. Now, don't make the mistake that virtually everyone does and just go to the next shade up on the paint swatch to find the corresponding lighter color.
Those colors on the paint swatch don't relate to each other, undertone-wise. You'll be getting something entirely different if you go that route.
So, if you. need a lighter version of peppercorn, check out Benjamin Moore's Englewood Cliffs. It's a deep gray with a blue undertone but its LRV is 23, much lighter than Peppercorn.
If you didn't need something quite that light, try out Web Gray. Web Gray is also a gray with a blue undertone and it has an LRV of 13, so just a smidge lighter than Peppercorn.
Here you can see other charcoal colors I love.
What about one shade darker than Peppercorn?
If you're looking for darker than Peppercorn you're getting into the black paint color territory pretty quickly. I'd check out Sherwin Williams Iron Ore. Iron Ore is a black paint, but it's very soft compared to some other really black colors like Black Magic. Iron Ore has a LRV of 6 and has blue/purple undertones.
How do I know if Sherwin Williams Peppercorn is right for my home?
Isn't that just the million dollar question?? Paint is so hard because it's always been so elusive..thanks to the paint companies lack of real guidance.
Don't fret..here are some quick tips to help you pick the right color. If you're still stumped after these quick tips, make sure to check out my guide on choosing the right paint colors for your home.
Tip #1: Evaluate your light
This tip is huge with Peppercorn. If you want that perfect charcoal gray that's not too black than you need to have ample light in the room you want to paint it in. Peppercorn always looks really beautiful and milky dark gray in photos you'll see online, but repeat after me: online photos lie.
You have no idea the lighting situation, how they edited the photo and the natural light coming in. If you paint peppercorn in a bathroom that has no windows, it's going to look basically black.
Now, on the other side, if you paint peppercorn in a room bursting with floor to ceiling windows and you wanted a deeply saturated color, it might get a bit to washed out…which is why you have to really test out paint colors before you commit.
Tip #2: Test your paint color…correctly
Besides knowing what the undertone of the paint color is and how that will react with your decor and hard finishes, not really testing out the color correctly is why most people end up hating their paint color.
First off, you must paint a large enough sample on pure white poster board. You can DIY this or you can order a peel and stick sample and place it on white poster board. Don't paint your sample directly onto your walls! Your current wall color will influence your color and you don't want anything interfering.
Place the poster board right against the wall by your floor to get an accurate reading. You can also bring your sample right over to any fabrics that you're going to use in the room.
Another tip on getting the right paint color is to sample multiple paint colors in the same hue family. Comparison is really the only way you can see what you're really working for. For example, you may think Peppercorn is really dark until you hold it up to Black Magic or even Iron Ore.
This is one of the best reasons why I love those peel and stick samples because you can easily get 5-10 samples and you will instantly know what's too light/dark and you can really tell the undertones of each color when you compare them to other colors, too.
Have any questions about Peppercorn? Ask below in the comments and I'll do my best to help! Didn't find what you were looking for? Check out my favorite blue black paint colors.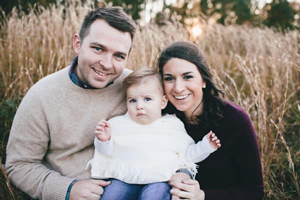 ABOUT DANIEL AND ASHLEY
As a licensed general contractor with more than 10 years in the business, Daniel can walk you through any home renovation or improvement project step-by-step. And if you're here for home design and paint color advice, Ashley's your girl! Join us as we share helpful tips and step-by-step tutorials on anything and everything home. We're also renovating our personal home along the way, and will use this blog as a way to document our progress. Read more...