Pendant lights over a kitchen island: Options, spacing, height and more
Planning a full scale kitchen reno or just thinking about replacing your pendant lights over your kitchen island?
We've got everything you need to know in terms of how many lights based on the width of your island, how high off the counters they need to be and how far to space them–so stick around for your full guide on island pendant lighting!
We've also included our favorite choices and what we're leaning towards for our up-coming kitchen renovation.
This post contains affiliate links. Read my policy here.
Island pendant lights: Everything to know
How many pendants do I need for an 8 foot island? What about a 10 foot island?
For an eight foot island, you need at least two pendant lights.
Depending on the size, you can also go with three smaller lights, too. It's thought that odd groupings are more visually pleasing, but it's truly a preference. Regardless of how many lights you go with, they need to be spaced out with the correct symmetry.
For a 10 foot island, it's best to go with three pendant lights to balance out the length of your island. Follow the guidelines in the below graphic for placement help. If you'd like to select large pendants (at least 25″ in diameter) you may want to stick with two pendant lights.
To get the best idea of what your pendants will look like over an island use helium balloons for placement and size reference–it's a great visual trick to help you decide!
For two lights
Center lights off the center of island and space them apart 30 inches
Make sure you have a minimum 6 inch clearance between the light and edge of island
For three lights
Make sure you have a 6 inch clearance between the light and the edge of the island
Put a minimum of 2 feet (30 inches is best) between each light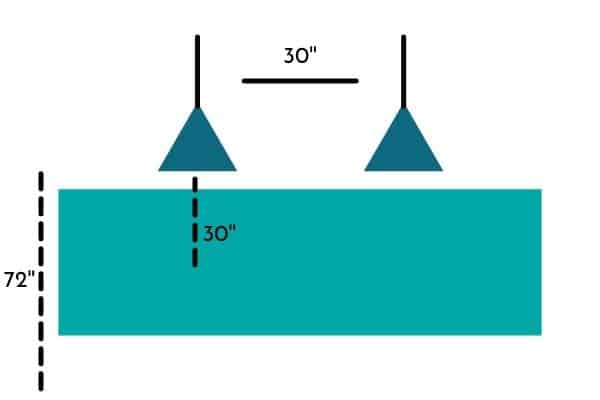 My favorite pendant lights:

Recommended pendant light height over island
Your pendant lights need to be 30 to 36 inches from the base of the light to the countertop. Additionally, regardless of how tall your ceilings are, the base of your pendant light should be no higher than 72 inches from the floor.
Essentially, you want to make sure your pendant lights are not too far off the ground–you want to make a statement, not have them get lost in your tall ceiling.
The biggest thing you should concern yourself with is making sure pendants are not blocking sight lines–i.e. you don't want to be dodging the pendant to have a conversation with someone while you're standing up around your island.
Keep in mind, these numbers I've given are the recommended distances you should aim for–each kitchen has its own unique elements to work around, so nothing will ever be perfect.
Use these numbers as a guide and try to stick as close to them as possible. Remember to use the balloon method to test out how your pendants will look in the space!
How big should a pendant light be over an island?
When thinking about how big or wide your pendant light should be over your island, you'll need to not only consider how long your island is, but how wide it is too. For example, if your island is only 3 feet wide, you likely don't want pendants that have a large diameter. On the other hand, if you have an island that is five feet wide, a larger pendant will work well in the space.
Other things to consider when choosing pendant lights for your kitchen island
Take into account your ceiling height
Beyond making sure your pendant lighting is well suited for the width and length of your island, you want to consider your ceiling height when making your decision, too. In newer homes, this isn't really going to be an issue, unless you have a cathedral ceiling.
But in older homes (like mine) where ceilings are only 8 feet, you need to make sure that the pendant you're getting doesn't hang down too far. Keep in mind that it needs to be about 72 inches from the floor and about 30 inches from the base of the pendant to the countertop.
You may have to fudge the numbers just a bit, to get the pendant you want, but don't fudge them too much, or you'll have to move your head around your light when you're talking with people–a big no, no.
Should the finish of my pendant lights match my cabinet hardware? What about my appliances or faucet?
There's no hard and fast rules here, just do what you like! I'm a huge fan of mixing metals in my overall design aesthetic. I think it really helps things look unique and not so cookie cutter. Here's what I recommend if you want to mix metals. Obviously keep all of your handles the same.
Then for lights, you can make them stand out–for example it can totally work to have chrome drawer knobs/pulls and faucet paired with gold pendants. The key though is to make sure the gold pendants tie in to the design nicely by replicating the tone somewhere else in the space.
It could be a light with similar gold tones over your breakfast nook, or you could tie them in with your barstools, etc. You do traditionally want to keep all of your plumbing fixtures the same, though. Think faucet, pot filler, etc. for a more cohesive look.
Our favorite choices for pendant lights over a kitchen island
Sources to lights shown are below graphics!
Shop pendant lights: