How to choose the right tile and grout color combinations
Typically I have no trouble choosing tile, but what does always stump me is picking out the correct grout color for the look I'm trying to achieve.
Sometimes you want the tile to steal the show, so you choose a grout color that blends well, and yet other times you want the grout to get the glory, so you choose a grout color that contrasts with your tile.
Stumped on what grout color to choose?
Here are 10 combinations of tile and grout, plus tips to help you choose the right grout color for your project.
This post contains affiliate links. Read our policy here.
10 tile and grout color combinations you'll love
White subway tile and black grout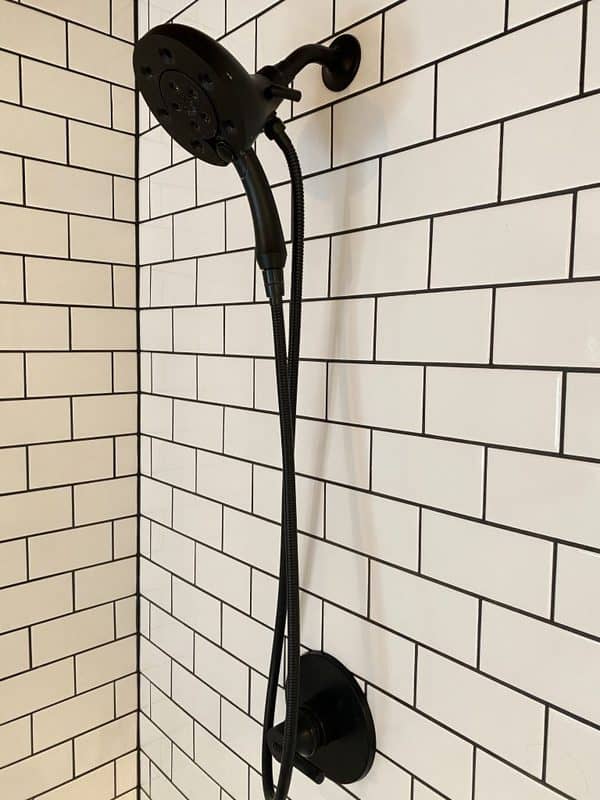 Here's a classic look that you can be assured will stand the test of time. We chose to go with white subway tiles with black grout in our farmhouse shiplap bathroom and it is simply beautiful. The only issue I have is with the black grout fading a bit, (this post is helpful if you're considering black grout).
Gray tile with gray grout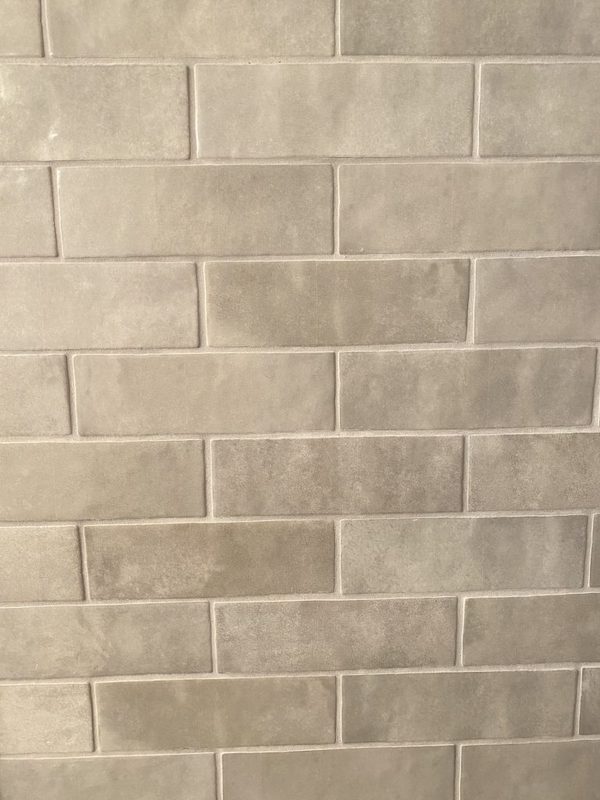 We chose this beautiful gray tile in our kids bathroom remodel and honestly the grout color to use really stumped me for a while. Ultimately, I wanted the gray tile to stand out, so we chose to go with a gray grout color too.
White subway tile with white grout
If you want a seamless look that's fresh and crisp, try a white subway tile with white grout. From a distance it will look like one continuous piece and allows countertops to shine. Be forewarned, white grout is hard to keep clean, especially in the bathroom. Read about how white grout in the shower holds up here.
Gray tile with white grout
Typically, a herringbone pattern looks best with contrasting grout color, as it lets the visual interest the pattern brings steal the show.
Marble tile with white grout
White grout paired with marble tile allows the marble backdrop to shine and creates a bright and fresh look.
Marble tile with neutral grout
I typically gravitate towards using white or even light gray grout with marble, but this neutral-colored grout is absolutely gorgeous! It's always a good idea to contrast the grout color when the tile features a pattern you'd like to show off.
Black tile with light gray grout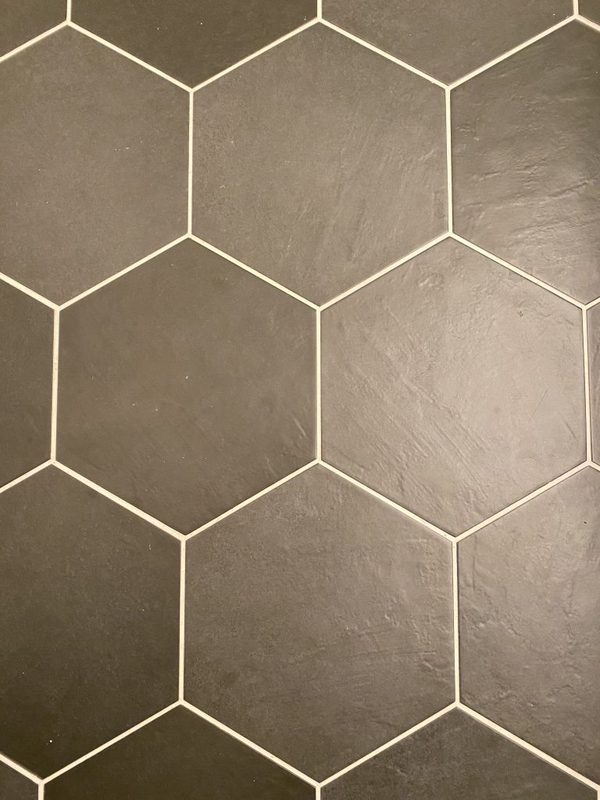 We chose a large hexagon tile with very light gray grout for our kids' bathroom floor. The light gray serves to present a contrast while still concealing some dirt, as I thought the bright white would show too much of a mess most of the time.
Black tile with black grout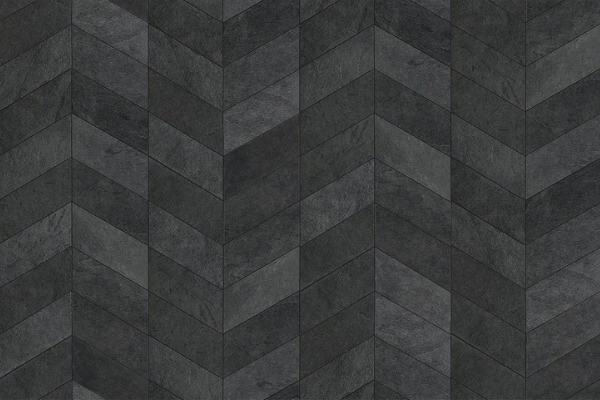 If you want to make a statement with dark tile, matching the grout to the tile is the way to go!
Blue subway tile with light blue grout
The tone on tone blue is absolutely stunning in this bathroom- especially when paired with the the gold hardware.
Blue subway tile with white grout
I love this contrasting grout and tile color used in this beautiful bathroom.
How to choose the right tile and grout combinations
When deciding on tile and grout you have three options:
Choose a contrasting grout color: Use a contrasting grout color when you want to highlight the tile pattern or create a statement with your tile. For example, using a contrasting grout color works really well to highlight the a cool herringbone pattern. It also completely transforms a rather bland tile like a white subway.
Opt to match the tile: If you want the tile to truly shine while the grout takes a backseat, it's best to choose a matching grout color. The tile in our kids' bathroom was absolutely beautiful and had a shiny finish to it that I wanted to highlight, so we went with a grout color that was the same color as the tile. Choosing a grout to match the tile creates the most seamless look out of all three options.
Go with a neutral grout color: If you want your tile to stand out but not as much as it would with a contrasting grout color, go with a neutral grout tone. To pick the right neutral tone make sure to compare it with the room as a whole and the tile so that it complements and doesn't contrast.
In addition to color scheme, you want to think about maintenance. Unfortunately, grout color is hard to maintain. It's hardest to maintain in areas that have high traffic and/or where the grout is frequently getting wet. Think of floors, behind sinks and in the shower.
I was once told by an owner of a grout cleaning company that in order to always be happy with grout color in a high traffic area or in a bathroom, you should choose a grout color that is closest to the color of dirt! And don't go thinking that black grout will solve your dirt problems either, as we learned this the hard way when we went with subway tile with dark grout for our bathroom makeover.
Grout is like a sponge and will take in all things that it comes into contact with unless it is properly sealed, and even then, it's been our experience that it does require on going maintenance and choosing a grout sealer that stands the test of time.
Should grout be lighter or darker than tile?
This is entirely up to you and the design aesthetic you are trying to achieve. Sometimes, a more basic tile like plain white subway tile can be elevated by using a contrasting grout color, and other times, if you choose a tile that reflects a lot of light and is beautiful by itself, you might want to use a neutral or even the same color grout.
What color grout should you use with white tile?
White tile is pretty versatile and will work with almost any grout color, but white, beige, light gray, dark gray and black work best.
What color grout should you use with gray tile?
There are many grout color options that would work well with gray, but the most popular and best looking combinations are white, light gray, dark gray or charcoal, and a blue gray.
What color grout goes with black tiles?
For black tiles, your options are to contrast and go with a white grout, light gray, dark gray and then of course, you have the option to match the black tile and use a black grout, too.
Trouble deciding what paint color to use in your bathroom? Here are the best bathroom colors.