The pros and cons of choosing black grout
Black grout can be seen in modern farmhouse bathrooms everywhere. The contrast dark black grout creates next to white subway tile is absolutely stunning and considerably elevates the look of plain white tile.
As we planned our master bathroom renovation, going with black grout and white subway tile for our shower was a no-brainer, but now, after living with it for over a year, I have some regrets.
Here's everything you wanted to know about black grout: the good, bad and the ugly.
This post contains affiliate links. Read my policy here.
Pros of choosing black grout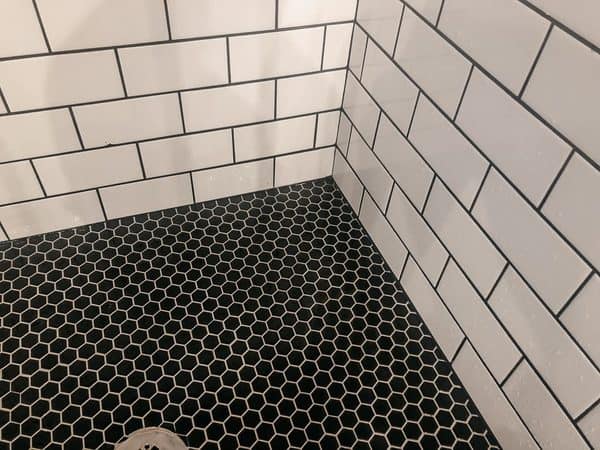 Black grout is timeless. Whether you choose to pair it with white tile or black, you can be sure that it will never go out of style.
To me, going with black grout next to inexpensive subway tile helps make the space look "richer." The subway tile we chose for our shiplap bathroom renovation was incredibly cheap, and in my opinion, pairing it with anything but a darker shade of grout would have just made it look too plain.
The contrast black grout lends itself to when paired next to white works perfectly; especially if you're going for a modern farmhouse look.
Some may think going with a darker grout like black helps to hide dirt, but keep reading my friends–we have found this to not hold true!
Related reading: Is shiplap okay to use in a bathroom?
Cons of going with a black grout
Oh, where to begin? While black grout against white tile is absolutely stunning when it's first installed, it can quickly become a small nightmare.
Does black grout fade?
Yes, unfortunately, black grout fades over time. Grout, regardless of color, is extremely porous and essentially takes on anything that it comes in contact with–unless it is properly sealed.
We have found that even after our black grout has been thoroughly cleaned and sealed, within a few months, I notice it fading in spots where water hits it the most.
Here's the worst spot in the shower. I just cleaned it about 5 days prior to this photo, so it's not overly dirty, either–it just tends to fade in this spot.
Should black grout be sealed?
Yes, black grout should absolutely be sealed. All grout is porous and will take in dirt and grim from the shower. Seal it regularly to prevent the grout from growing mold and from fading.
How do you keep black grout black?
You can keep black grout mostly black, but if the grout is in an area that routinely comes into contact with water, it's will probably never look as good as it did on the day it was installed.
For those of you who have your heart set on black grout or have already installed black grout somewhere in your home–don't worry, there is hope! Here's what we do to keep our black grout looking its best.
First and foremost, you want to make sure the grout is sealed after initial installation. You can do this project yourself by choosing the right grout sealer. We recommend going with Aqua Mix, which is the sealer most commonly recommended by tile professionals.
Here's a complete guide on how to seal grout if you'd like to go the DIY route.
Once you've sealed your grout, use a neutral ph cleaner to clean your grout and tile on a regular basis. Sealed grout should never be cleaned with anything else or it will cause the sealant to breakdown and eventually fail–leading to discolored grout.
Once a year, I have a grout cleaning company come out and deep clean my grout. After that, I seal it on my own. Alternatively, you can clean it yourself.
Update (NOV 22) Now that I've finally found a great way to clean my grout, I'm stretching out the amount of time in between professional cleanings considerably. I recently updated my, post on how to clean grout to reflect my new process.
Following these steps helps maintain the darkness of the black grout, but unfortunately, there are some spots that just turn more of a gray color in between cleanings. I've learned that there isn't much I can do about it, other than maintain and clean it the best I know how!
Would I choose black grout again?
This depends–I'd be fine with black grout in a kitchen. But I'd never choose to go with black grout in the shower again. It's a lot of maintenance and I'm way too much of a perfectionist to be okay with jet black grout fading to gray.
Honestly, it's not awful or even really bad, it's just noticeable in one small spot where water really hits it, but it doesn't ruin the bathroom at all.
If you have your heart set on black grout, go for it– just know what you're getting into and stay on top of cleaning and sealing it!
Interested in other grout colors? Here's a detailed post on how to choose the right tile and grout color combinations and all about white grout.
Is black grout of out date?
Black grout will never be out of style and will always look timeless and classic paired with white subway tile.
I do think the overly farmhouse trend along with black grout will eventually be out of style, but pairing black grout with white subway tile in a bathroom with traditional fixtures like stainless steal will stand the test of time.
Why is my black grout turning white?
When black grout is improperly sealed, and then cleaned with a harsh (non neutral) cleaner it will fade and eventually start to look white.
When your grout gets to this point, you should clean it following the instructions outlined above and see if that restores it. If your grout is still faded, consider using a black grout pin or as a last resort, calling a grout restoration company.
Make sure to seal grout and then hold off from using the shower for at least 2 days after you seal it to prevent grout from fading again. Take care to use a neutral cleaner (non acidic) when cleaning your grout after that point.
White subway tile with black grout in our bathroom
Leaning into the white tile with black grout look? Make sure you check out more photos from our farmhouse bathroom reveal where we used traditional white subway tile with black grout.
Black grout colors
Our favorite brand of grout products is by custom building products. Unlike black paint colors, there's really only one true black color in this line and it's called Charcoal.
There is a dark charcoal color that I would seriously consider if we ever did a project like this again, as it already has a muted look to it and would be much easier to clean. That color is called Dove Gray.
Keep reading: How to clean glass shower doors with dawn and vinegar