12 modern fence design ideas we love
Next year we'll be replacing our fence. Truth be told, we should have replaced our worn out privacy fence when we moved in, but because it was still functioning, we prioritized other projects.
Now that we're getting closer to getting rid of it, I've started collecting design inspiration.
Replacing an old fence soon? Browse these modern fence design ideas to gather some inspiration for your next project!
Modern fence design ideas
From privacy fences to cable railings, we've highlighted 12 of our favorite modern fence ideas.
Modern horizontal fence ideas
Don't get caught thinking too deep inside the box. Mixing materials is a great way to achieve a highly functional, yet aesthetically pleasing fence. Metal posts with wood inserts creates a very sleek and interesting design.
Treated wood is highly cost effective, but it doesn't have to be highly boring. Introduce some eye-catching curve balls by varying the widths of your horizontal slats.
Whether you create a pattern or go with a totally random series of boards, the irregular widths create some interest no matter what material you select.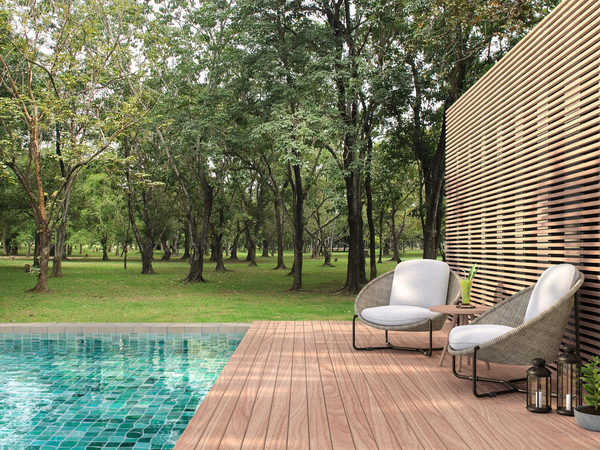 Not all "fences" are designed to keep the dog in the back yard — some fences like this one are pieces of art that happen to provide some privacy. For a functional yet sophisticated addition to your home, thin horizontal slats provide a clean and modern look while offering some privacy.
While many people love the look of a wood fence, far fewer people love that pesky maintenance that inevitably follows year after year.
Using a composite material is a great way to avoid that expensive trip to the paint section of the hardware store every year while still being able to enjoy a traditional looking fence.
Ask a professional for advice about which composite materials you should use for a fence application as some are designed for fence applications while others are not.
Using untreated wood could require a little more regular maintenance, but the colors you can achieve through staining become almost limitless when you leave the yellow/green treated lumber behind.
Every wood species takes stains differently, so buy some small pieces to experiment first. Getting creative with your colors can really make the arduous task of building a fence much more enjoyable.
Got a great view and don't want your bulky wood fence to block it? Cable railing is a great way to keep a strong barrier while allowing you to take in the scenery. While they can be on the expensive side, cable railings add a lot of elegance while taking away almost nothing from your surroundings.
Modern privacy fence
Need a tall visual barrier but don't want it to look like an ugly skyscraper got plopped down somewhere by mistake? Make a piece of artwork by getting creative with your panels.
Prefabricated metal patterns offer both privacy and something you won't regret seeing every day. And there's nothing like adding some low level lighting to further create the impression that artwork is on display.
Vertical fence ideas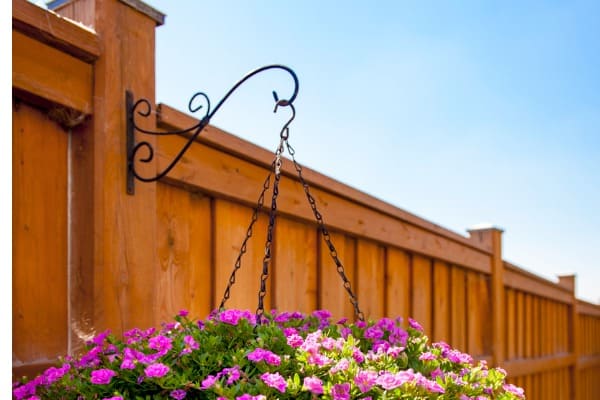 Traditional wood fences can really pop when planned out well. Adding some proportionately appropriate trim can change a boring wood fence to a stately and classic focal point.
Go that extra mile and spend the time (and a little more money) to build something with some timeless character.
If you're planning to stain your fence rather than paint it, consider some lower grade lumber that comes full of knots.
The right stain applied to knotty wood can make a fence pop with character and texture that higher grade lumber with fewer knots can't.
Test several stain colors on some scraps to find the one that pulls out the contrast of the naturally beautiful features of your wood.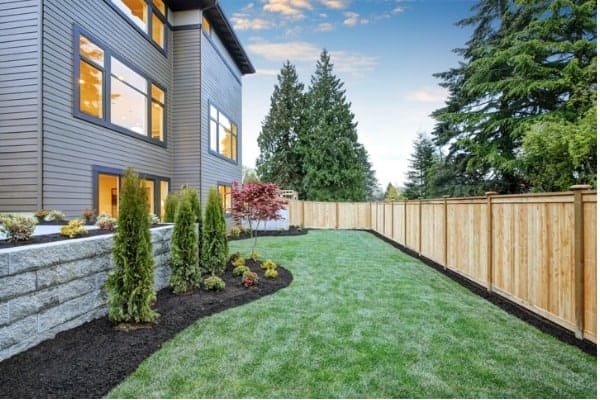 Consider how high you'll want your posts to sit above the top of your fence line. A post that sticks up 6 inches will create a much different feel from one that sits just above the highest horizontal board.
You can even cut the posts so that the top horizontal line is continuous for a very uniform and uncluttered look.
Many people want the privacy that only a solid fence can provide. If this is you, consider spicing it up a bit with a creative top. You can still have the complete privacy while building something pleasant to look at.
Some people install lattice in the upper portion while others install cable or metal grids. Whatever you use, it'll make your fence feel less like a wall and more like a piece of art.
Consider the space you're surrounding and allow it to speak into the creative decisions you make about your fence. A whimsical garden full of beautiful and delicate flowers fenced in by an 8 foot tall cast iron fence may not be the best way to highlight either element.