Gorgeous kitchen backsplash ideas with white cabinets
As far as I'm concerned, white kitchen cabinets will never be out of style. White cabinetry is timeless and because they're so classic, you can often get creative with backsplash ideas.
But do you need to? Many people feel like a white kitchen with white cabinets and white countertops will be too sterile, thus a lot of homeowners try to inject a lot of personality through the backsplash.
There's a lot of options when it comes to backsplashes. So let's break down the most popular and trendy kitchen backsplash ideas and talk about the classic options, while discussing the good, bad and ugly of every choice.
What color should the backsplash be with white cabinets?
There's no hard and fast rule here. The easiest and simplest answer is that your backsplash should work well within the confines of your kitchen decor and adjoining room styles. Additionally you should evaluate the contrast within the room.
But, I know what you're thinking…can I have a white backsplash with white countertops and white cabinetry? Yes, you absolutely can and I'll show you how to execute that without having your kitchen look too stark.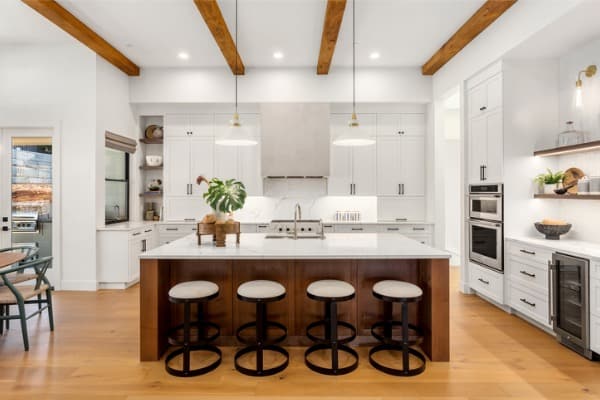 With an all white kitchen you need to manage contrast and sometimes the backsplash can be the answer to that design dilemma, but other times, the backsplash is too loud for the kitchen or doesn't tie in well. We'll talk about how to spot these issues and how to manage contrast in your kitchen in the paragraphs below.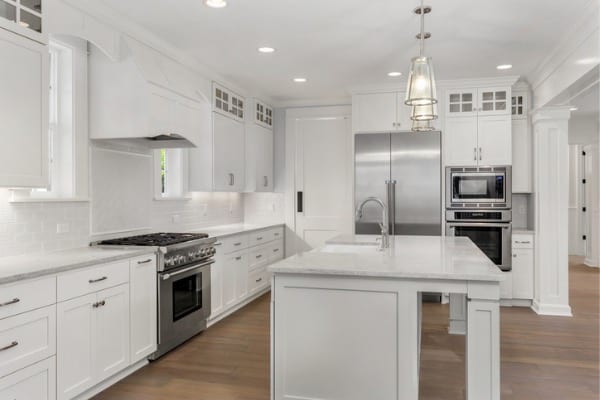 What are the backsplash trends for 2022?
One of the biggest backsplash trends for 2022 is the use of Zellige tile. Zellige tile is glazed terra cotta tile. This kiln-fired tile is a handcrafted with a process that gives every piece of tile a unique look, color, texture and glaze. These tiles look handmade and are simply beautiful. The most popular shapes that homeowners are putting in their homes today are the rectangle and square tiles.
I do think this tile is "trendy," and while the more traditional rectangle subway shapes will likely withstand the test of time, the overly glazed tile look may not; only time will tell.
Beyond the Zellige tile, stacking tiles vertically is also a huge trend. Additionally some homeowners are opting to carry their countertop material up the wall for an extremely cohesive look, and you'll see a few of those examples below. The non-backsplash is also another trend, with homeowners opting to let the drywall serve as the backsplash.
I don't anticipate this trend to last too long, as the backsplash isn't just a design element, but rather serves to protect the drywall from catching cooking messes.
Does white backsplash go with white cabinets?
Yes, white tile will go with white cabinetry and even white countertops. You can get creative with the way you stack the tile and with the grout color for contrast, but you don't need to rule out white tile if you have white cabinets and white countertops.
In fact, I firmly believe that white subway tile is one of the most timeless options you can go with when remodeling or designing a new build. The way to add color and character with white subway tile is through accessorizing, which I'll talk through below.
Kitchen backsplash ideas with white cabinets
We'll kick things off a very timeless option, white rectangular subway tile, paired with white grout. This is a classic option that will never go out of style and leaves tons of room for decor. As I briefly mentioned above, all white can sometimes go cold really quickly, but not with the right decor.
As you can see I the photo above, the room is really warmed up with the warm wood floors, natural rug, wooden accent on the range hood and bar stools. Visual interest is added with bold black pendants.
In kitchens where you use quartz and pair it with white subway, I'm always going to specify gold hardware over chrome. Chrome looks great when paired with a cooler tile like marble, but with a softer white like quartz, gold really shines and works to soften up the all white approach. I would have also added some wooden cutting boards of all shapes and sizes for additional warmth.
Here's a white kitchen using two current trends for the backsplash, high gloss Chloe tile and a vertical stacking approach. The Chloe tile has been popular for a few years now and really adds a punch thanks to the high reflective sheen and color variation from tile to tile. I really like this tile as it's a spin on the classic subway tile without getting too trendy.
We used this tile in our kids bathroom/ laundry combo and I really love how it turned out. There is an art form to it, as you really want to pay attention to the color variances and ask your tiler to spread the darker tiles out.
Here's another riff on the basic subway tile that is elevated by texture. These hand-crafted tiles are quite the departure from the flat, glazed subway tile, as the texture really adds a lot of depth to the space.
The under cabinet light is key for any kitchen, but especially when you really want to show off the tile, like with this kitchen. The white backsplash and cabinets were paired nicely with a dark countertop to manage the contrast in the room and the woven barstools work beautifully (as does the wooden island) to soften the all white aesthetic.
Here the homeowner wanted to go with a classic subway, but really wanted to inject some personality via a herringbone pattern and a dark grout. While I do think the farmhouse trend has really turned on the popularity of white tiles with black grout, I think that in the right application, this look is timeless, too.
We used black grout in our shower, and while at times I have a love/hate relationship with it, I think I've finally cracked the code to keeping it clean.
Here's another variation on the classic white tile with a hexagonal tile. Using a hexagon-shaped tile and accentuating the shape using a contrasting grout is a relatively easy way to add some visual interest to your space without going with a funky tile that you might grow tired of in the coming years. Black isn't the only color you could go with in terms of contrasting tile, and I happen to really like a warm griege grout color, too.
A relatively new trend, carrying the backsplash up, whether it be the whole wall or just above the range, instead of a tiled backsplash is becoming a more popular method among homeowners. I like this idea for ease of cleanup and for cohesion.
If you aren't working with a designer and are really struggling with the right backsplash tile, you can't really go wrong with this look.
Here's another application of the countertop material carried up, but in this case, it's carried throughout the entire wall. I tend to like this look better than just a slab above the stove, with the exception being when the range hood has corbels that extend to the countertop, inclosing the space and giving a beginning and end to the slab.
Think beyond traditional tile when designing your kitchen. You know I'm a huge fan of shiplap, as we now have two bathrooms with shiplap, plus a fireplace, and now, I'm even considering it for the backsplash of our kitchen remodel, which is hopefully slated for 2023!
Beyond shiplap, headboard makes an excellent backsplash and is simply beautiful.
Backsplash ideas for white kitchens: what you need to know
Pay attention to your cabinet color
If you've read any of my paint color reviews, you know that paint colors can be tricky, and that includes white paint! The undertone of the white you chose for your cabinets will dictate the backsplash you pick. For example, some whites are more creamy with yellow undertones and there for you'll need a creamier white backsplash, rather than stark white.
By itself, white cabinetry may look just white, but you'll instantly know if it's warm or cold when you put in a backsplash that's either too warm or too cold for your space. Here you can read more about the different shades of white paint. In this post: popular white paint colors for kitchen cabinets, I go through the most popular shades of white paint for cabinetry and when they should be used, so make sure to check that out, too!
Pay attention to your countertop material
Besides your cabinet color, you also need to consider your countertop material when deciding on a backsplash. For the most part, white quartz is on the creamier side of white and looks best with warm white paint colors. Marble, on the other hand, has a cool white undertone that looks best with blue white or true white paint colors.
Bottom line: know the undertone of your countertop and cabinet color before going with a backsplash.
Stay away from bossy backsplashes
You'll notice there's not bright colors or loud patterns on this list of ideas. The primary reason I didn't include them is for the simple fact that for the most part, the more classic you keep your backsplash the more timeless the kitchen and the less likely you'll grow tired of it.
Heavily patterned tile quickly goes out of style, making your kitchen look out of date in a few years and brightly-colored tile is hard to pull off in an all white kitchen unless you really work hard to incorporate that color throughout your kitchen and adjoined rooms. I know this piece of advice won't be for everyone, so if you really love a pattern or a brightly-colored tile, go for it.
I prefer to go with a more neutral look overall with the kitchen fixed elements and then change up decor when I grow tired of it.
Make sure your wall color corresponds to your backsplash, cabinets and countertop
The finishing touch to a beautiful kitchen is the perfect wall color to complement the entire space. Learn about how to choose the right paint color for your kitchen with my post on kitchen wall paint ideas.
If you're in the midst of planning a kitchen reno or new build you might also appreciate these popular posts: