How much does a screened in porch really cost?
Screened in porches are great for entertaining, add a ton of value to your home and are ideal for enjoying the outdoors, bug-free.
In my 15+ years of carpentry and running my general contracting business, nothing stumps homeowners more than the sticker shock they receive when they inquire about a screened in porch. Because it's hard to find accurate pricing estimates online, I thought this post on typical screened porch costs would be helpful.
How much does the average screened in porch cost?
A screened in porch will typically cost between 140 and 165 dollars per square foot depending on the unique structural details of your project, the specific materials used, and your particular region of the country.
A two-slope roof that creates an "A" shape and intersects with an opposing angle from an existing roof will cost a good deal more than a single slope shed roof that ties into the side of a house along a single flat wall. There's nothing more time-consuming, and therefore costly, than trying to correctly intersect a new multi-angled roofline into a roof chopped up by several different dormer slopes and a chimney.
How much does a 12 x 12 screened in porch cost?
Since most screened in porches cost between 140 and 165 dollars per square foot, a 12 x 12 porch would likely cost between $20,000 and $24,000.
Can you build a screened porch on an existing deck?
If any covered structure is added to the top of an existing deck, the deck structure below will have to be in compliance with today's codes. This means that adding a porch to the top of a 25-year-old deck will almost certainly not pass today's codes, so you'll need to either upfit your existing deck, or tear it off and start from scratch.
If your deck is only 5 years old, you may be just fine, so check with your contractor and/or the local permit office. You may just get lucky and not have to build a new one!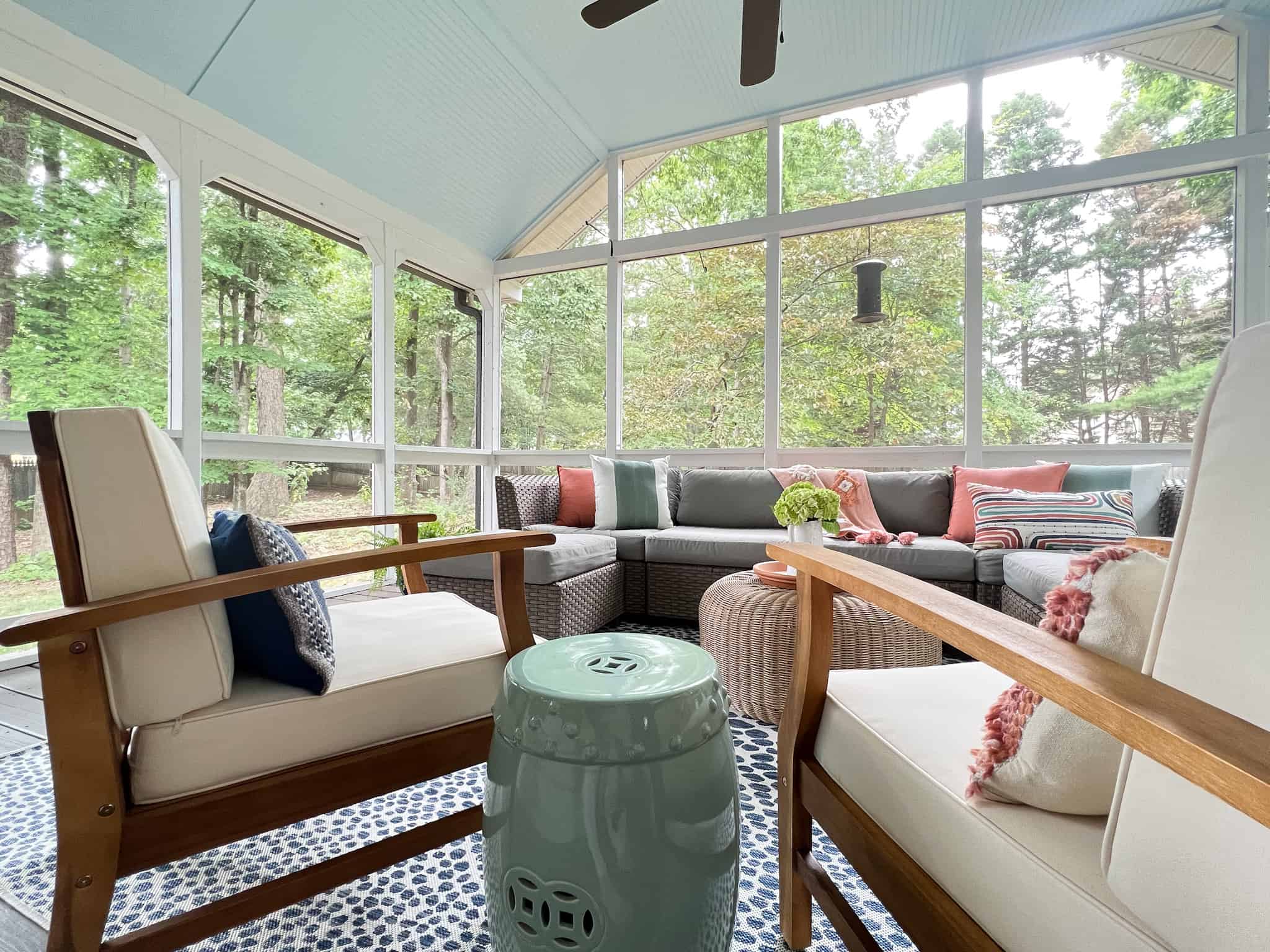 What is the cheapest way to build a screened in porch?
One of the complicating (and most expensive) factors in building a screened in porch will be the roof structure you choose and how it will tie into your existing house.
By simplifying the design so that your roof is a single slope "shed" roof, you'll save a lot of money.
Another way to save money is to minimize doors into and out of the porch. Many people like to have two exit points to more quickly access different areas of their yards, but this is for lazy people who don't like to save money. I joke, but in all seriousness, it'll save you between 350 and 500 dollars to get rid of the extra door.
What's a good size for a screened in porch?
A highly versatile screened in porch size for multiple use application would be around 16 x 20.
Almost any typical use for a porch will be achievable with these dimensions, but the best size for a screened in porch will depend on your unique intentions for the space.
If you're planning to furnish the area with a large dining table and chairs, I recommend that the narrowest dimension of the porch be at least 14 feet to allow ample room for chairs to comfortably slide in and out. This will also provide enough space for a walkway on one side of the table for foot traffic coming and going through the porch when the table is not in use.
If you're going to use the porch for living space and seating, consider how you want the room to feel.
Will a coffee table operate as the center point? Will it be centered around an outdoor fireplace? If so, will you be using the fireplace to provide warmth or simply to add ambiance to the space? If it's for warmth, your seating arrangement will need to be much closer to the fireplace than if it's simply to brighten the overall atmosphere.
Questions like this often go overlooked during the design phase of a project, and these brand new structures can feel suddenly cramped when furniture arrives, or they can seem cavernous and empty with pockets and corners far away that you simply can't use for your intended purposes.
One of the best ways to avoid this is to map out the footprint of your furniture on the floor of a large room or even outside, and walk through it to see how the distances apart are working.
Another way to get a handle on the spatial realities is to measure rooms in your home that are serving similar purposes. For example, if your main goal is to have another place to serve meals, measure the dining areas of your home and assess how functional they are. Would a few more inches in this direction help with serving food to those already seated, or would an extra two feet on the ends allow for better leg room for those in the corners?
If the space will be used for lounge seating, head into your main living areas and assess how functional the depth of your couches and chairs are, and measure the distances they are from other seating elements and coffee/lamp tables. This process is essential for ensuring that you won't have regrets later.
If a TV is to be the focal point, you'll want to consider where you'll mount it as well as how far away your seating needs to be for the TV to not feel too close or too far away.
The size of the TV will definitely affect the distance away for comfortable viewing, as well. Measure your current TV in your home and its distance from the primary seating dedicated for viewing it. Use this as a rule of thumb for determining basic shape and proportions for your porch. From TV screen to couch back, we typically recommend a distance of 13 to 16 feet for a 55" TV. (Remember, TVs are measured diagonally.)
As your TV increases or decreases in size, adjust the seating locations accordingly. This is a highly subjective area for decisions, and more than a few marital… discussions have centered around this very topic, but the last thing you want is to invite 10 people over to watch a game outside on the brand new porch only to discover that your TV feels like an iPad to those not seated on the front row because you've set your furniture on one end of a 75 foot long porch and your 14 inch TV from the 90's on the other end.
It starts with thinking about what you want to do with your porch, and slowly considering how you'll best achieve that through size, design, and layout.