10 beautiful Christmas mantel decor ideas
Whether you've always decorated your mantel for the holidays and are in need of new Christmas mantel decor ideas or you're attempting to decorate for the first time, I've got tons of ideas and tips to make this year's mantel display a success.
Beautiful Christmas mantel decor ideas
Look through these beautiful Christmas mantel displays for inspiration and then keep reading, as I'll share my tips on how to pull off these looks towards the bottom of the article.
If you've never added dried oranges to your Christmas mantel, I encourage you to try it out. It's so pretty and really adds a lot. Here's how to dry out oranges:
Slice orange into thin slices
Blot with paper towels
Preheat oven to 250 and place oranges on cookie sheet
Bake for 2-3 hours, flipping every 30-45 minutes
Let air dry for 3 days until completely dried off
Once the orange peels have completely dried out, use twine or floral wire to string them unto your garland.
You can't go wrong with fresh pine and classic wooden beads to adorn your mantel this Christmas.
I really love this garland added to one side of the fireplace. Sometimes it can seem like Christmas decorations can start to crowd in on you, but going for something minimal like this should really help with that feeling! This look also works if you have a TV above your mantel, too!
Ready to break free from the traditional Christmas colors and garland? This super colorful Christmas mantel design is so fun! PS- you can easily recreate this with craft styrofoam balls!
I love gold mixed with green and accentuated with wooden tones. This is simply beautiful!
Magnolia leaves are a classic way to decorate for the holidays. Lynn decided to jazz them up with her Christmas mantel and you can find a full tutorial on how she did the gold dusted magnolia mantel on her blog.
This joyful Christmas mantel is made beautiful through the use of red berries, a vintage sled and two pretty flocked Christmas trees. Honestly, this shiplap fireplace wall is so pretty it would have looked amazing with even minimal decor!
I am really digging this bohemian Christmas mantel decor! The boxwood wreath displayed on the woven wooden wreath is absolutely gorgeous.
The secret to making regular greenery looking whimsical is adding some eucalyptus leaves to it. It creates such a timeless look and also works really well for a Thanksgiving tablescape or mantle.
Christmas mantel decoration tips
Learn some easy ways to hang your garland and how to keep the real stuff from drying out with these clever tips.
How to hang your Christmas garland on your mantle
The easiest way to do this is by using command hooks and or zip ties. If you have a more rustic mantel like mine, you can just use little nails and keep them up there year round so that you don't have multiple nail holes.
How to keep garland with real greenery from drying out
If selected cared for correctly, your real greenery can live 3 – 4 weeks indoors. For best results
Buy from a local nursery or tree farm. Stems should be fragrant and bright green. Look for cedar, fir or pine. I always select magnolias, too, as they dry out to a nice, rich brown color that tends to break up all of the green in a good way.
Cut all greens at a 45 degree angle.
Before you start working with your greens, give them a bath. Fill up a bathtub or large buckets with lukewarm water and soak all greens for 24 hours. You can even take a hammer and carefully hammer the cut ends of the stems so that they can drink up even more water, too.
You may want to use an anti-wilt spray to preserve them.
Every other day, spritz greens with a spray bottle.
Decorate your Christmas mantel with the fake stuff!
I love real garland, but sometimes I just can't make it happen. When that's the case, go faux! If you've never made real garland before but want to get started, do something less intimidating by using fake garland and adding real swigs of greenery to it.
I'm also a huge fan of the preserved greenery, too. Etsy has some really beautiful options and you can purchase this stuff once and use for years to come. It's the closest thing to real.
Related Christmas decorating ideas you might like
Our favorite tree collars
DIY snowman wreath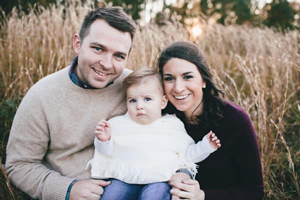 ABOUT DANIEL AND ASHLEY
As a licensed general contractor with more than 10 years in the business, Daniel can walk you through any home renovation or improvement project step-by-step. And if you're here for home design and paint color advice, Ashley's your girl! Join us as we share helpful tips and step-by-step tutorials on anything and everything home. We're also renovating our personal home along the way, and will use this blog as a way to document our progress. Read more...