13 unique ideas for pumpkins
It's time to think outside the box this year when using pumpkins to decorate for fall. Beyond using pumpkins to decorate your fall front porch or even crafting a beautiful pumpkin flower arrangement, you can also get a little crafty when decorating them.
Whether you use paint, gauze, glitter, buttons or even x, try something new this year when you take a cue from some of these amazing ideas for pumpkins.
Ideas for pumpkins
Sure you can always carve your pumpkin and place it outside your front door, but have you thought about painting it or using it as a centerpiece for your Thanksgiving tablescape? Use pumpkins in your decor from September through November with these pumpkin decor ideas.
Button pumpkin
What a cute and creative way to decorate your pumpkins! If you're looking for a unique (and super inexpensive) idea for pumpkin decorating this year, this is it. Just pick up some buttons of all sizes and get to work!
Crayon melt pumpkin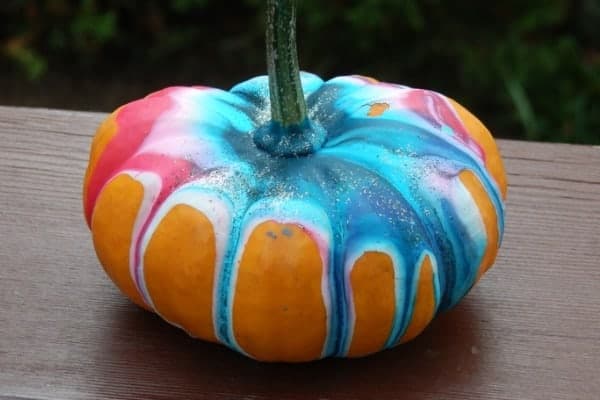 Here's how to melt crayons on a pumpkin (PS–white pumpkins are really pretty for this).
Gather crayons and remove paper. Glue crayons to top of the pumpkin using either super glue or tacky glue. Turn blow dryer on high heat and keep it on until you melt the crayons.
Easy peasy. Use either a lot of different colors or same color scheme. I'm going to use black and purple on a white pumpkin this year, but I've also used red, yellow and orange on a white pumpkin and it turns out beautifully.
Sequin pumpkin
This is simply gorgeous! Look for white pumpkins or paint yours white and attach some pretty sequins to the top. I love the gold and white color scheme she used, but I could also see gold sequins pairing really nicely with a black painted pumpkin, too.
Brightly colored pumpkin
Take a break from the traditional colors you see for fall and go bold and bright! I love the leopard print and pink and red on the pumpkin, what a nice, welcomed change of pace!
Whether you're hosting a dinner party or plan to use flowers as part of your thanksgiving table decor, why not capitalize on the bounty of the season and use a pumpkin to hold your flowers?
Owl pumpkin
I don't know about you, but I love owl home decor related items. This pumpkin carved like an owl is adorable. Plus, how awesome are the eyes??
Stack your pumpkins
One of my favorite DIY fall porch decor ideas is to stack your pumpkins. This works best when you choose pumpkins that have more of a flat top.
Don't be tempted to cut off the stem of the pumpkin, as this will typically lead to rot and you won't be able to keep your pumpkins that long. I really like using the white, blue and pale green pumpkins when stacking them.
Moss pumpkins
Since I'm not the best at keeping house plants alive, but still love to have something green in each room, I love decorating with moss. You can pick up some moss at places like Hobby Lobby and you just use a hot glue gun to adhere it to your pumpkin.
Spider web pumpkin
Such a cute idea to decorate a pumpkin, and you can even get your kids involved in this as a fun halloween craft idea.
Pumpkin ice cream cone
What a cute idea; especially if you live in the south and October might as well be the middle of July in terms of heat!
Googly eye pumpkin
Here's a great way to decorate a pumpkin if you have a preschooler! Paint your pumpkin something bright to help the googly eyes pop and hand your kid googly eye stickers and let them get wild!
If you're hosting Thanksgiving this year, don't overcomplicate your turkey day decor. Get crafty and use pumpkins and greenery to decorate your table. I especially love the idea of painting mini pumpkins metallic colors and pairing them with soft wooden tones.
Washi tape pumpkin
If you've never used washi tape before, get ready–you'll be a washi tape addict in no time. Use washi tape to decorate your pumpkins to go with any decor style. You can even paint the pumpkin stem to make it even more beautiful.
What can you do with a pumpkin besides carving?
Use paint, sequins, glitter, googly eyes, yarn, buttons, pipe cleaners and even natural items like moss or florals to dress up a pumpkin without carving it. For best results, use an acrylic paint or chalkboard paint to give it a matte finish. Use gorilla glue to adhere anything to the pumpkin for long lasting stay power.