Sherwin Williams Navajo White
Ready to warm up your space? Sherwin Williams Navajo White might be exactly what you need. Even though this color technically has the name Navajo in it, this hue is anything but white.
Will this inviting color work in your space? It's time to find out with my full color review!
What color is Sherwin Williams Navajo White?
Contrary to its given name, Navajo White is actually a beige. Remember when beige was out? Well get ahead of the curve, because beige is back!
What are the undertones in Navajo White?
Navajo White has yellow undertones, but they're fairly pale. All beige colors have undertones; with beige you're either dealing with yellow, pink, gold, orange or green.
Is Benjamin Moore Navajo White the same as Sherwin Williams Navajo White?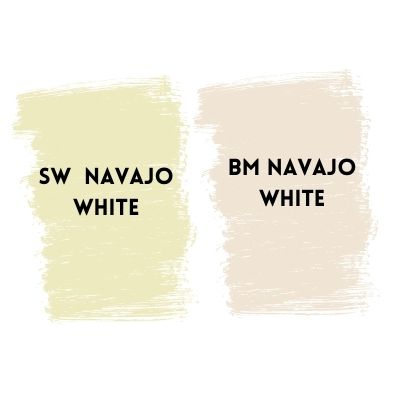 No, Benjamin Moore Navajo White is not the same as Sherwin Williams Navajo White. As you can see from the graphic below, SW Navajo White has yellow undertones, and BM Navajo White has orange undertones.
Just looking at this graphic you might be turned off by SW Navajo White because it looks like a yellow, but I promise you, it's anything but. It's a really pretty warm beige that looks great in homes with warmer elements.
Will Navjao White work well in my home?
Ah, here's the million dollar question! Here's how to tell for sure:
Will this warmed beige work with your fixed elements?
If you're going with Navajo White, you have a warmer palette overall. You don't have a ton of blues/purples/greens, and you pretty much stick to warm neutrals, like linen, beige, brown, tan, etc.
Go around your home and observe–what's the undertone of your couch, your rug, your countertops and cabinets? Is it a warm beige? If so, Navajo White might be for you. If in doing this exercise you notice that you have cooler undertones, run, as fast as you can from this warmer color, because it's not your friend.
On another note, make sure you really pay attention to your warmer fixed elements as you do this exercise, because if they even have a whiff of pink (I'm thinking terra cotta tile or pink beige carpet) any color that has a yellow undertone is not for you. It's going to make you crazy and will make your home look "dirty," as pink and yellow undertones don't mix well together.
Paint undertones must work well with your home's fixed elements!
Evaluate your light
Paint color changes drastically with the presence or absence of light. Specifically with this color, in a lot of natural light, it will look more cream. Without a lot of light, you'll get a muddy faded yellow color.
Make sure you test out the color in relationship to the lighting your home receives, not an inspo photo online!
Test out the color
Did you know they have peel and stick paint samples now? I use these to test out all of my colors and recommend ordering them to place in front of a white poster board, so that you can see the color for what it really is. See how I test colors below:
Also, it's a good idea to order multiple hues in the same color family. This way you can easily see the undertones in a color.
Navajo White vs. Linen White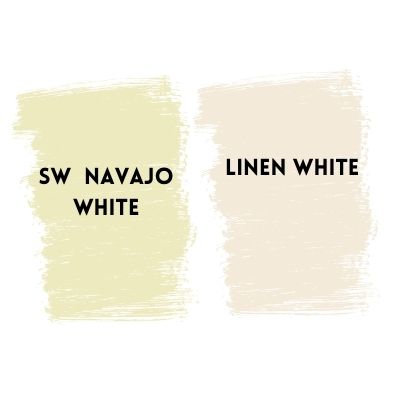 There's really no comparison with these two–Navajo White is significantly darker and has a yellow undertone, while linen White is much lighter and has an orange undertone. If you want more of an off-white, go with linen white. Searching for more of a warmed ivory/beige? Go with Navajo White.
Is Navajo White good for trim?
Because of the yellow undertone found in Navajo White, I would steer clear of using this color on trim. Your trim will always look yellow and dirty, which no one wants!
What trim color goes with Navajo White?
I like Navajo White paired best with an off-white trim, but not just any off-white, because some off whites have more gray in them, and that doesn't really work well with the more yellowy nature of this hue. I'd go with Simply White for the prettiest pairing.